Warsaw Palace of Culture - Stalin's Empire State
This gargantuan, Gotham City-like tower shoots up from the centre of Warsaw. Raised after the Second World War during the era of Soviet domination, it remains one of the most controversial buildings in Poland, and it was only a whisker away from being pulled down when the Berlin Wall fell in '89.
Built between 1952 and 1955 as Joseph Stalin's "gift" to Warsaw, it was to resemble the Seven Sisters of Moscow, although to frustrated Varsovians it merely resembled the ugly reality of Soviet domination. After the "thaw" of 1956, the name of the building dropped Stalin's moniker and became merely the Palace of Culture and Science (Palac Kultury i Nauki), though it was occasionally referred to as "Peking" (from the Polish abbreviation, PKiN).
Today, the Palace of Culture (Palac Kultury) still stands as the tallest structure in the city, as well as in all of Poland. With 42 floors and over 234 metres (with 43 metres of spire alone), this epic still has the upper hand on all of its modern neighbours. At the moment, the building serves as an exhibition hall and office complex, as well as an FM and television broadcasting centre and cinema, theatre, museum, bookshop, and conference hall fitting 3,000 people.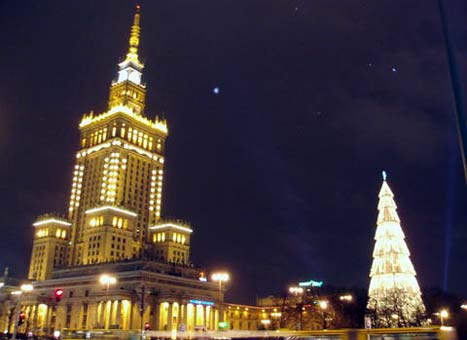 Perhaps the highlight of the Palace of Culture for tourists is its observation deck on the 30th floor, from which you can see the whole city and the Vistula on a clear day. An old joke goes that the best views of Warsaw are available from the building - it's the only place in the city from where it could not be seen. In case you're having difficulty finding this megalith on Marshal Street (don't know how you could!) try asking for Plac Defilad (Plahts deh-FEE-lahd) - the largest square in Europe.
Comments