Getting to Sofia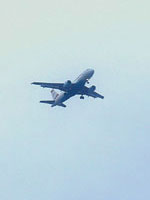 Above: up, up and away! Left: Bulgarian Air is still alive and kicking Below: old schoolin' it on the railway...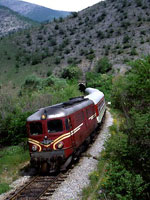 By Air
Sofia Airport was once located outside the city but can now be found in the south-east, on the border of the Druzhba district. The formerly old and small airport is now undergoing major reconstruction which will add a new passenger terminal building and runway system. All major airlines fly to Sofia and the prices of tickets have rapidly decreased in the past few years: there tends to be some good promotions on British, Hungarian and Czech airlines (amongst others), so keep your eyes peeled for good deals. Many budget airlines don't fly here yet, but expect a significant increase in flight options from 2007 on.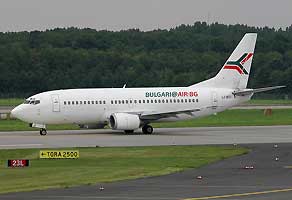 By Rail
If you are a romantic, afraid of flying or short on cash and would like to experience an interesting journey, you should try travelling to Sofia by rail. You'll arrive at the Central Railway Station, which although renovated, retains an atmosphere of the old communistic times. Unfortunately, as in many other cities around the world, the Sofia railway station is not as safe as one would like. Pickpockets and beggars do operate here and do target foreigners who appear helpless or lost, but just use your common sense and you'll be fine. If you're feeling peckish then there are plenty of cafes and fast food joints (including McDonald's and Dunkin' Donuts if you crave a familiar experience). If you're utterly desperate you can even sleep on a bench in the night, since - as dangerous as it might be - it is not forbidden by law. Needless to say we do not recommend it!
The Central Railway Station is a good starting point for any trip around Bulgaria. For more information and timetables you can check the Bulgarian National Railroad's website, but at the moment it's exclusively in Bulgarian unfortunately.
By Bus
Another way to get to Sofia, or for that matter to any major city in Bulgaria, is to travel by bus from several Western or Central European countries. Of course, you should be ready for a very long trip, replete with crossing either the Serbian or Romanian border, which might take quite long. Unfortunately, the check-points are overcrowded, and due to customs formalities, the queues sometimes are way too long. If you still feel up to the challenge, the Bulgarian International Bus Lines will be happy to help you out. However, keep in mind that a two way bus fair from London to Sofia for example is about 200, so the airfare might actually be cheaper!
Comments
Drive or take the bus to go around the country. Bulgaria has 5 international airports, so taking an airplane is not a bad idea. Very cheap flights from Sofia to Varna during the summer. VERY FRIENDLY PEOPLE
Reply
Bulgaria is a beautiful country and often overlooked due to people not knowing it exist. I have been there 3 times and all 3 times i had differnt experiences but great ones. I have had the oportunity to try all modes of transportation. My last trip especially i dared to try the BDJ, their rail way system. I took the train from sofia the whole way to varna at the sea side. it was very long but nice if you want to stand. I have taken the bus system from city to city. its not too bad either and seems to be the popular way of getting around bulgaria in general.
Reply