Money advice - Sofia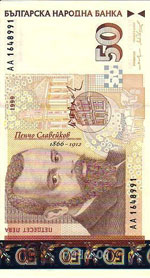 Use of credit cards is not as widespread as in Western Europe but is on the increase. Bulgarians still mainly use debit cards of the local banks. Credit cards are accepted at the better hotels and restaurants, as well as at the big shopping chains and the hypermarkets.
The Bulgarian currency is the Bulgarian Lev (BGN), which consists of 100 stotinki. The fixed exchange rate BGN/EURO is about 1,95. When it comes to money, everything here is pretty much the same as any other European city, although you might have a bit more trouble if you're used to paying with credit cards.
ATMS (Cash Machines)
ATMs/Cash Machines (the Bulgarian word for them is Bankomat) are widely available. There are two at the airport - one in the departures hall and one in front of the Bulgarian customs building, which is outside and to the left of arrivals. Strangely there are no ATMs in the arrivals hall. In Sofia, ATMs are most numerous in the center of the city and become steadily harder to find as you move towards the suburbs. Still having trouble with Cyrillic? Well, you'll be happy to know that ATMs allow you to choose your language - pretty standard. Just about the only difference with the West Europeans cash machines is that you are asked for your PIN code after you have selcted the amount you'd like to collect.
Banks/Travellers' Cheques
All Bulgarian and many international banks have offices in Sofia. Whether you're trying to transfer money, open a bank account or cash a travellers cheque, you will be greeted and served in a good and professional manner. Funny how nice people are when money is involved - again, universal...
Bureaux de Change, Change bureaus
Avoid the bureaux de change on the tourist trails and especially the one at the airport. Also, always watch out for commission and poor rates. In general commission is very rarely charged. If you'd prefer this method for exchanging currency, you'd better go to a bank. Never ever exchange money on the street! There are people who would offer you such a "service" and some really great rates... but you will most likely be cheated and robbed instead. Just a heads-up! With the money you save you can buy us a beer!
Comments