Language Tips!
The first thing to know about the Bulgarian language is that it uses the Cyrillic alphabet created by St. Constantine the Philosopher (Cyril) - specifically for the Bulgarians - in the year 855 AD. Bulgarians are very proud of the language, since its creation has played a major role in the development of Bulgarian culture and traditions. If, however, you're freaked out about all those new symbols, have no fear: You can easily get around in Sofia because many signboards are actually written in English. The same is true in many hotels and restaurants. But, in the end, there's no getting around it... If you would like to be able to explore on your own, particularly the jewels off the beaten path, it would be good to take some time before your visit and learn the Cyrillic alphabet. It's definitely not as hard as it looks! A lot of the letters are pretty much the same, and the few that are different are easy to remember. At the bottom of this page you will find a basic guide to the Bulgarian alphabet and a few phrases that you might find useful.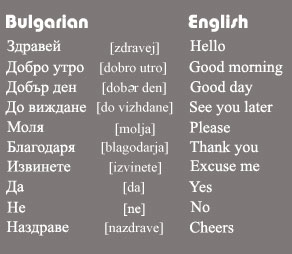 For those who plan on staying longer or are simply interested in learning Bulgarian, there are many language schools. Translation services are also widely available and so are the English-speaking daycares or primary schools if you plan on working here and want to bring your family with you.
We work hard to create a comprehensive guide to the language services available in Sofia. Please, check in again later for more information.
Comments