A University Fit for a King
Charles University
Prague's largest and most prestigious university, Charles University, is also its oldest, and the oldest in all of Central and Eastern Europe, beating Krakow's Jagiellonian University by a couple of decades. Founded in 1348 and sanctioned by Charles I himself, the University was multicultural from the start, composed of Czech, Bavarian, Saxon and Polish "nations." Though for some time the University was run by religious sects and declined in its independence and standing, by the middle of the 19th century Protestants and Jews were admitted, and German became a major language of teaching, eventually splitting the University into Czech and German sections.
As with all of Central Europe's universities, Charles underwent major traumas and changes as a result of the Second World War. With the German occupation of Czechoslovakia, the Czech section was closed in 1939, and many of its faculty and student leaders were killed in concentration camps. After the end of the War, the charge of rebuilding soon fell to the new communist government that took over in 1948, and purges, censorship, and repression became the norm. During the Prague Spring, students who hadn't witnessed pre-1939 freedom got their first taste of it, and many of the protests and ideological battles took place right on the Charles University campus. When the Warsaw Pact invasion brutally crushed the liberal reforms, students were hard hit, and one student, Jan Palach, even protested by setting himself on fire.
During the 1970s, the University was "normalized" along with the rest of the nation, but the 1980s, particularly the end of the decade, brought more and more student unrest and protests, cumulating in the Velvet Revolution in 1989, which was partly set off by students and faculty of the University. With the advent of democracy in 1990, Charles University soon evolved into the highly respected Western academic institution it is today.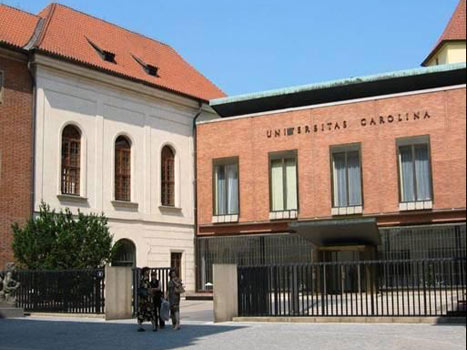 Courses of Study
Presently, the University is comprised of 17 faculties: 3 Theological Faculties (Catholic, Evangelical, and Hussite), Faculty of Law, 3 Faculties of Medicine, and Faculties of Pharmacy (in Hradec Kralove), Arts, Science, Mathematics and Physics, Education, Social Sciences, Physical Education and Sport, and Humanities. It has graduated some of the most famous Czech leaders and thinkers throughout history, including Max Brod (writer and close friend of Kafka), writers Bohumil Hrabal and Milan Kundera, and physicist Nikola Tesla, among many others. In fact, even Albert Einstein himself taught at the German section of the University before the War.
Studies in English
Being the multicultural institution that it has been throughout the ages, it's no wonder Charles University is very open to international students. And who wouldn't want to study in Prague? Besides its premier academic tradition, there's the culture ever-present in the city, not to mention enough pubs and clubs to make you forget everything you learned at the last lecture. And with Prague's hip, young and liberal atmosphere, it's a virtual student paradise - once your semester or year abroad are over, you still won't want to leave. So, where to start?
Charles University offers preparatory courses, degree studies, and non-degree and summer study abroad programmes (through Erasmus and Socrates exchange networks) in English. For a full listing of courses and degrees, and application details, please refer to the University's website, as courses and degrees offered change every year. But here's a brief look into the degree programmes available to study in English:
Protestant Theological Faculty:
Master's programme: Theology (2 years)
1st Medical Faculty in Prague:
Master's programme: General Medicine (6 years)
Dental Medicine (5 years)
2nd Medical Faculty in Prague
Master's programme: General Medicine (6 years)
3rd Medical Faculty in Prague
Master's programme: General Medicine (6 years)
Faculty of Medicine in Pilsen
Master's programme: General Medicine (6 years)
Dental Medicine (5 years)
Faculty of Medicine in Hradec Kralove
Master's programme: General Medicine (6 years)
Dental Medicine (5 years)
Faculty of Pharmacy
Master's programme: Pharmacy (5 years)
Faculty of Science
Bachelor (3 years) and Master's (2-3 years) programmes: Biology
Chemistry
Geography
Geology
Environmental Protection
Faculty of Education Bachelor's programme: Teacher Training (3 years) (High School) - combination of the two following:
English Language
Music Education
Instrument Playing (piano or violin only)
Chorus Conducting
Faculty of Social Sciences
Master's programmes: International Economic and Political Studies (IEPS) (2 years)
Economics and Finance (2 years)
PhD. programme in Economics
Faculty of Physical Education and Sport
Bachelor programme: Physiotherapy (3 years)
Physical Education and Sport (3 years)
Master's programme: Physiotherapy (2 years)
Physical Education and Sport (2 years)
PhD. programmes: Kinanthropology
Biomechanics
CERGE-EI (The Center for Economic Research and Graduate Education - Economics Institute)
Ph.D. in Theoretical and Applied Economics (4 years)
Other Universities in Prague
Besides Charles University, Prague is home to several more specialized institutions:
University of New York in Prague: website
University of New York in Prague provides the best English-language higher and MBA education in Central Europe, with a focus on business, communications, international relations, literature, and psychology. UNYP offers accredited Bachelor's and Master's degree programs in English and MBA study in Prague.
Academy of Performing Arts: website
The Academy of Performing Arts in Prague offers study programmes at three independent schools: Theatre Faculty, Film and TV School, and Music Faculty.
Czech University of Agriculture (also called Czech University of Life Sciences): website
The university offers Bachelors?s, Master?s, and doctoral programmes in the following faculties: Faculty of Economics and Management, Faculty of Agrobiology, Food and Natural Resources, Faculty of Technology, Faculty of Forestry and Environment, Institute of Tropics and Subtropics, and Institute of Education and Communication.
Czech Technical University: website
Offers full degrees and consists of these faculties: Faculty of Civil Engineering, Faculty of Mechanical Engineering, Faculty of Electrical Engineering, Faculty of Nuclear Sciences and Physical Engineering, Faculty of Architecture, Faculty of Transportation Sciences, Faculty of Biomedical Engineering.
Institute of Chemical Technology: website
The largest university specializing in chemistry in the Czech Republic, it consists of four faculties: Faculty of Chemical Technology, Faculty of Environmental Technology, Faculty of Food and Biochemical Technology, Faculty of Chemical Engineering.
University of Economics: website
The leading university in the field of management and economics in the Czech Republic, the University of Economics offers courses and degrees in the following faculties: Faculty of Finance and Accounting, Faculty of International Relations, Faculty of Business Administration, Faculty of Informatics and Statistics, Faculty of Economics and Public Administration, Faculty of Management, French-Czech Institute of Management (IFTG), Centre for European Studies (CES).
Comments