Review and Win!
That's right folks, the good people of Cracow Life are kindly offering you - Joe Public - the chance to win some swag! How many ounces of flesh are we demanding in return for this coveted chance? None at all actually!
Simply peruse our site and find a restaurant, hotel, pub, shop or place of entertainment or cultural attraction that you've had some experience with, then it's simply a case of hitting the 'review' button at the bottom of the page and wittily penning your observations in a way that is both hilarious and informative... Suddenly you're in with a great chance of winning getting some Cracow-life.com gear!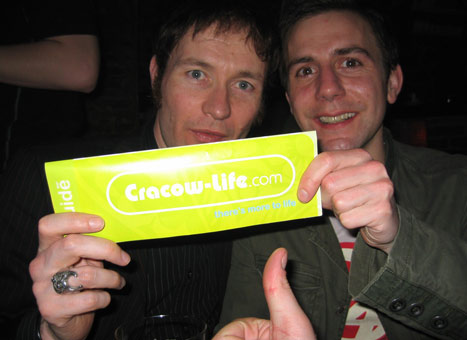 Reviewer of the year 2006, Anthony Brown, shoots the breeze with Cracow Life Editor, Duncan Rhodes, in Tower Pub.
Every twelve months we reward who we consider to be the best reviewer of the year. In past years, we've given out T-shirts, Krakow souvenirs, airport transfers and even a nights' accommodation in one of the city's most atmospheric apartments. Why? Because this is an interactive website, where our reader's opinions and tips are every bit as important as our own - in other words it's our way of saying thank you for your contribution!
Here's the clincher of 2006, by our reviewer of the year Anthony J Brown, who deconstructs Krakow's legendary Lubu Dubu club.
"Come hither and enter a bizarre otherworld where Kim Wilde is Queen and Erasure are, well, the other Queens. Yep the Eighties dominate here in an unashamedly joyous manner. Akin to a labyrinth of standing-room-only sixth form common rooms witness as hoardes of student youth grind crotches and mouth along to every last lyrical cliche with missionary zeal as though each song is a nostalgic nugget from their childhood. In actual fact the cavorting whippersnappers weren't even born when these tunes were hits, a paradox which only adds to the quirky charm of this welcoming pleasuredome. By such haphazard logic in ten years time this joint will be jumping to the collective sounds of Haddaway, Jive Bunny and Vanilla Ice. Small mercies indeed."
Meanwhile Stephen Martin grabbed the goodies in 2005 with his astute (and epic) observations on Ministerstwo Club:
"Like many of Cracow's drinking dens, this music club is tucked away off an apparently empty hallway and would be easy to miss but for the crimson glowing staircase that can be spied through a street window. Stagger down the Faustian flights as I did after one too many glasses of the rocket fuel that masquerades as Polish beer and you begin to wonder about your sanity. A row of silver grasping hands plead for a drink from the well-stocked bar, or are they bar stools for the thirsty customers? A ruby red pair of lips pouts at me around a corner, or is it a sofa? Taking in the contortions of the furniture requires a force of will so I grabbed myself a pint (Ok, half a litre) of potent brew and retired to the farthest room where I reclined on a chaise-longue. There are agood number of benches seats and sofas, but why sit down when you can lie down and watch the swirly shapes projecting onto the walls. The place truly is cavernous, literally in some places, with a deceptive number of rooms off the main thoroughfare. One of these houses the dj, whose pounding break beats along with a smattering of James Brown soul finally lifted me from my slumber and propelled me onto the good sized dance floor until the wee small hours. Despite the plethora of other places to explore in this vibrant city, I found myself determined to visit Ministerstwo again the next day, to ensure that I didn't imagine its freakish charm. Its fair to say that it captivated me all over again. A must-see place, whatever your mental condition."
If you think you can muster up something equally as spicy then take advantage of our review function now. Who knows, budding critics could win more than a holiday - you might even get a job offer!
Never been to Krakow before? You can still come up trumps! The prize is given out to the best review on ANY of our network of 23 sites. Check out our top guides to Berlin, Warsaw, Bratislava, Tallinn, Riga, Vilnius, Vienna and Moscow and you'll find plenty more places to report on. What's more there's no limit to how many reviews you can write, so the more reviews you post the more likely you are to tickle our fancy.
Finally, remember to keep it good clean fun. Check out our reviewing guidelines for more information, and once you know the score start penning your reviews.
Best of luck, and hopefully see you in Cracow soon!
Comments