Rakowicki Cemetery
An afternoon at the cemetery may not sound like the jolliest option for a nice day out, but if you never quite gave up listening to The Cure, or you still have something of a soft spot for the kindly Count Dracula, then it's likely that you'll be bowled over by Rakowicki, the grandest of Cracow's necropolises.
The Poles have always had a penchant for the Gothic, and when it comes to graveyards they do it in style - melancholy is very much part of the culture.
If you're travelling through Poland on All Souls Day (November 1st) you won't be able to escape this spirit. For a week, graveyards across the country flicker with thousands of candles - quite often one grave alone will have at least a dozen candles, and travellers are confronted by seas of light.
Each candle is placed in a transparent coloured vase, which creates a magical effect when night has fallen. Driving through the countryside is like a fantastical adventure, with blazes of colour appearing at every turn.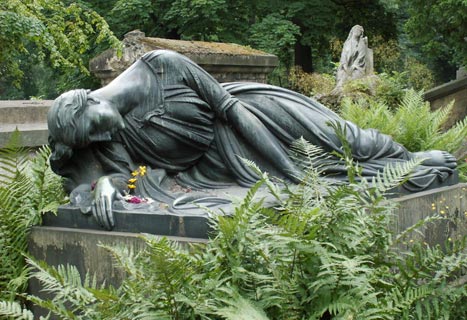 The Rakowicki cemetery in Cracow has something of the flavour of Paris's Pere Lachaise. The latter will be well known to Doors fans, as it was there that Monsieur Jim was laid to rest (and Chopin to strike a patriotic Polish note).
The cemetery was founded in 1803 and Cracow's well-to-do were simply dying to be buried there, if you can forgive the terrible pun. Mature chestnuts and elms tower above the graves, whilst the tombs themselves are replete with all kinds of sculptures, from sighing angels to imperious sphinxes.
Amongst the graves of nobles, soldiers and proud members of the bourgeousie are some golden legends in Polish culture. The tombs of the great painters Piotr Michalowski, Jozef Mehoffer and Jan Matejko (the grand old man of nineteenth centrury Polish painting) are all to be found. The latter has a magnificent classical tomb whose door appears like the portal to another world.
The femme fatale of Polish theatre Helena Modrzejewska was also laid to rest in Rakowicki, and in more recent times the avant garde theatre director Tadeusz Kantor.
Echoes of Poland's tumultuous history can be found in the inscriptions on countless tombs and grave stones. There are also individual memorials to key moments in the country's past, such as the 1831 and 1863 Uprisings against Russian occupation. Today, the monument to the victims of the Communist regime is amongst the most visited in the cemetery, and waves of candles fan out from this memorial during the All Souls Holiday.
However, in spite of all these echoes from the past you don't have to be a history buff to be inspired by the place. Scores of the tombs stand up as works of art in their own right - some are schmaltzy, some humourous and others utterly bombastic. The best have an air of enchantment about them that's thoroughly Polish.
Comments