Krakow for Everyone...
Please read our up to date 2019 article: https://www.local-life.com/krakow/articles/lgbt-friendly-places-krakow
Being gay in Poland is like being a Michael Bolton fan at a metal concert: it's looked down on, not something you announce in a crowd of skinheads, and might get you beaten up. But then, outside of the most liberal European and American metropolises, it's difficult to be gay in most of the world. However, living in a deeply Roman Catholic country can make things more arduous for anyone with an alternative lifestyle.
Historically, unlike in many other Central and Eastern European countries, homosexuality was never punished by law in Poland - but to say it was tolerated is a stretch. During the Communist years, homosexuality wasn't a problem, because according to the government it didn't exist. Until 1991, homosexuality was listed as a disease. Today, legally homosexuality is allowed, and the age of consent for gay (or straight) sex is 15 years. Gay and lesbian couples do not need to register their partnership, but adoption by gay or lesbian couples is not permitted. Prostitution, however, is legal. Meanwhile, Article 32 of the Polish constitution prohibits discrimination against Polish citizens for any reason, though it seems the average Polish citizen finds that article as optional as speed limit signs on the highway.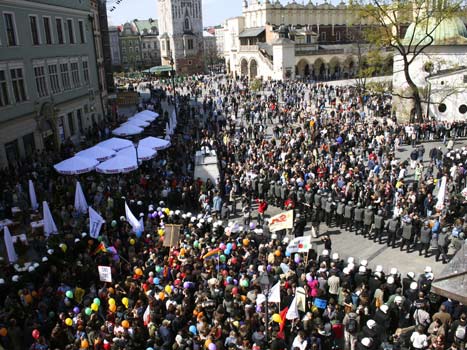 Above: A look at 2007's Tolerance March shows that not everyone is for tolerating others...
Even in larger cities like Krakow or Warsaw, abuse against homosexuals is not uncommon, whether verbal or physical. Reporting cases of violence to police is rarely beneficial as well, as often the case occurs that the police themselves will ridicule or simply ignore the individual - which explains why more than 85% of cases of violence go unreported. According to statistics from a report by the Campaign Against Homophobia, slightly under 20% of homosexuals surveyed had experienced some level of violence, with a slightly larger percentage for men than women; however, this is down from over 22% in 2000. The majority of physical violence is pushing or kicking, but many have reported being punched or beaten up as well. In addition to physical violence, psychological violence like taunting, mocking, threats, etc., is almost if not as harmful as physical violence, and so common that sometimes it goes completely unnoticed. Sadly, it's not uncommon to hear derogatory names used for homosexuals in Poland even today.

But the picture isn't completely bleak. Granted, Poland's homosexual community has two major factors working against them: Poland's strong Roman Catholic heritage, preserved even today in 95% of the population; and the fact that Poland (like all of former Eastern Bloc Europe) never had a sexual revolution in the 60s-70s like in the U.S. or UK. The latter factor also works against feminism in Poland, though acceptance of the equality of women has taken root more so than the acceptance of homosexuals (which is still not saying much).
However, in the years since its independence from the Soviet Union Poland has made remarkable progress, if you consider that countries like the U.S. have had gay rights movements since the 60s, and yet there are places in the South that are far more dangerous for homosexuals than anywhere in Poland. But residue from 45 years of Communist anti-homosexual propaganda does not wash off that easily, and just as the Communist government condemned homosexuality, the current one, led by a centre-right coalition, does so with perhaps even more ferver - at least when the extreme-right members of the League of Polish Families have anything to do with it. Recently, in addition to banning books by Polish writers that were written by anti-nationalists or homosexuals, the Minister of Education, Roman Giertych, has called for the ban of teaching anything that involves "the promotion of homosexuality," including tolerance education. Any teacher who violates the law can be fired, fined, and even imprisoned - and you can forget about being homosexual and being a teacher in Giertych's regime. Luckily, while Poland is a member of the European Union, it is still subject to the Union's regulations, including the respect of human rights for all and the protection against unequal treatment on the basis of a person's sexual orientation. Since Giertych's new policies were announced, the European Parliament has asked Poland to stop public leaders inciting discrimination against homosexuals. But sadly, it's not just the propaganda of a few extremists in the government; many older Poles still view homosexuality as a disease that should be 'cured' by prayer and repenting or counselling. Homophobia is deeply ingrained in the Polish psyche, and the government and the Church are only worsening the situation.
But for a country as homophobic as Poland, the gay rights movement is surprisingly strong and well-organized, especially in recent years. While in 2004 and 2005 the "Equality Parade" in Warsaw was banned by the then Mayor of Warsaw and today the President of Poland, Lech Kaczynski, it has proceeded in the past two years with fewer and fewer incidents of violence. Also, recently Kaczynski's move was ruled as illegal by the Court of Human Rights. In Krakow, which has a reputation of being the more liberal big city in Poland, when the parades were banned in Warsaw and Poznan, they were allowed in the city, though the first few years they were marred by many incidences of violence and protests. The Tolerance March, which was met with violence and throwing of eggs, rocks, and faeces resulting in several injuries in 2006, went off with very little conflict in 2007. Granted, the fact that there were as many counter-marchers as marchers, largely led by the LPR's young soldiers in the All-Polish Youth, demonstrates that our city still has a long way to go before the Tolerance March becomes a Pride March.

So what's the reality? To say that the homosexual visitor should be terrified and constantly hide his or her identity is as preposterous as advising one to make out with their partner in a room full of All-Polish Youth members. Caution should always be observed, of course, but in general younger people, especially in Krakow, are more tolerant and friendly. We've compiled a list of gay-oriented and gay-friendly venues below where one will always feel welcome regardless of orientation. In addition, there are dozens of laid-back and tolerant bars and cafes, particularly in the hipper Kazimierz district where Krakow's more alternative youth tends to gather.
We also compiled a list of websites of GLBT organizations and different portals where Poland's homosexual community communicates on the web, and are good starting points for meeting people before coming to Krakow. While at the moment the major organizations for promoting gay rights in Poland are The Culture for Tolerance Foundation and Campaign Against Homophobia, gay rights groups are growing in strength and in number every year, and the sheer number of gay-oriented Polish websites is a sign of the coming change. So if you're a gay visitor to Krakow, we welcome you, and hope you'll only experience the positive side of life in Krakow.
Krakow's gay and gay-friendly venues:
Bars and Clubs

Kitsch:
ul. Wielopole 15/4
Perhaps the most well-known "gay club" in Krakow is Kitsch, though in recent years it's become more of an after-party place for straight partiers than gay and lesbian revellers. Luckily, you can always count on grabbing a drink here at 4 in the morning, and the dance floor is always packed, and always tolerant - even if it's not quite gay.
Klub 7:
ul. Sw. Filipa 7
Cracow's most long-standing gay club, and considered the best by many in the gay community. NOW CLOSED.
Club Coco:
ul. Gazowa 21
What used to be Cocon Music Club has re-opened as Club Coco. Open only on Friday and Saturday nights, Coco is the place for dancing through the night while bathed in a sea of coloured lights.
Blue Bar Club:
ul. Dietla 85
Newly-opened discreet gay haven between the Old Town and Kazimierz.
Plastic:
ul. Berka Joselewicza 21c
From the creators of Kitsch comes a club as gay as Kitsch used to be!
Ciemnia Club:
ul. Krowoderska 31
Hidden discreet club for men only.
Pozytywka:
ul. Bozego Ciala 10
Gay-friendly cafe with an underground dance floor.
Accommodation and Tours
Friends Guest House:
ul. Bozego Ciala 10
+48 601243444
gay.pl/friendscracow
At the moment, this is the only gay-friendly hostel in Krakow, offering central location and gay staff who will point you to the best spots in town. In general, however, as hostels tend to be laid-back and tolerant by definition, other hostels in Krakow welcome gay and lesbian guests as well.
2nd Floor:
+48 (12) 2945699
2ndfloor.queer.pl
2nd Floor is an exclusively gay guest house, offering simply furnished but comfortable and stylish apartments and rooms.
Polish GLBT Organizations and Websites:
The Culture for Tolerance Foundation organizes the Tolerance Festival every year, which is the largest queer festival in this part of Europe and the March of Tolerance is only one of 30-40 events they provide every year. The 5th anniversary edition of the festival will take place from the 23rd to 27th of April 2008. The Culture for Tolerance Foundation also holds weekly meetings 'Pro: kreacje', every Wednesday at Teatr Nowy (ul. Gazowa 21).
The Culture for Tolerance Foundation: www.tolerancja.org.pl
Campaign Against Homophobia: www.kampania.org.pl
Poland's gay portal: www.gay.pl
Lesbian and feminist portal: www.lesbijka.net
GLBT portal, events: www.innastrona.pl
Lesbian Coalition (LBT): www.porozumienie.lesbijek.org
Positively homosexual portal: www.homiki.pl
Women for Women: www.kobiety-kobietom.com
Independent lesbian and bisexual portal: www.lesbijka.org
GayGuide Cracow: www.cracow.gayguide.net - A guide specially catering to the gay or lesbian traveller. Also available for Warsaw, Prague, Sofia, and Budapest.
If you know of other particularly gay-friendly places in Cracow, please let us know; and feel free to post your comments about gay Cracow on this page below. We encourage different viewpoints and want to hear your thoughts about the gay cause in Cracow (though we won't tolerate abusive or hateful comments). For more information about pro-gay organisations and events in Poland, visit www.tolerancja.org.pl. You can also download a PDF of the Campaign Against Homophobia's "Situation of Bisexual and Homosexual Persons in Poland - 2005 and 2006 Report" here. We've included a few Poland-specific GLBT websites above, though many are only in Polish. We hope they'll be a helpful resource; if you know of any other helpful websites, let us know as well!
Comments