Christmas & NYE 2014/2015 in Krakow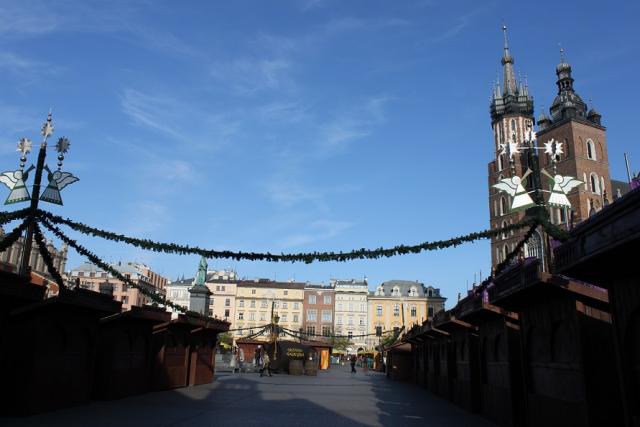 Between the well-known European Christmas traditions, such as the Christmas Tree or the giving of presents, and those typically Polish, such as sharing "opłatek" wafer or the "Wigillia" dinner, Krakow offers plenty of opportunity to fully experience her Christmas spirit.
We recommend you start with a walk through snow-covered, as if Narnian-style Planty park, to the Christmas Market in the Main Square. Christmas lights and and a huge decorated tree provide the magical atmosphere at the market, a place which is particularly popular with both kids and grown ups for its various treats. The yuletide emporium will run throughout December, and even if you don't find any decent prezzies, there are plenty of epicurean pleasures, including knockout mulled wine (grzaniec), and sausages galore.
If capricious Polish winter knocks you sideways, try ice-skating at several rinks in Krakow. The most professional one is located near Hala Targowa, but there are at least two smaller ones, near Galeria Krakowska and in Błonia. If you're in for some real snow frenzy, though, try popping in to Zakopane, the Winter Capital of Poland, only two hour ride away from Krakow.
A very special Kraków tradition is the competition, and afterwards exhibition of szopki. Szopki (Nativity Scenes) are often translated as cribs, but the classic Krakovian szopka (pr. shopka) looks more like the kind of coloured castle, modelled after distinctly local features, such as St. Mary's Church, the Barbican, or Wawel Cathedral. In the olden days, nativity scenes provided a pleasant way of making a bit of extra cash for masons. When snow stalled construction projects, craftsmen would sell szopki and other ornaments for Christmas to well-to-do Cracovian households. In 1930's an annual competition was instated to keep the tradition alive, and it has been running ever since. The contest begins every year on the first Thursday of December, when the entrants (including everyone from youngsters to jovial old grandpas) bring their creations to the Mickiewicz statue on the Market Square. At midday, the bugle cry announces that the scenes should be whisked away to the Historical Museum, where judges will decide on the winner. The following weekend the winners are announced and the year's pickings are put on display at Krakow Historical Museum.
And when you're finally chilled to the bone from all that wandering, drop by to one of Krakow's spectacular museums to get warm. From robust art and history exhibitions to moder art, places such as the ICC, the National Museum, MOCAK and Rynek Underground offer quality time during those long, winter evenings, and often come with a cozy cafe to lure you in for a longer stay. On the other hand, gourmets who are willing to spend their time in Krakow sampling some fine foods should check out Krakow's latest arrivals among restaurants.
However, if you want to get busy partying, make sure it's not on December 24th to 26th, as the Wigilia Day (24th), Christmas and Boxing Day (26th) are very much a family time in both Krakow and Poland, and many establishments are closed. Available are only small shops, petrol stations and as many pubs as can be counted on the fingers of one hand.
This changes dramatically as the New Year's Eve gets closer, and the real party time begins. At the most important night of the year the parties are going on literally everywhere, and the Main Square holds an open-air party with a laser show at midnight. The next day, on January 1st most of the population is either too snuggled in bed, or simply too hangovered to get up, so make sure the restaurant or other facility of your choice is open before you get there.
Comments