Travelling to Bratislava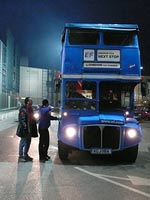 Above: ...Are you stopping off at Hackney by any chance?


Left: Air Slovakia. The stewardesses make up for any other deficiencies.


Below: Arriving by train. Romantic, or just plain uncomfortable?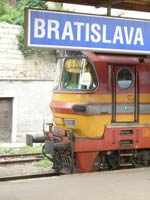 By air

Bratislava's M.R. Stefanik Airport - named after a proud turn of the century patriot - lies just 9km north east of the city. Unless you're flying a private jet P Diddy style, you'll be looking at Lufthansa, Czech Airlines or Air Slovakia. However, one of your best bets remains the low-cost Sky Europe, which is in fact based right here in Bratislava. As of October 2007, a key route for them will be from London Luton. Ryanair also have a link in the pipeline with London Stansted. Finally, and bizarre as it might sound, travellers to Bratislava regularly fly direct to Vienna. The Austrian capital is just 45 km away, and there are shuttle buses from Vienna Airport to Bratislava proper.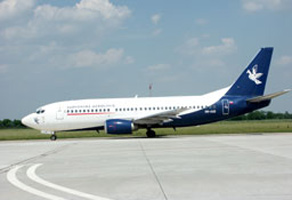 By rail

Bratislava is plum in the centre of Europe, so you shouldn't get funny looks at the ticket office when you ask about connections (unless you're dressed as Kermit the Frog that is). In short, you can get here from just about anywhere. If you're on the Central European trail, the following websites might come in handy, with links from Austria, Germany and the UK. Slovakia's internal connections are dealt with on Slovak Rail, but you'll have to trust your sense of logic as it's all in the local lingo.


By bus

Seemingly gentle people can metamorphosize into profoundly embittered old buggers after a night's sleep (or more accurately lack of sleep) on a bus. Still, prices are competitive and you really feel you've earnt your holiday when you reach the other end. If you're thinking of busing it, try Eurolines, who operate services to Bratislava from far-flung destinations like London and Rotterdam, as well as local links from Prague and elsewhere.


By car

Motorways stream out of Bratislava in all directions, making it a straightforward destination if you're coming from the Czech Republic, Hungary and Austria. Having a car in Slovakia will also help you get to grips with the countryside, surely one of the top draws for any motorist in the region. It's only with your own set of wheels that you can scratch the surface. From the European perspective, driving is much freer these days as border controls have fallen into the background since the EU expansion. But be sure to buy a road pass as soon as you get into the country at the nearest petrol station or other store. They sell for about 5 Euro. If not, you risk a 100 Euro fine and a lot of hassle. It's a Slovakian quirk they'll never tell you about but unless you're in a generous mood, we think it's important you know beforehand. Happy driving.
The two men were immediately run over after being expelled from Blue Man Group's tour bus for allegedly "not being blue enough"...'
Comments