Money Advice - Bratislava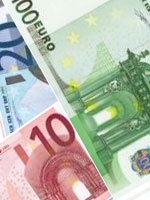 Wave your flexible friend at a pub owner in the Highlands and you're unlikely to have much success. But here in Bratislava, credit cards are becoming increasingly acceptable as a method of payment. You're liable to be most lucky with higher end shops and restaurants, but paying with plastic is not relegated to the luxury end. Paying for accommodation should be straight forward enough with a card. Otherwise, common sense rules - if you have a penchant for pole-dancing clubs, you may well be taken to the cleaners if you hand over your card.
Slovakia took up the Euro on 1st January 2009, and local artists created some stirring designs for the coins, which will be emblazoned with peaks of the Tatra mountains. The Slovakian koruna (crown) will no longer continue to be the currency of record in shops and banks across the country. As is the case over the border in Poland, shopkeepers are loathe to accept notes for small purchases, so having a few eurocents in your pocket can be a handy thing.
ATMS (Cash Machines)
ATMs are to be found on almost every corner in central town these days, providing the swiftest way to procure cash, short of breaking the law. The Cirrus, Maestro and Visa symbols are the most commonplace.
Cheques
The cheque is by and large a thing of the past in this neck of the woods, so try and organise your cash accordingly.
Bureaux de Change (Kantor)
Exchange rates can vary enormously even on the same block - so keep your eyes peeled. Avoid the bureaux de change on the obvious tourist trails, and watch out for commissions or sneaky zeros slipped into the rate. Above all, make sure you change with a legitimate businessmen.
Comments