Warsaw Embassies - The Men in Suits...
You've just completed the Warsaw leg of your travels and everything is fine and dandy. As you walk down Marshal Street on the way to Dworzec Centralny station, you spot a kiosk and decide to buy a newspaper for your train journey. You take out your wallet, but just as you are about to hand over the reddies, a golden eagle that just happens to be flying over the area spots the wallet and mistakes it for his favourite chocolate bar. It's all over in an instant. The bird swoops down, steals the wallet and flies off into the unknown. Realizing his mistake, the bird tries to turn round but accidentally drops the wallet into the river Vistula. Gone.
Unfortunately this is not all. Taking advantage of your bewilderment, a rogue band of gnome outlaws seizes the opportunity to liberate you from your passport. It's a nightmare scenario.
It's times like this when those noble, nicely-suited chaps in your embassy can really come to the rescue. Of course, let's hope that you don't need to get in contact with any of the following institutions for anything other than good reasons, but misfortunes can happen.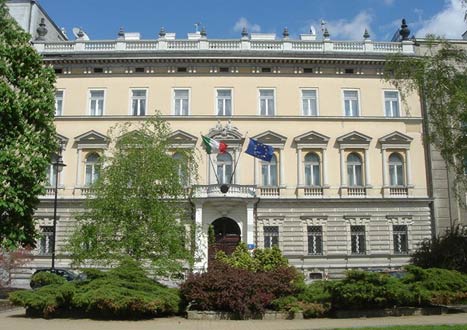 On a more enterprising note, several of the places listed below can open the gates if you're planning to extend your travels. If you're inspired to journey further East to Moscow or St. Petersburg you're likely to need a visa (this is a requirement for most non-Russian nationals). Similarly for China if you're intending to go Trans-Mongolian to the orient. Do your research first as the Russian visa requires an invitation and various other tit-bits before the embassy will process it. Bear in mind too that, although visas can be issued swiftly, if you've got a week to play with the prices will be significantly cheaper.
Embassies and Consulates
Australia
ul. Nowogrodzka 11, 3rd floor
Open daily 9:00 - 17:00, closed weekends.
Tel: +48 (22) 521 3444
Fax: +48 (22) 627 3500
Website
Austria
ul. Gagarina 34
Open daily 8:30 - 16:30, closed weekends.
Tel: +48 (22) 841 0081
Fax: +48 (22) 841 0085
Website
Belarus
ul. Wiertnicza 58
Open daily 8:30 - 12:20 and 13:00 - 17:10, closed weekends.
Tel: +48 (22) 742 0990
Fax: +48 (22) 742 0980
Website
Belgium
ul. Senatorska 34
Open daily 9:00 - 13:00, closed weekends.
Tel: +48 (22) 551 2800
Fax: +48 (22) 828 5711
Website
Canada
ul. Jana Matejki 1/5
Open daily 8:30-16:30, closed weekends.
Tel: +48 (22) 584 3100
Fax: +48 (22) 584 3192
Website
China
ul. Bonifraterska 1
Open daily 8:30 - 12:00 and 14:00 - 17:30, closed weekends.
Tel: +48 (22) 831 3836
Fax: +48 (22) 635 4211
Website
Czech Republic
ul. Koszykowa 18
Open daily 8:00 - 16:30, closed weekends.
Tel: +48 (22) 525 1850
Fax: +48 (22) 525 1898
Website
Denmark
ul. Rakowiecka 19
Open 8:30 - 16:30 Mon, 8:30 - 16:00 Tue to Thu,
8:30 - 15:00 Fri, closed weekends.
Tel: +48 (22) 565 2900
Fax: +48 (22) 565 2970
Website
Estonia
ul. Karwinska 1
Open daily 9:00 - 17:00, closed weekends.
Tel: +48 (22) 881 1810
Fax: +48 (22) 881 1812
Website
Finland
ul. Fr. Chopina 4/8
Open daily 09:00-11:00, closed weekends.
Tel: +48 (22) 598 9500
Fax: +48 (22) 621 3442
Website
France
ul. Piekna 1
Tel: +48 (22) 529 3000
Fax: +48 (22) 529 3001
Website
Germany
ul. Jazdow 12
Open daily 9:00 - 12:00, closed weekends.
Tel: +48 (22) 584 1700
Fax: +48 (22) 584 1739
Website
Greece
ul. Gornoslaska 35
Open daily 9:00 - 16:00, closed weekends.
Tel: +48 (22) 622 9460
Fax: +48 (22) 622 9464
Website
Hungary
ul. Fr. Chopina 2
Tel: +48 (22) 628 4451
Fax: +48 (22) 621 8561
Website
Ireland
ul. Mysia 5
Open daily 9:00 - 13:00 and 14:00 - 17:00, closed weekends.
Tel: +48 (22) 849 6633
Fax: +48 (22) 849 8431
Website
Israel
Al. Jerozolimskie 123A
Open daily 10:00 - 12:00 (appointments only), closed weekends.
Tel: +48 (22) 597 0500
Fax: +48 (22) 825 1607
Website
Italy
pl. Dabrowskiego 6
Tel: +48 (22) 826 3471
Fax: +48 (22) 827 8507
Website
Japan
ul. Szwolezerow 8
Open daily 8:30 - 17:00, closed weekends.
Tel: +48 (22) 696 5000
Fax: +48 (22) 696 5001
Website
Latvia
ul. Krolowej Aldony 19
Open daily 9:00 - 17:00, closed weekends.
Tel: +48 (22) 617 4389
Fax: +48 (22) 617 4289
Website
Lithuania
Al. Ujazdowskie 14
Open daily 9:00 - 12:00 and 13:00 - 18:00, closed weekends.
Tel: +48 (22) 625 3368
Fax: +48 (22) 625 3440
Website
Netherlands
ul. Kawalerii 10
Open 9:00 - 12:00 Mon & Thu,
14:00 - 16:00 Tue & Fri, closed Wed and weekends.
Tel: +48 (22) 559 1200
Fax: +48 (22) 840 2638
Website
Norway
ul. Chopina 2a
Open daily 8:30 - 15:30, closed weekends.
Tel: +48 (22) 696 4030
Fax: +48 (22) 628 0938
Website
Portugal
ul. Zwyciezcow 12
Open daily 10:00 - 17:00, closed weekends. Tel: +48 (22) 617 6021
Fax: +48 (22) 617 4498
Website
Russia
ul. Belwederska 49
Tel: +48 (22) 621 3453
Fax: +48 (22) 625 3016
Website
Slovakia
ul. Litewska 6
Open daily 8:00-16:30, closed weekends.
Tel: +48 (22) 525 8110
Fax: +48 (22) 525 8122
Website
South Africa
ul. Koszykowa 54, 6th floor
Open daily 8:30 - 13:00 and 13:30 - 17:00,
8:30 - 15:15 Fri, closed weekends.
Tel: +48 (22) 625 6228
Fax: +48 (22) 625 6270
Website
Spain
ul. Mysliwiecka 4
Open daily 9:00 - 17:00, closed weekends.
Tel: +48 (22) 622 4250
Fax: +48 (22) 622 5408
Website
Sweden
ul. Bagatela 3
Open 10:00 - 12:00 Mon, Tue & Thu,
15:00 - 16:00 Wed, closed Fri and weekends.
Tel: +48 (22) 640 8900
Fax: +48 (22) 640 8983
Website
Ukraine
ul. J. Ch. Szucha 7
Open daily 8:00-12:00, closed Wed and weekends.
Tel: +48 (22) 622 4797
Fax: +48 (22) 629 8103
Website
United Kingdom
ul. Kawalerii 2
Open daily 8:30 - 14:00, and 8:30 - 12:00 Wed. Closed weekends.
Tel: +48 (22) 311 0000
Fax: +48 (22) 311 0313
Website
USA
Al. Ujazdowskie 29/31
Open daily 08:00-12:00, closed weekends
Tel: +48 (22) 504 2000
Website
Comments