Sweet Warsaw
We all know the stereotypes: the French love garlic and snails, the English love scones and fish and chips, the Scots love haggis and whiskey, and the Poles... well, the Poles are most often linked to beetroot, sausage or vodka.
We won't deny that the Poles are fond of the odd tipple (although beer has easily superseded vodka in popularity since 1989). But any foreigner who has been around in this country for more than a few days will spot another national trait - Poles love cakes.
The signs of this sweet infatuation are plain to see. First of all, there's the institution of the 'cukiernia'. This roughly translates as confectionery, and you can't walk more than a few paces without stumbling across one of these cream-filled caverns. There's an old adage that goes that 'there are as many opinions as there are Poles'. One might highjack that phrase and say that 'there are as many cake-shops as there are Poles'.
Then there's the clever way in which Poles transform national holidays into confectionery extravaganzas. Take Tlusty Czwartek for example. Fat Thursday, as it is known in the Catholic calendar, has somehow managed to evolve into Paczki Day (Doughnut Day) in this neck of the woods. We don't know how or when this came into being, but since time immemorial, Fat Thursday has involved consuming doughnuts galore. Many of our friends consider it a point of honour to eat nothing but doughnuts on this special day of the year, and that means breakfast, lunch and dinner. We enjoy doing our best to follow.
When did this penchant for pastries begin? Certainly a long time ago. Polish kings and nobles used to employ special art directors to coordinate the sweet finale of their banquets. And the last King of Poland, Stanislas Poniatowski, used to craft his own bonbonnieres when he needed to cheer himself up. (He had quite a lot to worry about, considering that Austria, Prussia and Russia were about to carve up Poland like a giant cake).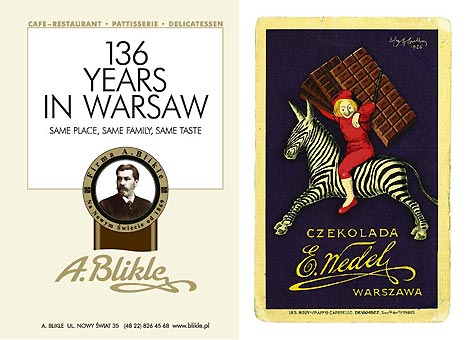 In the nineteenth century, the chocolate cult swept through Europe, and the Poles found new ways to express their sweet fantasies. Enter the great confectionery dynasties such as Wedel, Piasecki, Blikle and Fuchs. The master confectioner was indeed a highly respected profession in Poland, and young hopefuls had to win a fully-fledged diploma if they wanted to make a career in cakes.
However, the world of the confectioner was turned topsy-turvy during the Cold War era, when substantial private companies were simply confiscated and quality ingredients were scarce. But the Polish flair for baking is back.
One of the most famous Warsaw firms to have come through it all is A. Blikle, whose delectable doughnuts have been seducing Varsvovians since 1869. De Gaulle, Sienkiewicz and scores of artists and actors have frequented this much-loved spot on Nowy Swiat.
Another legendary name in the confectionery world is Wedel. Jan Wedel was very much the Willy Wonka of pre-war Poland. Besides being a connoisseur of the cocoa bean, Jan was an energetic and much-loved philanthropist who did a great deal for Warsaw. His factory was destroyed by the Nazis and then confiscated by the Soviets.
Sadly, none of the Wedel family lived to see the return of democracy. But the company is now up and running again, and their chocolate parlour on Szpitalna street remains a Warsaw favourite.
*Find out more about the whole realm of classic Polish dishes by checking out our section on Polish cuisine.
Comments