The Jewish Ghetto Today
In the Autumn of 1940, precisely a year after their invasion of Poland, the Nazis created a ghetto for the Jews of Warsaw and its environs. The area chosen, Muranow, was in the north west of the city, and up until that time it had housed 240,000 Jews and 80,000 Christians. On October 10th the Christians were given an order of eviction, and a month later the ghetto was sealed off by a wall. By March 1941, as many as 445,000 Jews were living in the ghetto, and conditions deteriorated rapidly.
In the Summer of 1942 265,000 Jews were sent to Treblinka from the infamous Umschlagplatz. The vast majority were to die in the gas chambers. These sudden evictions, coupled with the news of Nazi crimes which were filtering in through the underground, laid the foundations for the Ghetto Uprising, which began in earnest in April 1943. The conflict saw appalling scenes of devastation and the further slaughter of some 55, 000 Jews. After the area had been liquidated in May 1943, the entire ghetto was razed to the ground.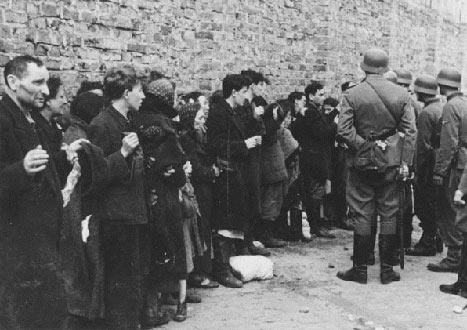 Today there are few echoes of Muranow as it was in the 1930's. The wasteland of the ghetto was rebuilt in standard Soviet blocks - it is a stark area. Nevertheless, amidst this cold landscape there are a number of landmarks of great importance. A small stretch of the ghetto wall can be found on Sienna street, a chilling reminder of the occupation. Astonishingly, the Nozyk Synagogue, which stood nearby on the south eastern fringe of the ghetto, came through war. It was used by the Nazis as a warehouse, and it is the only synagogue in Warsaw to have survived the war intact.
Several memorials can also be found in the area. A path of remembrance leads off Zamenhofa street to the Monument to the Ghetto Heroes. For historical insight, the the Institute of Jewish History remains the focal point of the area. As well as chronicling the experience of the Warsaw ghetto, it also sheds light on the full expanse of the Jewish tragedy.
Comments