Shiny, Happy Varsovians
Being gay in Poland is no easier than being gay in any deeply Catholic, formerly Communist, state - in other words, it's no walk in the park. But modern Warsaw is the most open city in Poland when it comes to the acceptance of homosexuality, and many gay and lesbian Poles will also tell you it's also the place with the most gay and gay-friendly clubs. Below, we've gathered a selection of the best clubs and cafes, and even hostels and hotels for the gay or lesbian traveller, as well as some Polish websites of various GLBT organizations and communities.
For general information about the history and current laws and statistics on homosexuality in Poland, see our Gay Krakow page.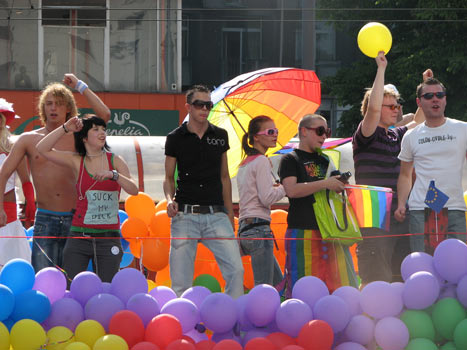 Above: Warsaw's Tolerance Parade in 2007
Warsaw's gay and gay-friendly venues:
Bars and Clubs

Le Garage:
ul. Burakowska 12
A club known for its warm atmosphere and clientele (not to mention the wild decor and wall paintings), Le Garage is a laid-back place to have a few drinks and occasionally enjoy a drag queen show.
Toro:
Marszalkowska 3/5
Another one of Warsaw's most popular gay bars, Toro hosts frequent events like disco parties and shows which last all night.
Fantom Club:
ul. Bracka 20a
Yet another hard to find spot, Fantom is a club and sauna for men only, with dark rooms, video rooms, and themed parties on Sundays.
Wild Club:
ul. ul. Chlodna 39, lok.3
Similar to Fantom above, Wild Club is a bar and sex club for men.
Galeria:
Plac Mirowski 1
The occasional drag queen shows make this little bar worth coming to.
Lodi Dodi:
ul. Wilcza 23
This small bar in the very centre of the city now has a cinema and darkroom downstairs.
Bastylia:
ul. Mokotowska 17
Small gay-friendly cafe
Accommodation and Tours
Friends Guest House:
ul. Sienkiewicza
+36 (309) 323334
gaystay.net/Friends/Warsaw/
Friends Guest House, also with a location in Krakow, was the first gay owned and operated guest house in Poland, and is still the only one in Warsaw. The guest house has three rooms in one building located right in the very centre of the city, close to the Central Train Station, and a stone's throw from stores, cafes, and the Old Town.
Gay Warsaw Tour:
From the people at Warsaw Tours: www.tours-warsaw.com
A gay tour of Warsaw that not only takes you to the best clubs, but also treats you to a day of spas, sightseeing, and a chance to meet local activists.
Polish GLBT Organizations and Websites:
Culture for Tolerance: www.tolerancja.org.pl
Campaign Against Homophobia: www.kampania.org.pl
Poland's gay portal: www.gay.pl
Lesbian and feminist portal: www.lesbijka.net
GLBT portal, events: www.innastrona.pl
Lesbian Coalition (LBT): www.porozumienie.lesbijek.org
Positively homosexual portal: www.homiki.pl
Women for Women: www.kobiety-kobietom.com
Independent lesbian and bisexual portal: www.lesbijka.org
GayGuide Cracow: www.cracow.gayguide.net - A guide specially catering to the gay or lesbian traveller. Also available for Cracow, Prague, Sofia, and Budapest.
If you know of other particularly gay-friendly places in Warsaw, please let us know; and feel free to post your comments about gay Warsaw on this page below. We encourage different viewpoints and want to hear your thoughts about the gay cause in Warsaw (though we won't tolerate abusive or hateful comments). For more information about pro-gay organisations and events in Poland, visit www.tolerancja.org.pl. You can also download a PDF of the Campaign Against Homophobia's "Situation of Bisexual and Homosexual Persons in Poland - 2005 and 2006 Report" here. We've included a few Poland-specific GLBT websites above, though many are only in Polish. We hope they'll be a helpful resource; if you know of any other helpful websites, let us know as well!
Comments