Travelling to St. Petersburg
2Getting to St Petersburg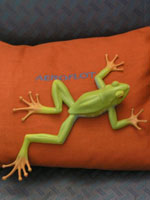 Above: Join Kermit on the Aeroflot service...


Below: ..or avoid hassles with your visa by going cross country!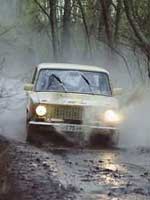 By air
Pulkovo Terminal II is St. Petersburg's international airport and, barring the extremely unlikely event of re-route to Uzbekistan, this is where you'll touch down. The newly renovated airport building is light years ahead of much of the rest of Russia's slowly improving infrastructure and will lull you into a false (albeit pleasant) sense of security about the ease of travelling here! Getting into town is fractionally more complicated, although you can avoid extortionate taxi fares by taking a bus to Moskovskaya Metro Station and shuttling into the city centre from there.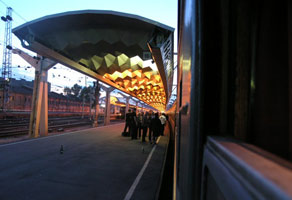 By rail
St. Petersburg has long been a major rail hub, bridging the gap between Europe and Russia. It has five major stations:
1) Moscow Station (Moskovsky Vokzal) - for trains (including nighttrains) to and from Moscow and Russian cities in an Easterly direction.
2) Vitebsk Station (Vitebsky Vokzal) - to and from Kiev, Odessa, Minsk, Prague, Warsaw, Riga, Vilnius and Tallinn, Berlin and Budapest.
3) Ladozhsky Station (Ladozhsky Vokzal) - for Helsinki, Murmansk, and Astana (Kazakhstan).
4) Baltic Station (Baltiisky Vokzal) - as a tourist you're only likely to need this station for visiting Peterhof.
5) Finland Station (Finlandsky Vokzal) - Local trains for local people! Used to serve Finland, hence the name.
By bus
Find St. Petersburg's Central Bus Station at Naberezhnaya Obvodnogo kanala 36. Eurolines run services out of here to and from Riga, Tallinn and Helsinki. The Bus Station is fifteen minutes walk from Ligovsky Metro Station, from where you can easily get anywhere in town. Meanwhile you can find out more about Euroline's services at www.eurolines.com
By car
Very funny! If however you absolutely insist on driving to Russia, ready to do battle with potholes and policemen, then don't bother turning up without your National and International Driving Permit, registration and insurance documents for your car, plus of course your passport with visa for yourself. You will also need to ask for a stamped Immigration Card on the border - assuming that you ever want to leave.
Comments
Hi! You mention that Finland Railway Station USED to serve Finland. There ARE still two daily direct trains to Helsinki, Finland (one Russian, one Finnish). On 2010 a Superspeed train will be put in operation between Helsinki and St Petersburg from this same Station. That will half the travelling time to 3,5 hours.
Reply