St. Petersburg Nightlife
Nightlife aficionados arriving in St. Petersburg have cause for celebration - Russia's second largest metropolis can give the capital a run for it's money when it comes to boogieing, boozing and generally binging to excess. This city of artists is the spiritual home of both Russia's live music and dance music scene, and although St. Petersburg's nightlife may not have all the glitz and glam of Moscow's nightlife it has bags more creative integrity, with clubs on the whole tending to be more down to earth and friendlier - with a touch more mayhem for good measure!
A couple of great places to begin an assault on your liver are the Idiot and Cynic Bar. Both are cult favourites amongst the literati expat types and local students, with all the Bohemian drinking habits you would expect from such a crowd. For those who prefer something a bit more civilised, the James Cook tavern offers pub grub and caters to a somewhat older and wiser crowd and the Shamrock is the resident Irish Pub, frequented by ballerinas.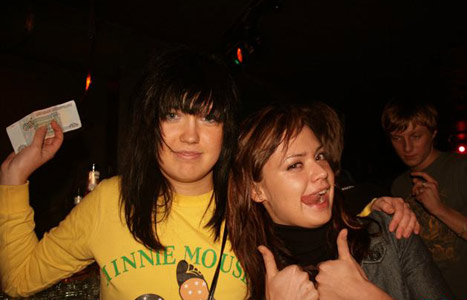 When it comes to heading towards a nightclub one obvious choice is Metro Club. A huge Euro-disco on three levels, you'll find music runs the gamut of pop to hard-core techno. Whereas clubbing purists are unlikely to be impressed (Metro generally attracts youngsters from the suburbs, rather than hip locals, and is something akin to the Hippodrome in London), those hoping to chase pretty blondes across the dancefloor should have a good time. Far more authentic nightlife options present themselves in the form of Griboedov and Tunnel Club. Both are housed in old bomb shelters, the former throwing a real smorgasboard of madcap events ranging from live concerts to Soviet disco and drum and bass nights. Tunnel meanwhile is Russia's first ever techno club and despite entering its third incarnation seems to have lost none of its life or reputation for hedonism! Worthy of mention too is Fish Fabrique - an alternative live music venue popular with artistic/alcoholic types.
Finally for those looking to explore St. Petersburg's jazz legacy, a visit to Cafe Club Che should prove rewarding. This swanky club is frequented by well-heeled music lovers, and a good place to chill or party.
For a more complete list of St. Petersburg nightlife players - from bars and pubs to nightclubs and stripclubs, check out our drink section. Here you can also see photos and place reviews of all your favourite venues.
Comments