The Hermitage
The State Hermitage Museum is rightly considered one of Russia's foremost attractions, if not one of the world's. The institution boasts an incredible three million works of art, only five percent of which it has room to display - despite the luxury of having six buildings in which to house them. It is estimated that to see all the exhibits in the Hermitage you would have to walk twenty four miles... So the chances are that even fanatics amongst you might be tempted to skip the odd section!
The six buildings of the Hermitage form an impressive faade along the embankment of the River Neva in St. Petersburg, and none more so than the Winter Palace, the principle edifice of the museum and former home of the Tsars. Built in the 18th Century by the Italian architect Rastrelli it became the home of Empress Catherine II when she ascended to the throne in 1762. Shortly afterwards she bought Johann Ernest Gotzkowski's private collection of art and the so-called Small Hermitage building was constructed to display the 250 pieces. Successive collections were purchased and donated until, by the 20th Century, the Hermitage was one of the largest museums in the world.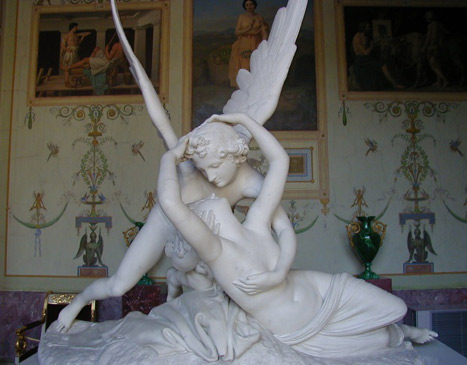 Today the collection on display is simply staggering and represents nearly every major epoch in the history of man, since Paleolithic times to the present day. To even give a rundown of the highlights is exhausting, but you can expect to see the likes of lion-headed goddesses from ancient Egypt, depictions of the mighty Hercules on millenia-old Greek pottery, lifelike statues of Roman Emperors from classical times, finely-crafted bronze vessels from the Near East and intricate wood-cuts of Geishas and Samurais from the Far East.
Perhaps even more fascinating, at least for those interested in Russia's glory days, are the exhibits illuminating Russia's Imperial past. These include everything from waxworks of Peter I (Madame Tussauds eat your heart out!), to the cermonial attire of Tsars and Tsarinas, and even extravagant gold-inlay gala carriages and sledges, used for journeying to masquerade balls.
Finally, no run-down of the Hermitage's treasures would be complete without making mention of the Museum's stunning collections of Western European art, which date from the 13th Century onwards. Works by Giorgione, Titian, Leonardo Da Vinci and Caravaggio will have history of art buffs foaming at the mouth in ecstasy, whilst one of the world's largest Rembrandt collections (over 20 pieces) plus impressionist oeuvres d'art by Matisse, Picasso and Gauguin could all prove too much for the over-enthusiastic connoisseur! Enjoy...
Click on our Hermitage listing to find out contact details and to read and write reviews; or else click here to go straight to the Hermitage's official website.
Comments