Explore the Central District of Riga
Cross the Basteja Boulevard and enter the start of Brivabas Boulevard. Several picturesque bridges allow you to cross over the small Pilsetas Canal and enter Bastejkalns Park, where benches await sitting and ducks await feeding from the locals. In the summer, you'll find many brides in white celebrating their newly acquired state of matrimony in the backdrop of the park. In the winter, the frozen canal and the snow tipped trees make for fantastic photographs, or just an eerie stroll in the winter chill. Lost in the park? Just look up from almost any point in the vicinity and the three-starred Freedom Monument (pictured below) will guide your way to the Brivibas Boulevard, the main street of central Riga.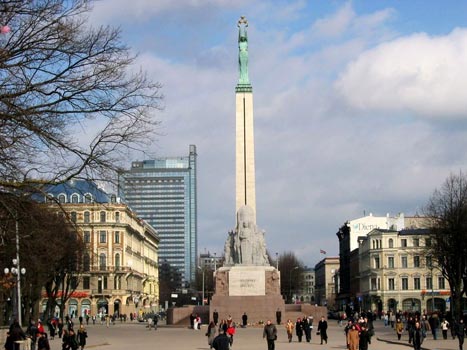 From the Brivibas, one can take a left to find the awesome (in the original meaning of the word) Russian Orthodox Nativity of Christ Cathedral, which is just as interesting for its architecture as its historical significance. From the Cathedral, be sure to wander through Esplanade Park past the unfortunate statue to Mihail Barclay de Tolly as you make your way to the National Art Museum.
Following Brivibas Iela, one will hit Elizabetes Street, one of the main streets of Riga's Art Nouveau District. All around Elizabetes, early 20th century apartment houses show off elaborate facades, mostly freshly restored, in the elegant Art Nouveau style. In the area you'll also find many restaurants and cafes ranging from quaint and charming to hipper than a Camden Town record store, so if you're sick of eating in the tourist-infested Old Town, try one of Riga's lesser-known (and generally cheaper) establishments for a more authentic Latvian experience.
Heading southeast along Elizabetes, you'll inevitably run into the Central Train Station, and next to it, the enormous zepplin hangers that house the Central Market under its massive roofs. Find everything from fresh fruits and meats to the freshest tunes on CD. Directly east of the market is the beginning of Maskavas, or the Russian District of Riga. If you've read our Riga information guide, you'll know that about as many native Russian speakers inhabit Riga as Latvian speakers, making a Russian district as inevitable as Chinatown in New York.
Comments