What to do in Krakow on Christmas and New Year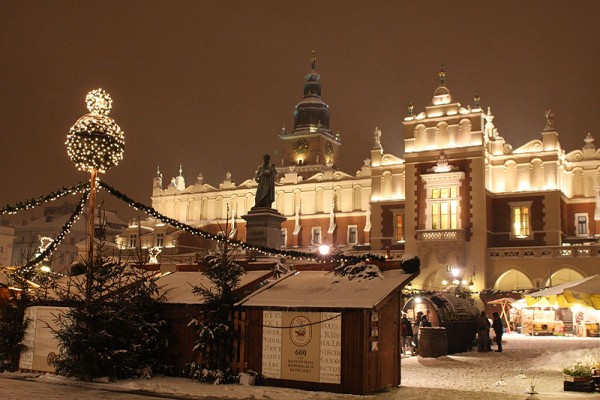 Christmas is very much a family time for a majority of Poles, and many attractions will be closed. However, if you're staying in Krakow for Christmas, here are a few tips on what you can do to keep yourself busy.
December 24th
This is Wigilia Day, with its famous Christmas Eve supper – by far the most important moment of all Christmas in Poland. However, since preparations begin early on in many homes, many museums and other cultural facilities will be closed on that day altogether, or closing earlier. Also, you can expect the majority of business to close around 2 p.m., with grocery stores and shopping centres closing last, at approx. 4 p.m., so make sure you've got all your required supplies secured. From then on, it's celebration time!
If you're into religion and traditions, try squeezing in to one of Krakow's beautifully lit churches for the Midnight Mass, or Pasterka. On that occasion, many special events take place in Krakow churches, with celebrity carol performances and live nativity scenes, all wrapped up in an unforgettable atmosphere of unity and good cheer.
On the other hand, if you're more keen to meet people outside the religious realm, head for the Market Square and the main side streets, as surely some nightlife dens will stay open for stray wanderers – one of them is surely Kulturalny Pub in ul. Szewska.
December 25th
Don't rush out of bed too early, and when you finally do, we'd recommend a walk around the Old Town and to Kosciuszko Mound. Why? This is one of the rare occasions to see and appreciate the beauty of Krakow, with traffic reduced almost to none, and peace and quiet wrapping up the usually annoingly busy city centre. And if you're lucky, you might even run into a caroling concert outdoors, or in one of the churches. Some restaurants in the city centre will definitely be open as usual, so don't worry about grabbing a bite to eat.
December 26th
This is the day, when Krakow gets back to life a bit: people start getting out of their homes to visit their families, enjoy some Christmas attractions, or are simply fed up with sitting at home and are into some action. Major museums and some businesses open, though some for a shorter time than usual. For example, MOCAK, Krzysztofory Palace (with its magnificent nativity scene collection), the City Hall Tower, Old Synagogue, Schindler's Factory and the Underground Market Square will be opened as usual. The National Museum will be open only 10 – 13.
A degree of normality returns to the city from December 27th on, only to plunge into a New Year's Eve frenzy four days later.
December 31st
This is the day when many people doll up, so again, many businesses and cultural institutions will close earlier than usual. MOCAK closes at 4 p.m., and the city centre branches of the Historical Museum at 3 p.m. And later on, grab an evening jacket or frock, it's party time! The long awaited outdoor New Year's Eve party in Krakow Market Square kicks off at 7 p.m., and will feature a row of pop star performers and celebrity hosts. This year's theme is FUNtastic Krakow, and the line-up includes Agnieszka Chylińska, Mrozu, Natalia Kukulska, Magda Steczkowska, Ania Wyszkoni, Afromental, Patrycja Markowska, Future Folk and Kozak System.
January 1st
As Krakow cures the hangover, a vast majority of businesses will be closed, including cultural institutions. You can expect some life to return to the city only after midday.
Comments