Bishop Erazm Ciołek Palace Reopens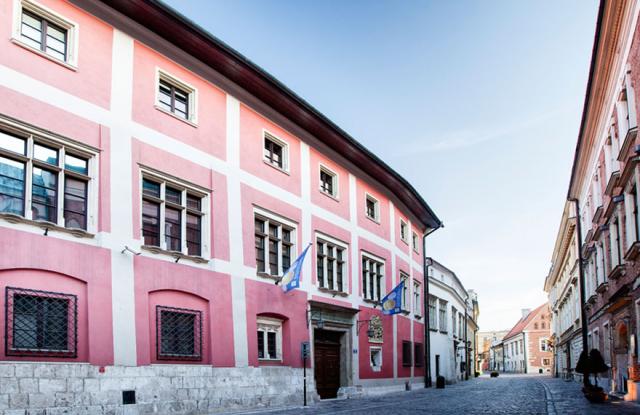 'The Palace Full of Beauty' is again opened to the public after a year-long break. The Bishop Erazm Ciołek Palace was undergoing a renovation, but since 16th April 2015 the museum on Kanonicza St. again presents treasures of medieval art like The Beautiful Virgin Mary from Krużlowa, the Palmesel from Szydłowiec, Jesus in the Garden of Olives by Wit Stwosz, the Epitaph of Wierzbięta of Branice, and the Wawel Tabernacle by Padovano renovated for the very first time.
The Palace was erected in the years 1501-1503 for Erazm Ciołek - the Bishop of Płock and the secretary of King Alexander Jagiellon. Bishop Ciołek was a diplomat, humanist and a patron of artists.
The architecture of the building features traditional Gothic elements (pillars in the vestibule) and influences of the Italian Renaissance (main portal). At the beginning of the 16th century, the building housed both the Bishop's residence and Florian Ungler's printing house. The Palace was extended in the 1520s (the decor of Tomicki Hall on the first floor dates back to this decade) and then again at the turn of the 16th and 17th centuries. It was subsequently thoroughly renovated in the first half of the 18th century, when the representative halls on the first floor (the so-called Hall of Virtues) were decorated with frescos and the façade was reinforced with a sloping wall and covered with a painted decoration in the form of cream-coloured latticework against a pink background. In 1805, the Palace became the property of the Austrian authorities, which turned it into a police station and a prison. In later years - until the 1990s - it housed various state agencies.
In 1996, the building was transferred to the National Museum in Krakow. Between 1999 and 2006, the edifice underwent extensive restoration, financed by the Citizens' Committee for the Renovation of Krakow's Historic Monuments, which brought it back to its former glory. 2007 saw the opening of two permanent galleries presenting the collections of the National Museum in Krakow. The first floor houses the exhibition titled Art of Old Poland. 12th - 18th Centuries, where visitors can admire Polish works of art from the medieval, Renaissance and Baroque periods. The ground floor presents an exhibition titled Orthodox Art of the Old Polish Republic.
In addition to the permanent galleries, the Palace is home to two academic sections: the 1st Department - Polish Painting and Sculpture before 1764 and the 18th Department - Orthodox Church Art. The building also houses painting and sculpture conservation studio. The exhibitions offered in the Palace constitute the foundation of extensive educational activities.
In 2009, the National Museum in Krakow was announced the winner of the "Well-preserved Monument" competition, organized by the General Conservator of Monuments - The Ministry of Culture and National Heritage came to appreciate the comprehensive restoration of the Bishop Erazm Ciołek Palace.
Comments