Fraudulent Night Club Chain Under Scrutiny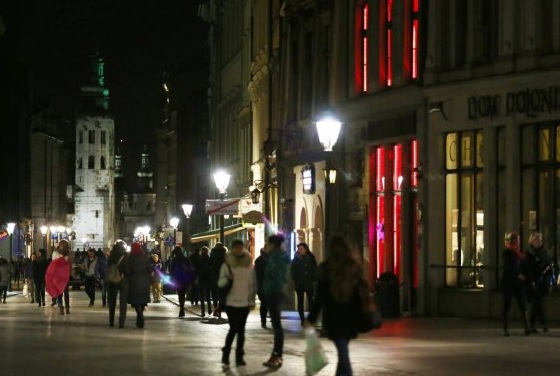 Order striptease and a cocktail, wake up with your account wiped clean. Małopolska police is to co-ordinate an investigation against a chain of nightclubs, Cocomo, accused of extortion in several of their branches all over Poland.
In March this year Krakow gasped with unbelief as bright red lights of a go-go club illuminated the windows of a historical tenement house at the corner of Grodzka St. and the Market Square - the very heart of historical Krakow. The venue, Cocomo, not only violated the regulations of the Cultural Park, which is very restrictive when it comes to illumination of historical buildings, but what's worse, it belonged to a chain that has grown notorious for extortion all over Poland as well.
Cocomo is the flagship chain of over 20 night clubs of a Krakow-based company, Event. Its owner, Jan Szybawski, is now standing a trial for running a criminal group dealing with falsification of documents. A translation agency the group ran, prepared registration papers for cars imported from abroad based only on scans or copies of original documents, and the translators were not sworn professionals.
The Cocomo chain has also grown notorious in recent months. The chain does not hesitate to rent facilities in strict historical or tourist centres of cities all over Poland, and employ scantily clad girl promoters who accost potential customers outside the club. This causes protests from both officials responsible for brand management, as well as residents. Gdans, Sopot, Kielce, Warsaw, Poznan and other locations fight the phenomenon of "thailandisation", as it was dubbed by the media, by frequent inspections of health inspectors, liquor license controllers and urban preservationists. However, to a poor effect, as the chain runs legal business activity in private houses.
What's more, Polish media reported multiple cases of extortion after possible drugging all over the country, and even fatal beatings. There are almost 50 cases running in many cities of Poland, with one common scenario. Customers remember only paying for their first cocktail and striptease in Cocomo, and waking up 24 hours later with their bank accounts wiped clean, and even with letters of enforcement amounting to several thousand złotys. For example, a Dutch and a Swiss reported to Krakow police in June this year, with 25,000 and 30,000 zlotys missing from their accounts, respectively. "The gentlemen couldn't remember neither the card transactions, nor what they paid for" said Katarzyna Cisło from Małopolska police press office. "Both reports will be combined and investigated as one case".
A few cases are now running in various prosecutor's offices concerning artificially high prices of drinks in Cocomo. The most famous case is the one of a director of a major Polish metallurgy company, who spent almost a million zlotys in the Poznan Cocomo branch in spring this year. Similarly, the man remembers only entering the club and ordering the first cocktail. So far, the prosecution accused the manager and a few employees, but the court didn't decide on arresting them.
In most cases, however, the prosecution would discontinue several legal proceedings all over Poland. The men were found guilty of their own negligence, because they were entering their PIN codes and the prices of cocktails were enlisted in the menu (the most expensive champagne costs 15,000 zlotys).
The owner of Cocomo, Event doesn't speak to the press, only publishes announcements on their website. However, after the city of Sopot decided to sue Cocomo for infringement of its good image this summer, in September this year Event decided to close Cocomo clubs in all locations. Instead, new striptease clubs opened in their places, with different names and colours. And indeed, in Grodzka there is now Wild Night, and Pleasure in Florianska. The characteristic pink umbrellas of the girl promoters were now closed, and not opened, as before.
"We are changing. There won't be any Cocomo no more, and we're giving up our umbrellas. Each venue will have a different name, but we are to walk the streets as before and encourage customer to come in" says a blonde hostess, introducing herself as Angela.
"A change of name is legal, many businessmen do it to improve their reputation. Introducing new signs will allow to run their clubs relieved of previous notorious reputation. Maybe also with a new policy" comments Zbigniew Ćwiąkalski, lawyer and former Minister of Justice.
Krakow officials are now said to "look closely" at regulations that Sopot is bringing up in their lawsuit, and considering whether to join it to the campaign against the chain. "It is obvious that business activity that these clubs run is not improving Krakow's reputation, but it's a precedent case and we need to consider all legal arguments brought up by Sopot. From the formal viewpoint the company runs legal and registered business activity" comments Filip Szatanik, the head of Krakow magistrate press office.
At the beginning of October Małopolska police created a special unit to investigate reports of extortion in Cocomo from all over Poland. The reason behind such a decision is that Event, the suspect company is located in Krakow. Apparently the investigation will be a challenging task, as the majority of the aggrieved declined blood tests which would confirm the hypothesis of spiked drinks served in the night clubs.
Comments