Uncertain Fate Of The Old Train Station Building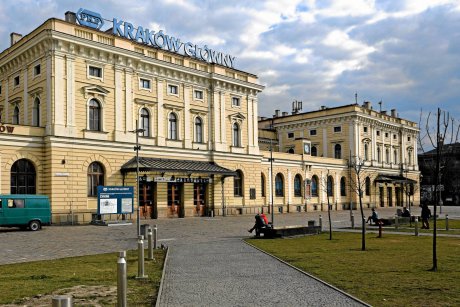 After launching the new underground Krakow Main Station, the Polish National Railway (PKP) started a crusade to commercialize the former station building, a massive 19 c. facility adjacent to the communication hub Kraków Główny.
There have been several ideas with regard to re-developing the former train station, including a cinema, office complex or art gallery. The cinema multiplex concept however, has not been accepted by the Voyvodship Conservator's Office. With no green light for at least nine showrooms at the would-be complex, PKP will abandon the plans of turning the former Kraków headquarters to a cinema.
Initially, Jan Janczykowski, the Head of the Voyvodship Conservator's Office said in January that there were no contraindications for developing the building into a cinema, as there were five rooms at the ground floor that could be thus adapted, provided they would not be divided with solid walls.
The first project that has recently been submitted returned with a number of ammendments. "The initial concept was unacceptable due to far too great interference with the historical fabric of the building. Its enough to say that the plans include raising the basement ceiling to make higher cinema rooms, or demolishing walls between certain rooms" Janczykowski points out.
PKP is now finishing work on solutions that are to win the conservator's approval, but the bone of contention may be the number of cinema rooms. "We have ammended certain aspects of the project, but we would like to negotiate some conditions, as potential cinema operators won't be interested in cooperation if there are less than nine cinema rooms" said Jarosław Bator, a PKP director responsible for the company's property.
PKP's plan B for commercializing the fomer train station is to turn it to office space, but still the priority is to give the building a cutural purpose, especially as the strict centre of Kraków is not the best place for office space due to the lack of parking space.
The ammended project is soon to be handed to Jan Janczykowski. "We do not wish to interfere with the presentation of the facade, only to adapt the interior to a new commercial role. It is up to the conservator now if the old train station gains new life, such as e.g. Stary Browar in Poznan or Manufaktura in Łódź" said Bator.
Comments