New Train Station Opened At Last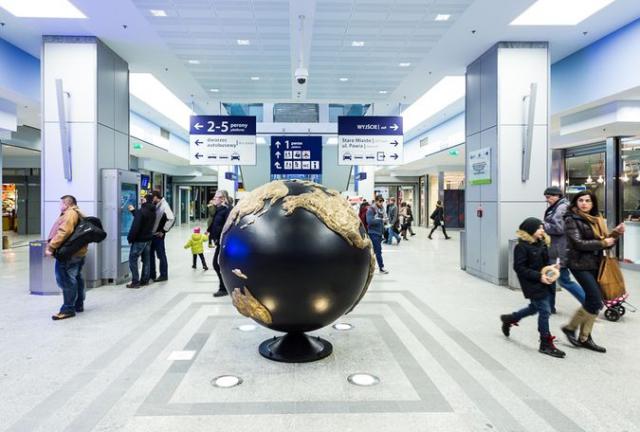 Ca. 134 million zlotys, 12.6 thousand sq metres and decades of waiting for a dream to come true - this, in short, is how the Krakow Nowy Glowny (The New Main Train Station) project can be summed up. The fully underground, transfer hub is one of several recently opened state-of-the-art facilities in Poland, and one of the largest, too.
The new train station integrates local and long-distance trains, a coach station and Krakow's public transport with a total of four levels: two above and two under ground. There are three waiting rooms, information points, luggage lockers and 50 commercial facilities: shops, restaurants and cafes. Afer modernization of the train connection to Krakow Balice airport, the train station will also operate the shuttle train.
The place's landmark is a two-metre iron-cast globe, a meeting poit symbol that used to stand outside the old platform entrance.
The train station was to be a part of Krakow Communication Centre, accomplished for over 40 years. The actual works started several years ago, as the investment was to be finished before EURO 2012. However bold plans failed, when the original company went bankrupt. The construction site of a train station kept annoying Krakowians, and confusing guests alike.
In his opening speech, mayor Jacek Majchrowski stressed that the communication hub is located just a stone throw from the Market Square. "It is always important to make a good first impresssion on guests, and in the case of Krakow train station this impression is bound to be positive" Majchrowski said.
Comments