Shuttle Train to the Airport Cancelled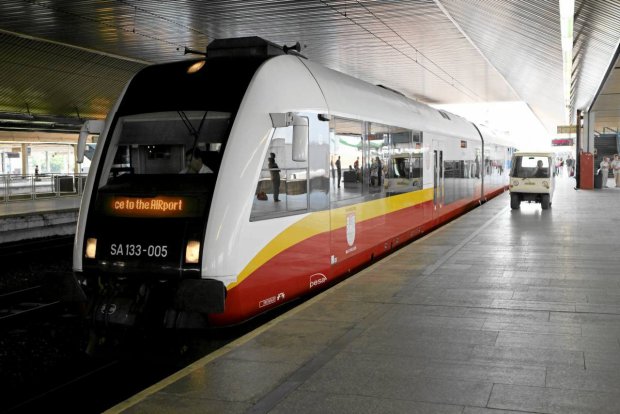 Chaos and misinformation rule at Krakow train station since last Saturday, when the shuttle train to Krakow Airport has been cancelled. The line, which was the fastest means of getting to the airport (ca. 20 min.) is scheduled for major modernisation until up to 18 months.
"The passengers are kindly requested to bear with all inconvenience" said Dorota Szalacha from the Krakow branch of Polish Railway Lines, the company responsible for the works.
And indeed, inconvenience came swiftly. Since not only airport passengers have been using the connection, but also local commuters, the shuttle train served ca 20,000 - 30,000 passengers monthly. Now, they are left with two bus lines, 292 and 208, and a night line 902. And there are of course independent taxi drivers, many of which, unfortunatelly live off scamming tourists.
As "Gazeta Wyborcza" daily reports, information as to the cancelled connection are scarce, to say the least. All stickers and plaques directing to the platform the train used to depart from, have been removed, neither is there any info on the platform itself, nor in the underground passage, or the main hall of the station. Even the computer system at the ticket offices has nothing more to say than "no connection foud". One of the inquiring passenegers-to-be, reports "Wyborcza", was informed that "there is a bus running to the airport" and pointed out to the public transport stop.
The information office is swarmed daily with passengers inquiring about the shuttle train, and are pointed out outsied to a bus stop. "The information on temporary cancellation of the shuttle conection has been placed on the airport's website as well as on social media websites" poits out Urszula Podraza, the press officer of Krakow Airport, pointing out, that the majority of passengers use cars or taxis for transport. "Only 15 percent of them have chosen a bus, and only 9 percent - train" Podraza said.
The city transport officials are confident with the buses' capacity potential. "Bus no. 292 runs every 20 minutes, and even with the train connection not in operation, we should manage" assures Piotr Hamarnik from the City Transport and Communication Company.
The modernization is to redirect the track directly to the terminal (previously it was not direct, and passengers had to walk ca. 250 m), and will also include building a flyover at Balicka street and three new stops. The total cost is estimated at over 240 million zlotys.
Comments