Krakow The New UNESCO City of Literature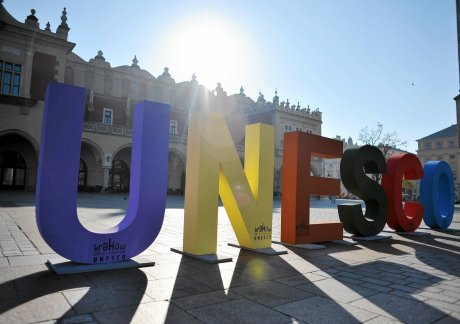 Finally! After three years of applying, Krakow has been awarded with UNESCO City of Literature title. The decision has been announced on October 14th, during the opening press conference of the Conrad Festival.
The city has been appreciated for hosting a broad spectrum of literature-related events and institutions, such as the Literaty Institute. UNESCO spelled out why Krakow deserved the title, explaining that the city organises not one but two large literary festivals (an annual Conrad Festival and a biannual Milosz Festival) and hosts an annual Book Fair which attracts over 35,000 visitors. The city, wrote UNESCO, is also linked with several Polish Nobel Prize winners in literature - Henryk Sienkiewicz (Quo Vadis), winner of the Nobel Prize in Literature in 1905; Wladyslaw Stanislaw Reymont, 1924 (the author of The Promised Land and The Peasants); Czeslaw Milosz (The Captive Mind, Family Europe), and Wislawa Szymborska (Calling Out to Yeti, People on the Bridge), 1996.
To properly honour the distinction, Krakow authorities plan to create the Regional Literary Fund, and creating a new institution, the Literature Forum. The programme is to be ready by June 2014. Though the title is purely honorary, and free of charge, there are other benefits to the title, such as networking with other CoL cities: Edynburgh, Melbourne, Iowa, Reykjavik and Norwich,and applying for high-value UE grants.
"We would like to prepare a solid programme and secure the necessary funds in the budget. For a long time we have known what we wanted to do should we have won the title" said Magdalena Sroka, the vice mayor for Krakow for culture and promotion. "Now it is the time to declare the way and the means to do it" she said.
The fund is to have ca. 1.5 million zlotys annually to spend for literature-related projects. The city also wants to create a coherent system of public libraries, with integrated lending system and a Krakow Reader's Card to be used freely in any library in Krakow.
The Literature Forum would be created in a former Salt Deposit in Zablocie, not too far from the Schindler's Factory Museum and MOCAK contemporary art museum. The place is to become a hub for all literature-related events in the city, along with a permanent exhibition dedicated to literature in Krakow. This project, however, is still pending, as the MInistry of Culture needs to approve it.
For details click here
Comments