Illegal Disco Pesters Old Town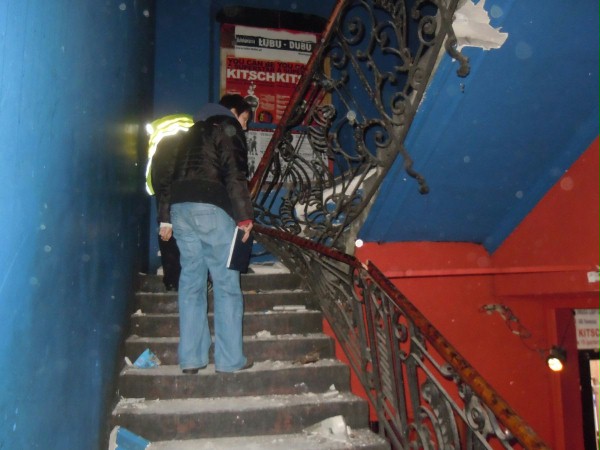 Above: The collapsed staircase in Kitsch/Lubu Dubu/ Caryca at Wielopole St., Nov. 2011
Loud music, trembling walls, and runaway hostel guests. This is a daily (or, rather, nightly) bread of the neighbours of Kitsch and Lubu-Dubu clubs, located in a tenement house at Grodzka St., almost in the very heart of Krakow's Market Square.
"The clubs operate illegally, as it has been confirmed by numerous inspections of the Construction Inspectorate, the Head Conservationist of Krakow and the Municipal Guard" points out Jerzy Wozniakiewicz, a member of Krakow's city council. "The mayor of Krakow should take all necessary steps to close down the discos immediately" he said.
The alert seems justified: in November 2011 a staircase collapsed in a tenement house previously occupied by Kitsch, Lubu-Dubu and Caryca clubs in Wielopole St. At the time ca. 22,000 guests were present in the building, and 22 were injured as a result of the collapse. Further investigation revealed that the clubs had no emergency exits, and the staircase has been illegaly remade in the past.
Yet another nuissance comes from the noise: Kazimierz Dobrzanski, the director of the Polonia House, a neighbouring cultural institution, providing also hostel services, reports that his guests have been moving out in the middle of the night due to overwhelming night noise. Dobrzanski has intervened at the mayor. To no avail, however.
According to Dziennik Polski daily, the owner of the building housing the notorious discos has not provided necessary documents allowing him to change the status of the building from housing/office to high capacity utility building, and would not conform to standards recommended by the Construction Inspectorate.
As the daily reports, the club owners claim all legal ambiguities to be a matter between the owner and Krakow's officials and do not intend to close down their establishments.
Comments