9 Best Easter & Spring Equinox Activities in Krakow
It's the most important holiday in the Polish calendar, but if you're spending Easter in Krakow and you don't have a grandma to enthusiastically stuff you with eggs and sausages and Polish Easter traditions - how are you supposed to make the most of your time?
A surge in the number of restaurants, clubs and pubs staying open is good news for tourists. However, most museums, art galleries, official institutions and shopping centres are likely to remain closed over the Easter weekend, particularly on Sunday. Most locals will be found either at home with their family or in church, so, if you happen to be working on a film project that needs empty streets for a dramatic death scene, now is your chance.
You could also take the opportunity to actually kill an enemy, to hide Easter eggs around the city, to graffiti something nice over all the terrible graffiti, to pretend you're a ghost, to overcome your fear of singing in public places, to streak, to trick an unsuspecting friend into believing there was an apocalypse and you're the only survivors. Get creative.
You might be surprised to learn that Old Slavic Pagan traditions still run deep and many of these ancient rites are still taking place in Krakow today. So, if you aren't into all the church stuff but you do want to cast some spells, connect with nature or dress up in medieval garb, you can go right ahead and welcome Spring Equinox instead of Easter!
---
The Drowning of Marzanna / Jare Święto
Each year a mob of overexcited villagers, shouting and singing, march down the road carrying a lady. They carry this woman, dressed in her finest, to the nearest river and then they drown her! Maybe we should mention that this woman is made of straw.
This is an originally Slavic Pagan tradition which is still carried out today by Catholics and Athiests alike in celebration of the Spring Equinox. First, the effigy of a woman, sometimes small, sometimes gigantic, is carefully constructed of straw, sticks, cloth (usually white), stocking, wool etc. This effigy represents Marzanna, the Slavic goddess of winter. Then, the women, children and men of the village all come together and happily parade poor old Marzanna to her doom. Traditional songs are sung and Marzanna is defouled with fire or the tearing of her clothes before being tossed into the river. Her death is a part of the cycle of life, death and birth - only with her demise can the rebirth of the Goddess of spring come to pass and thus the cycle continue.
Each year in Krakow, people meet on Krakus Mound (ancient pagan site) and walk together to a special site where they perform this ritual. They share food, drink and joy around a campfire as they say goodbye to winter and say hello to spring!
Where? Meeting point at Krakus Mound/Kopiec Krakusa
When? First day of spring, 20th March 6.30PM
[2020: Cancelled by Coronavirus]
---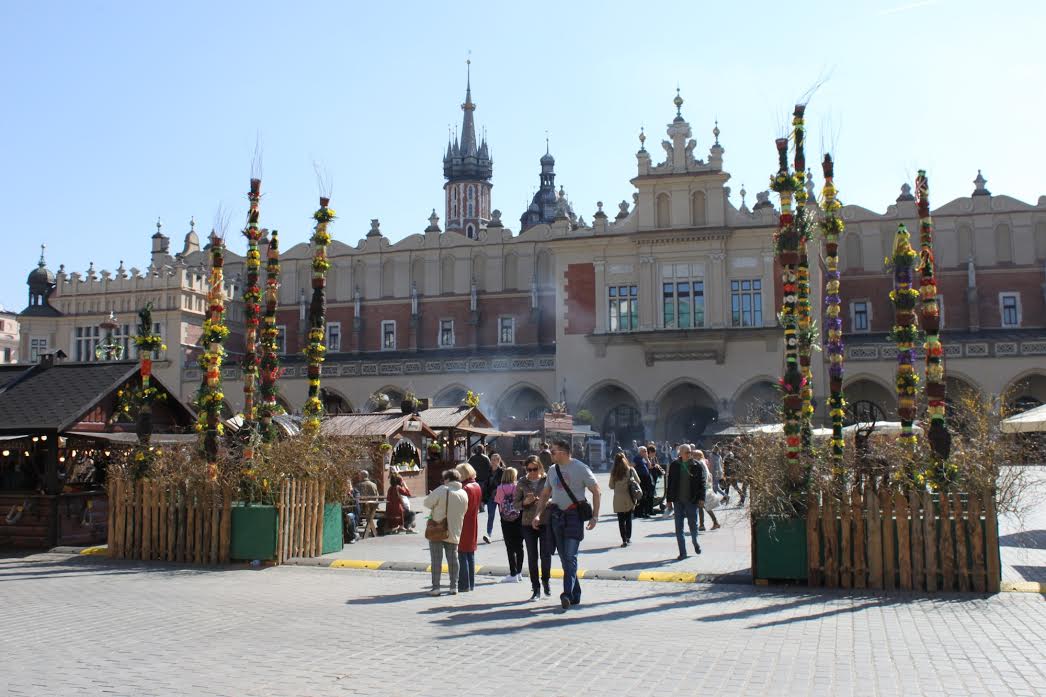 To immerse yourself in the Polish Easter spirit as well as in the spirit of capitalism, there's no better way than to spend some time browsing the wooden kiosks of the Old Town Easter Market. Thriving with traditional foods, mulled wine & beer (to get you in the mood for ill thought out purchases), colourful decorations, clothing, home-made crafts, jewellery, toys and general random nic-nackery.
Where? Main Square/Stare Miasto, Old Town
When? Approx 5th to 24th April
[2020: Cancelled by Coronavirus]
---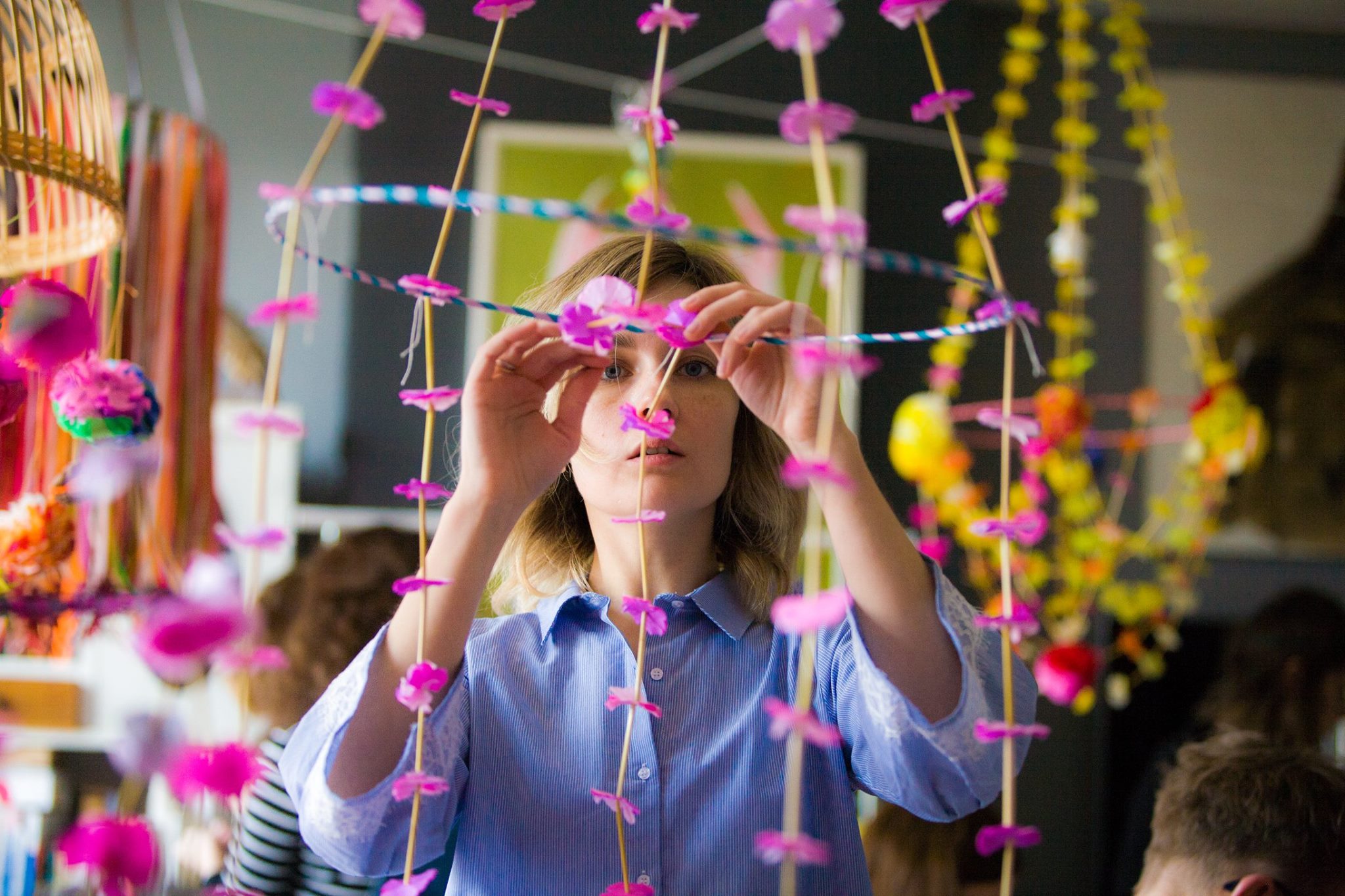 This local springtime tradition also stretches right back to the times of the Old Slavic Pagans and has survived to this very day for one simple reason: it's a whole lot of fun!
The word "Pająki" translates directly to spider. Spiders and their webs were once welcomed into Polishhomes as protectors and bringers of good luck (not so much these days). The tradition of crafting elaborate paper chandeliers to decorate the ceiling springs partly from this belief and the folktales behind it are shared by many other Slavic nations.
Colourful paper is cut and folded into flowers which decorate the straw and chickpea based structure of the chandelier. The women would sit together in the villages, crafting for hours, days, weeks the prepare their house to welcome the changing of the seasons from Winter to Spring.
It is a celebration of life and colour which you can still join in on today with Marta's Pajaki Workshop. Join locals, expats, tourists and Pająki lovers alike around the table as we eat, drink, laugh, sing and craft our own spirits into creating the perfect Easter gift.
Bookings & Information // Eataway // Discover More Events With Local Life!

Where? Salwator
When? 6th April, 19th April, 10th May
[2020: Cancelled by Coronavirus, but this one you can do yourself at home!]
---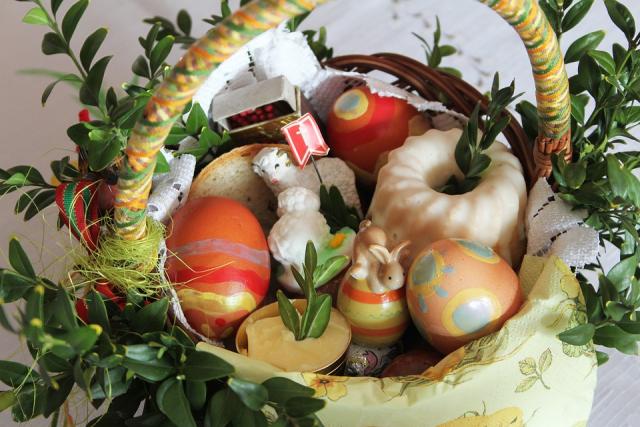 If you would like to join in on a local Easter tradition, then all you have to do is find yourself a nice basket, fill it with the customary: bread, decorated eggs (pisanki), sausage, butter, horseradish, ham, smoked bacon, salt, cheese, small leafy branches or flowers, a candle, colourful ribbons and a linen napkin to cover it all. All of these items have their own symbolic meaning but don't stress if you can't find them all, you can do your own thing and add your own favourite breakfast items as priests are supposed to be very forgiving.
What you have put together is called a 'święconka' (Easter Basket) and since the 7th century, Poles have been carrying them to church for blessing on Holy Saturday. While you're there, it's also customary to view the 'Grave of Jesus' (much like a Christmas nativity scene) which comes in various shapes, sizes and (sometimes rather abstract) designs, depending on the church. The next day, Easter Sunday, it's usual to exchange wishes with your friends or family before bringing out your newly blessed basket of heavenly foods to enjoy a luxurious breakfast feast.
When? Easter Saturday
Where? Most Churches
[2020: Cancelled by Coronavirus]


---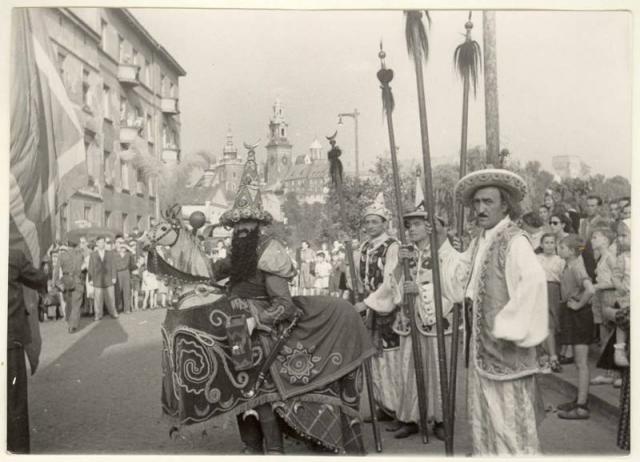 Salwator's annual Emaus (Emmaus in English) Fair dates back to the 12th century and takes place each year on the Monday after Easter. Expect stalls, handmade crafts & toys, balloons, costumes, laughter, singing, music, food, rides, raffles as well as the joyful Lajkonik (Tartar) Parade. The Fair takes place in Salwator Zwierzyniec (Klaztor Siostr Norbertanek), a Norbertine Monastery located along the picturesque banks of the Wisla River. A wonderfully colourful and uplifting way to spend your afternoon.

When? Easter Monday
Where? ul. Kościuszki 88, Salwator Norbertine Monastery
[2020: Cancelled by Coronavirus]
---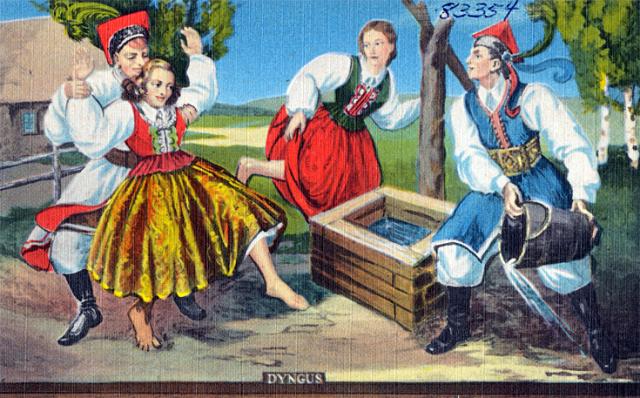 Smingus Dingus
For only one special day per year, Poland becomes a cross between a giant water park and a war zone. Smingus Dingus is a free-for-all of love & revenge but mostly of throwing water over random people and loved ones. This is a tradition that is believed to date right back to Pagan times and is also practised in the Czech Republic as well as Slovakia and Hungary. Originally, mischevious boys would throw water over some P.Y.T and then 'spank them with pussy willow'...dirty. Nowadays, thanks to the reinstatement of sexual equality, anyone can soak anyone, so it's wise to carry a change of clothes and avoid wearing makeup as at any given moment, a friend or a stranger may feel the urge to soak you to the bone via water pistol, water balloon, bottle, bucket, shoe, anything they can find. Take advantage of the opportunity to relish in the pleasurable experience of saturating anyone you want with a ton of H2O.
When? April 13 2020
Where? Everywhere! Watch out!
[2020: Not cancelled by Coronavirus but your house might get a bit messy!]
---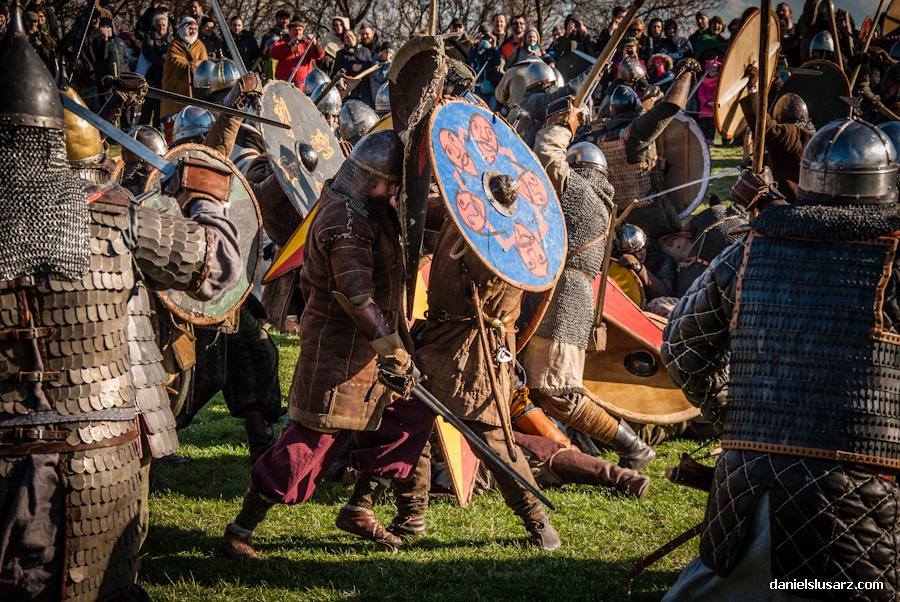 What could be more fun than dressing up as a medieval person and galavanting around a hill? How about dressing up like a medieval person and galavanting around a hill that's been turned into a medieval fair filled with glowing campfires and cloth tents, flagons of mead being clinked by the hands of blacksmiths and stonemasons while sword fights take place between armoured men and ladies in flowing white peasant dressed skip through the fields with flowers in their hair and lute players pluck ancient tunes?
Rękawka is a fantastically fun historical reconstruction of a medieval fair. It has been designed to allow us to step back in time and experience what it would have felt like to live in the time of knights and dragons. Celebrating Rękawka as Krakowians did almost 500 years ago, you can experience the lighting of the holy fire, throwing eggs and bread loaves from Krakus Mound, live scenes which approximate life in medieval Krakow, historical craftsmanship (blacksmithing, weaving, russeting, salt brewing, herbalism), early music concerts, demonstrations of strength and fencing skills as well as some spectacular battles.
Facebook // Discover More Events
Where? Krakus Mound/Kopiec Krakusa, Podgorze
When? 23rd April, 12-3 pm (and 'unofficially' much later)
[2020: Cancelled by Coronavirus]


---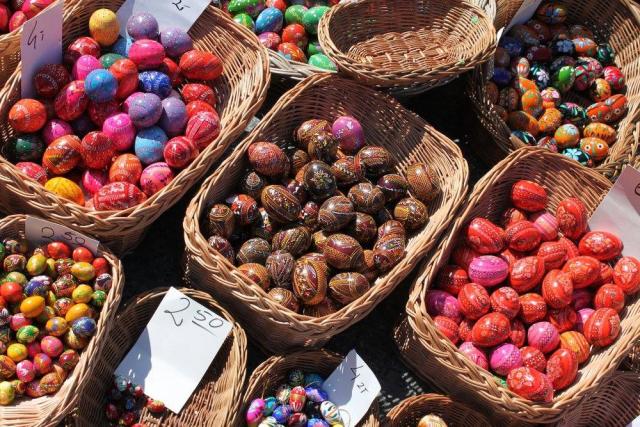 Decorating Pisanki
Another pagan tradition which has survived religion overhaul by converting to Catholicism is the delicate painting of eggs. Each year in the lead up to spring, there are probably hundreds of thousands of eggs being painted across Poland. I have met people who are so dedicated that they start their painting at Christmas time and pisanki, pisanki, pisanki right through till Easter time.
There are a number of different kinds which are based on different methods, as well as regional variations. "Kraszanki", for instance, are made by boiling the eggs in water with onion peels for brown, walnut shell & apple tree bark for black, mallow flower petals for violet, young rye or periwinkle for green and beetroot for pink. "Naklejanki" are decorated with elderberry petals along with colourful bits of paper or cloth. The name is derived from an Old Slavic word meaning 'to paint' and the meaning the behind these colourful eggs is timeless: fertility, new life, growth, regeneration. You can buy them at the Easter Market in Rynek Głowny or visit the Ethnographic Museum in Kazimierz all year round to see their large historical collection of pisanki.
Join a workshop!
You can also learn to make them at one of Eataway's wonderful workshops: perfect for your Polish Easter basket or as a gift! Join Ewa & Pisanki expert Marcin Misiewicz for a super fun time crafting your very own unique and personal pisanki eggs.
There will even be some typical brunch fare to keep you going - think Bloody Marys, shakshuka, local bread and home made preserves, fruit salad and freshly baked cardamom rolls. And plenty of tea and coffee!
Bookings & Information // Facebook Event // Eataway // Discover More Events With Local Life!

Where? Join an Eataway workshop
When? 7th April or 14th April, 10am - 2pm
[2020: Cancelled by Coronavirus]


---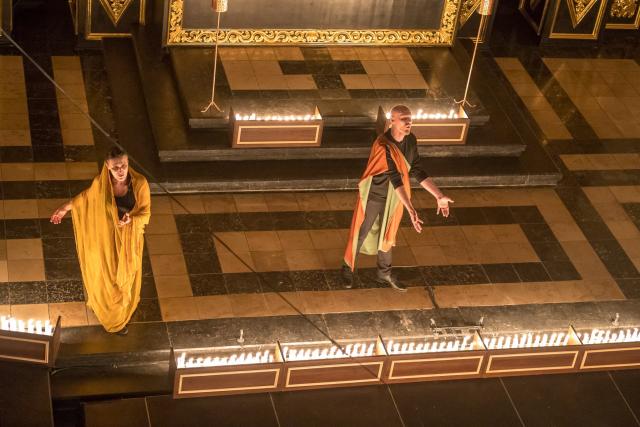 Krakow's annual festival celebrating early music. These are tunes which genius ancient people put time, love, mathematics, geometry and esoteric alchemy into. People who had vision and imagination and wanted to express something tangibly pure. Music created to soothe the world, instruments designed to harmonize with the soul and tones carefully constructed to vibrate our atoms into sync with the universe.

We have so many obvious examples of why music was awesome in the past and now it sucks… for instance every single song currently popular in America (and therefore on all global mainstream radio). Misteria Paschalia is a welcome escape from the constant stream of auto-tuned, drunk on plastic surgery and plastic money, soulless, pointless, faux 'music' which we are bombarded by ceaselessly, wherever we go.

Official Website // Full program // Discover More Events
Where? Various Locations
When? April 5th to 13th 2020
[2020: NOT cancelled by Coronavirus - taking place ONLINE instead! Woo!]
Comments