Tempel Synagogue
The Tempel synagogue is one of Cracow's unexpected treasures. It seems to fit so snugly amidst the surrounding buildings that one can walk by for months without even realizing that it is a place of worship. Yet on crossing the threshold one undergoes a Narnian type transportation. Indeed, it is difficult to believe that you are still in Europe, such is the exoticism of the interior. It smacks of the East. Moreover, a thorough and costly renovation during the 1990's has left the building in splendid condition. It is certainly one of the triumphs of the recent spate of restorations.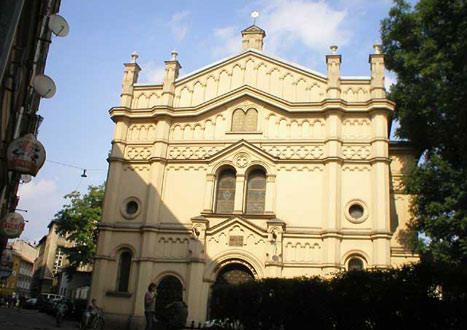 The Tempel (also known as the Progressive) is the youngest of Cracow's synagogues. It was built between 1860 and 1862 for non-Orthodox Jews. Services were held here not only in Hebrew, but also in Polish and German, thus setting it apart from the older houses, which tended to stick to the ancient tongue. It has an attractive faade, which was built in the Neo-Renaissance style, an idiom that became popular for many types of building during this period. Inside, the stained glass windows are especially evocative, as is the dome-shaped ark, which is largely fashioned from marble. The gilded balustrade of the gallery and the elaborate ceiling, which both burst with energy, heighten the sense of an eastern wonderland.

Today, a spritely old man takes care of the building. You have to pay a small fee to enter, but it is well worth it and there are discounts for students. The building's fine acoustics make it a superb venue for concerts which draw visitors from far afield.
Comments
My grandmother, I am told, prayed at the Tempel Synagogue even though she was an Orthodox Jew. It was very convenient to where she lived (49 Ulica Dietla), and had a separate women's section upstairs. She died before World War II. However, five of her children did not survive the Holocaust.
Reply
Very informative. But I wonder if they will allow Jewish tourists to pray there for Yom Kippur as I will be in Krakow at that time.
Reply