Cracow Poland - everything you need to know!
Still haven't been to Cracow, Poland? Get with the program! This beautiful mecca of art, culture and nightlife draws millions throughout the year. Here, you can admire a Da Vinci painting, immerse yourself in a thousand years of history and top it all off with some serious fun-time.
But where does one begin? Well, you're halfway there, my friend; you've just made it to Cracow-life.com - the city's leading internet guide. We've got more information on Poland's "cultural capital" than you could handle in a lifetime! Need a place to sleep? Check out our listings of the finest Krakow hotels and Krakow apartments. Looking to unwind? We'll set you straight, with Cracow's most thorough guide to cafes, pubs and clubs. Hungry? No problem! With well over a hundred restaurants on hand to choose from, you're sure to find something to suit your palate.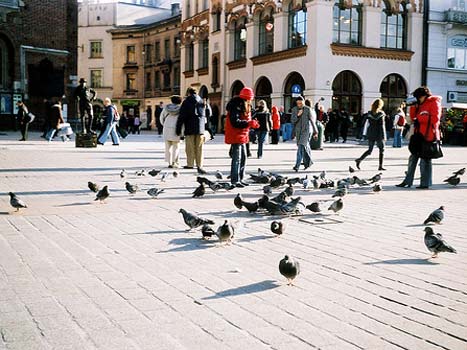 Naturally, you can't come in to town and not know what's going on. We've got you covered, with an extensive events calendar - updated daily! Remember, all work and no play make Jack a dull boy. To save us all from possible attacks of insanity, we've got a whole host of places to have fun right here! The shopaholic in your crew will love our list of shops and malls.
We'll help you stay-in-the-know, with news articles that are actually new! If you get lost, we've got maps - static and zoomable - to help you find your way. If there is anything else you require during your trip to Poland, just drop us a line, we always try to answer every question - no matter how crazy.
"But I can't speak the language! Boo hoo!" Stop whining. We've got tips to Poland's beautiful tongue right here. You'll also find culture info, travel tips, and a whole lot more. Once you get to Cracow, you might feel overwhelmed with the choice of things to do and places to see. We'll help you plan your trip with a snazzy guide we've made just for you!
Our goal was to make the most comprehensive site about Cracow, Poland as is humanly possible. We keep the writing light but accurate. We've been to all of these places ourselves... we have the greatest jobs in the world! If you have ideas about how we could make our site better, want to suggest a new spot, or - best of all - send us a compliment, feel free! Once you become addicted you can keep yourself connected by linking to our site! We've got a host of ready-to-go logos and links - collect them all!
So that's it! All the best from Cracow, Poland! Remember, we're very proud of our site, but nothing beats the real thing. The enchanted, immortal city awaits!
Comments