The Lady With An Ermine
Leonardo da Vinci left hundreds of drawings to posterity, detailing everything from bicycles to flying machines. His sketches reveal one of the most extraordinary minds of the age.
However, whilst there are reams of sketches in public and private collections across the world, less than a dozen of the artist's oil paintings have survived the centuries intact. Of these, several are unfinished works whilst others have had their authenticity questioned by today's experts. It's no surprise then that the ownership of the Real McCoy is a major boon for any museum. In fact, that's something of a gross understatement. There are few more coveted objects - treasures indeed - than a portrait by Signor Leonardo. They're the very crown jewels of the art kingdom.
In this light you can hardly resent city authorities for hyping a Leonardo painting. In Paris, "The Mona Lisa" is the Louvre's trump card, and the same goes for "The Lady with an Ermine" in Krakow's National Museum.
But is the Krakow painting actually any good?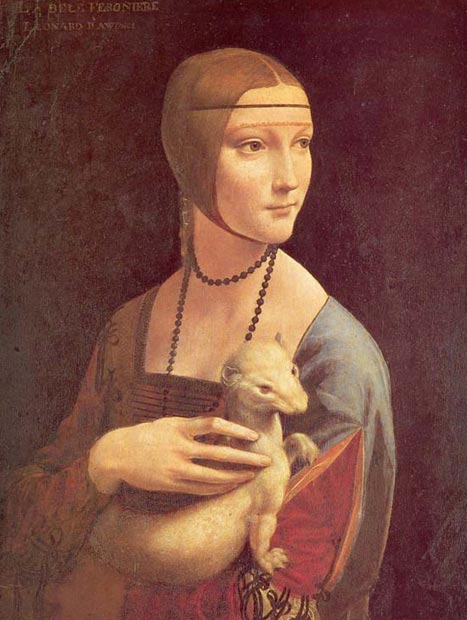 Whilst Leonardo's status as a genius is unassailable, not all that the great man touched turned to gold. "The Lady With An Ermine" is hailed as a masterpiece, a word which conjures up all kinds of head-swirling expectations. There's a specific kind of cult that goes with 'masterpieces'. We are all encouraged to go and bow down before them, and once in the divine presence, we are supposed to feel a sort of revelatory enlightenment. If we don't feel this then we must forgive ourselves for being dim philistines - we tried our best but sadly there's no hope for us....
In the case of the Cracow painting, the actual museum that it is housed in (which has had as colourful a history as any collection on the continent) virtually has to play second fiddle to the Leonardo portrait. It certainly must be a nightmare to insure, a factor that was entertainingly explored in the recent hit film "Vinci", in which a pair of lovable rogues set out to steal the painting.
However, before we jump head over heels into clever clogs territory, it's perhaps worth a look at the painting itself.
'The Lady With An Ermine' came into Polish hands in 1800, after it was bought by the young Prince Adam Czartoryski (later a hero in the fight for Polish independence) during his tour of Italy. The painting was for his mother, a keen collector and the foundress of the Czartoryski Museum.
Princess Izabela may have been a great patriot but her handling of the Leonardo painting would have given modern art historians a heart attack. 'If it's a dog, it's a very ugly one' she remarked on receiving the portrait from the gallant Prince Adam. Taking a disliking to Leonardo's blue background, the Princess promptly had it painted jet black, and then painted on an erroneous title 'La Belle Ferronniere'' (a portrait that now hangs in the Louvre).
Standing before the painting today, you can't help feeling slightly cheated by the black background. It has the effect of rendering the Lady (allegedly a mistress of Duke Ludovico Sforza) as a kind of cardboard cut-out. You feel that she might fall out of the picture at any moment, like a character in a childrens pop-up book (a quality which Monty Python's artist Terry Gilliam had plenty of fun with in his Flying Circus adventures).
As we head further into snooty art critic territory, we should mention on the plus side that the portrait has a striking serenity about it. And the ermine itself is beautifully rendered (few modern artists could have done such a fine job). Likewise, Leonardo's handling of light and shade is as subtle as ever. However, as you'd expect from a painting that's 500 years old, all the tricks that wowed the original audience have long since been bettered by eighteenth and nineteenth century artists.
It's a bit like watching Citizen Kane, the favourite of directors such as Scorcese and Spielberg. If you are pointed out what was a novelty at the time that the work was created, then you'll want to take your hat off to the director. However, like Leonardo, Orson's thunder was stolen long ago.
In this respect you could argue that the portraits of Piotr Michalowski or Stanislaw Wyspianski (both can be found in Krakow collections) are much more engaging than the "Lady with an Ermine".
Much of this is just stating the obvious. And all said, "The Lady With An Ermine" is a fantastic painting - even though it may not astound today. It was exceptional for its time. All the same, we shouldn't feel too ashamed about not being awe-struck by the portrait today.
What is perhaps more astounding is the painting's survival. Forced into exile on many occasions, walled up in hidden cellars in country palaces and then stolen by Krakow's wartime Nazi governor, The Lady has not had an easy ride (The Czartoryski's Raphael is still missing to this day, and an empty frame hangs on the wall opposite the Leonardo).
When the "Lady With An Ermine" was initially retrieved after the Nazi invasion of 1939, an SS soldier's footprint was found on the portrait. It was a fitting metaphor for the attempts that had been made over the centuries to trample Polish cultural institutions, of which the Czartoryski Museum is one of the most radiant. It's well worth dropping by the museum if you're in Krakow - there are plenty of treasures to savour. And of course, no one will begrudge you from saying a warm hello to the Lady. Indeed, it would be unchivalrous not to!
Comments