The 9 Best Breakfasts in Krakow
They say that breakfast is the most important meal of the day and we couldn't agree more. Not because of the health benefits or science, but because it can make you feel like royalty in a way that no other meal can. Is there anything more luxurious than waking up slow? A lovely chilled out morning where you can relax, re-energize… and let a professional chef feed you delicious things. That's king and queen business right there.
Morning hours are also the time when our tummies can be the pickiest - often wanting very specific or strange things. At the same time, everyone's tastebuds are also different which means that choosing the perfect place for you and your friends/partners to all be satisfied can be a tricky business. So, throughout our breakfast tour of Krakow we looked for diversity, quality, freshness, creativity, joy and lightheartedness, plus the all-important relaxing and reinvigorating atmosphere. Taking into consideration the various moods, restrictions and preferences of the taciturn, yet ever in search of peace, human being.
We're confident that within our list, just about everyone can find the exact kind of breakfast that they are in need of. It was so hard to choose only 9 (a much more discerning number than 10) but you can rest assured that the places we put in this article are here because they impressed us so much with their dedication to the art of breakfasting.
Special mentions
Classic Cracovian breakfast staples: 25zl Kazimierz buffet at pretty cafe Kolanko No.6, French style breakfast at Charlotte Patisserie/Bakery, Big Kazimierz brekkie sets at Moment
Special Breakfast Events: Cheder Cafe for its amazing regular Shabbat Jewish breakfast event with a special Israeli menu, DJ's & more cool additions - everyone welcome.
Breakfast Shopping: Naturalny Sklepik for great breakfast ingredients, grab some of their gorgeous village bread, fresh salad and divine Mattias herring (even herring haters will love it) for the perfect Polish brekkie.
Obwarzanek Carts: You'll find these traditional little blue carts stuffed with famous local bagels called 'obwarzanek' scattered all around the city. Poppyseed, sesame, salt or cheese; they are a Krakow icon and a super tasty and convenient pickup for breakfast on the go.
---
- In No Particular Order, Here Are The Best Breakfasts In Krakow -
---


Massolit Cooks
Tucked away down a cobbled Kazimierz alleyway running alongside an ancient synagogue, Massolit's peaceful, semi-rustic interior reinvigorates with its clean and bright energy. Very pretty pastels & minimalistic, modern features blended with a 70's school architectural vibe made it a very chilled out space to compose my faded spirit. Since we have to test breakfasts under all kinds of conditions, on this particular morning Massolit Cooks passed our hangover challenge with flying colours.
Lots of happy green plants keep it classy fresh and make a great segue into their classy fresh menu. It's lined with super logical and intuitively palated, healthy vegan & vegetarian dishes. All full of life and personality. To quote myself: "They let their ingredients sing their song, giving them room to breathe by composing each dish with just exactly what it needs - no more, no less". The options all feel so very special and so perfectly curated that your biggest struggle of the morning will be that you're not physically capable of eating every single thing all at once.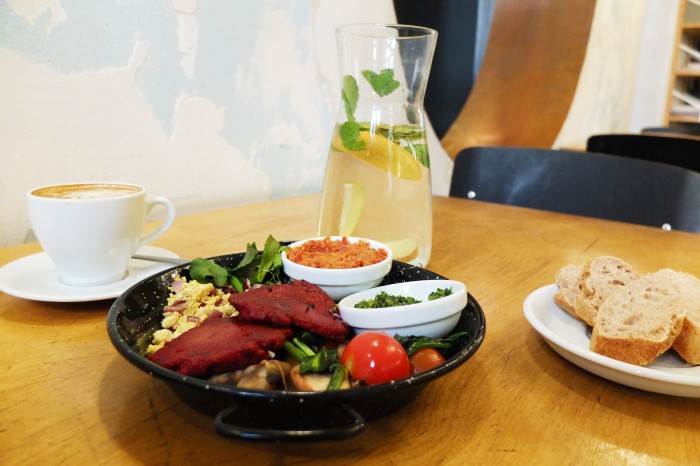 We recommend Massolits scrambled tofu, an uncanny vegan alternative to eggs. Expertly flavoured, I wouldn't know the difference except that it might taste even better! Massolits vegetarian and vegan food is so good, it could convert a hunter. Also on the menu are sweet and savoury versions of quinoa or granola bowls, pancakes, omelette and scrambled eggs (but the kind chickens make) and more.
After your nice warm meal, there's plenty to bring home for your next breakfast. Thanks to having their very own Massolit bakery, fresh bread is available daily. If you're in the mood for something sweet, have a browse through their display case filled with gorgeous little cakes and desserts such as juicy vegan peanut butter brownies, bags of housemade granola mix and even ground coffee from local roasters Karma (Krakow icons upon Krakow icons), who supply Massolit with their perfectly brewed coffee (including drip, Aeropress, ect.).
Józefa 25 // 12 422 19 82 // Facebook
Breakfast is served from 10 till 2, Tues to Sun
Vegan & Vegetarian, Gluten-Free Options Available
---

Moja Cafe
Moja would have earned its place on our list for pure variety and flexibility of choice alone… but the love, compassion and logic that went into curating the menu of this now famous brunch worshipping cafe earnt it a place in our hearts (and tummies) as well. "Breakfast, Brunch, Lunch, Wine & Good Time" is absolutely right. All day long and right into the evening, you can drop in for a taste of the action. Moja Cafe is super conveniently located for everybody everywhere, near the bustling crossroads of iconic old school ul. Starowislna + ul. Dietla, bang between the historical Kazimierz Jewish District and the ancient Old Town. You're pretty much guaranteed to walk past it at some point during your day and it's so heavenly that you might anger the breakfast gods if you don't drop in.
The breakfast menu is so packed with options that you might feel dizzy from the freedom to fly. We have never seen so much flexibility to pick your own ingredients on any other menu. But once you embrace the power and spread your wings wide, you're in for a mouthwatering adventure. Every kind of eggs you can imagine - frittata, scrambled, fried, omelette. You can even have them poached atop perfect handmade English muffins, with the best 'Eggs Benedict' in town. What makes them so damn good? It's not just the English muffins that are homemade - creamy hollandaise & carefully cold marinated, bespoke pastrami - fabulous. The family-run Moja team also create their own delightful range of jams.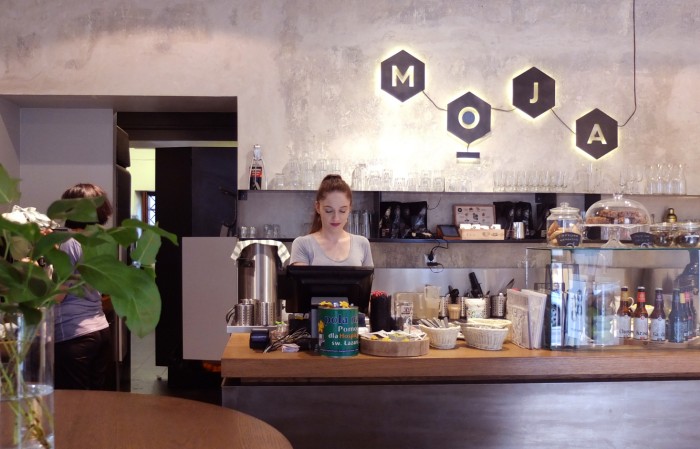 Savoury, sweet or vegan pancakes, traditional Krakowian małdryki cheese pancakes, sandwiches on rye and toasties (again, choose your own ingredients - they have gooood ingredients), breakfast burger, avocado on toast, super health bombs like bowls of granola, millet, vege power bowl, FIT brunch - all packed with nutrients. We adore their GO CRAZY option because who doesn't just wanna order everything some days: a sniadania feast w/ all the breakfast bests for only 35zl. Drinks-wise you'll be equally as satisfied with their large and diverse selection: treat yourself to a mimosa, mango bellini, spritzer, kir, cardamom coffee latte, bulletproof coffee, grain latte, aloe vera tea, hot chocolate, smoothies & juices, plus, of course, a build your own juice aaaand more.
Their menu is so fantastically full that we don't have much room left to describe their interior, so we will be brief. A large, open space with calm, neutral tones and geometric lamps which mingle with colourful art from a neighbouring local gallery. Wonderful cushioned window seats for observing the street life outside. Service is super down to earth with friendly, welcoming staff who create the perfect atmosphere to sit alone or for large groups.
Starowiślna 14 // 691 904 901 // Facebook // Website
Breakfast is served from 8 am to 7pm every day
Vegan, Vegetarian, Gluten Free, Lactose-Free Options Available
---

Ranny Ptaszek
There are only a handful of truly breakfast dedicated places in Krakow and Ranny Ptasek (AKA Early Bird) probably wins the award for sweetness, colour and humour. Although it's definitely a place for all genders to feel at home; the 'female', 'moon' or 'nurturing' power here is off the chart. It was dreamed up by the beautiful Kasia and her daughter (who share in a dope gene pool) as a place to celebrate breakfast (their favourite meal, who can blame them) all day, while simultaneously creating a peaceful wave of life with great working conditions for women; closing every day at 4 so that they can keep balance in their lives. This unusual project is absolutely shining love, compassion & radiating waves of kindness, which, let me tell you, is a major ingredient in every dish here.
Speaking of ingredients; they are all sourced from Kazimierz in support of local businesses, along with maintaining a zero waste output. Mother and daughter make all the jams, spreads, preserves and sauces themselves, not to mention the liquidized-zest-for-life house kombucha (which we highly recommend). If you needed further proof of their breakfasting expertise, they have even written and published their very own, super loved-up, egg based recipe book named 'JAJKO' (literally 'egg' in Polish). A flick through this voluptuous volume reveals the true depth of their passion, exploration and knowledge of the morning meal.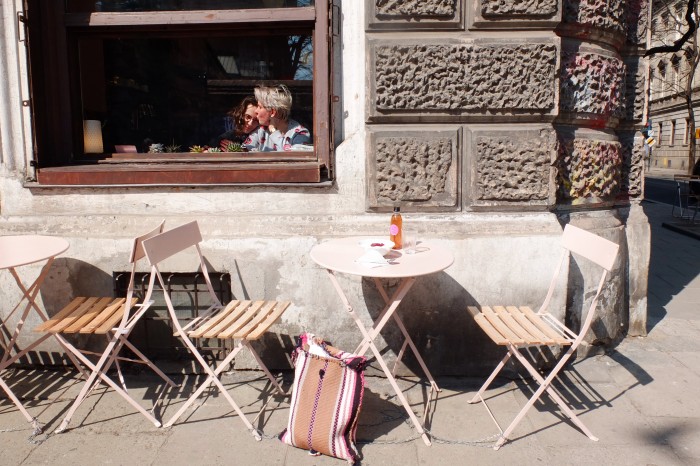 The pretty pink menu is a joy to browse, covering a broad range of flavours with humour and flair. Eggs, Hungarian sausage, hummus and Middle Eastern/Mediterranian & Asian favourites dominate the ingredient list. Everything can be a breakfast food with the right perspective. Apple crumpets, muesli, daily soup, tagine, the best shakshuka in Krakow, patatas bravas, a health explosion 'bowl of goodness', and a tummy warming Arabic style 'hearty breakfast'. We love the whimsically titled sandwiches with selections such as 'Lil Kimchi' & 'May the force be with you'. There's also a generous 'extras' list to choose from in order to mix and match your favourites.
Ranny Ptaszek's cosy interior has the offbeat and super homey vibe of a simpler time. It's a bit like visiting your aunt's house - a trip to the '70s with vintage cups, bowls and decor crouching like jungle animals amongst a waterfall of flourishing plants. You can sit by the window and make friends with cactuses or sit outside to soak up the sun and the atmosphere of this peaceful street with pretty pink sidewalk tables scattered beneath the slanted stone walls of St. Katarzyna's Church, built in 1342.
Augustiańska 5 // 517 656 246 // Facebook // Instagram
Breakfast is served 8 am to 4 pm every day
Vegan, Vegetarian & Gluten-Free Options Available
---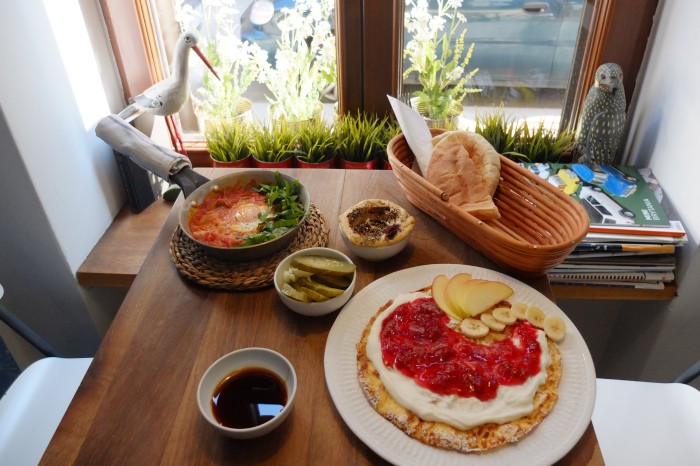 Hummus Amamamusi
Sister and neighbour to Ranny Ptasek, Hummus Amamamusi is also run by the same multitasking trio (as is Krakow's famous regular food festival 'Najedzeni Fest'). Mashing together 25 divine flavours of hummus in this super enlightened atmosphere and employing a team of truly sweet & fascinating staff, Hummus Amamamusi has gained the respect of the local community and firmly established itself as a Krakow icon.
The breakfast offerings here are more limited in choice than some other places but they are thrice as nice. There are three brekkie sets on the menu. The first is a hot and super tasty pan baked shakshuka (a spicy middle eastern mix of eggs, peppers, tomatoes and fresh herbs), which comes with homemade pickles and pita bread plus your choice of hummus.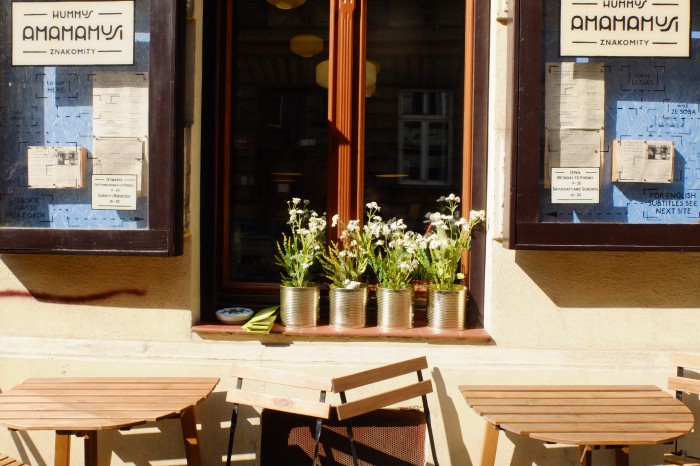 The second is a fantastic Vegan option - lush tabbouleh salad served with pita bread and a generous serve of your favourite hummus. Last but not least is the super original matzah brei omelette with cottage cheese, cinnamon, syrup, confiture & fresh fruit: ah-may-zing. This mind-bending dish looks and tastes like a huge pancake but is actually made of a combination of egg and Jewish matzah bread. All these super filling breakfast bundles come with tea, cacao or coffee and there's an option of a corn bowl to replace the pita for gluten-free folks. You can also buy a pot of hummus or a tasty sandwich to take away.
As for the interior, well, of course, it's gorgeous and earthy. Everything is centred around a big wooden kitchen/bar/table countertop area, within which all the magic happens. With its natural colour scheme, burlap curtains, piles of freshly chopped herbs, low hanging, dimly lit lamps and surfaces stacked with jars, bottles and containers of condiments, bric-a-brac and biscuits; there's a charming laidback countryside village energy which makes you feel like family in this intimate little cafe.
Beera Meiselsa 4 // 533 306 288 // Facebook // Website
Breakfast Is Served from 9am until 2 pm, every day
Vegan, Vegetarian and Gluten Free Options Available
---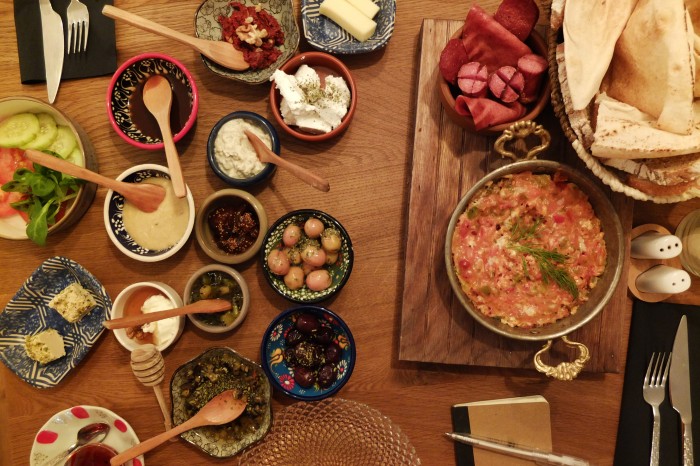 Tamam
If you want to start your day feeling royally blessed, then spend the morning as Turkish prince or princess at Krakow's secret portal to the crossroads of civilization. Hidden down a cobbled alley in the whimsical historical Old Town, this divine Turkish nook hit all the right notes for our thirsty palates. If you are a stranger to the local breakfast customs of this Mediterranean jewel then you might be wondering how a Turkish restaurant fits into our breakfast article. Let us enlighten you to the blissful world of Tamam's "Breakfast, Wine & Chill".
Like an exotic retreat from our mundane daily duties, Tamam will seduce you with their divine all-day breakfast feasting. This traditional slow-food style of waking up sets a dreamy tone with mezze style selections of cheese, meat, olives, jam, dips & spreads, halva, honey, bread, eggs and more imported straight from the land where east and west swim together in sapphire seas.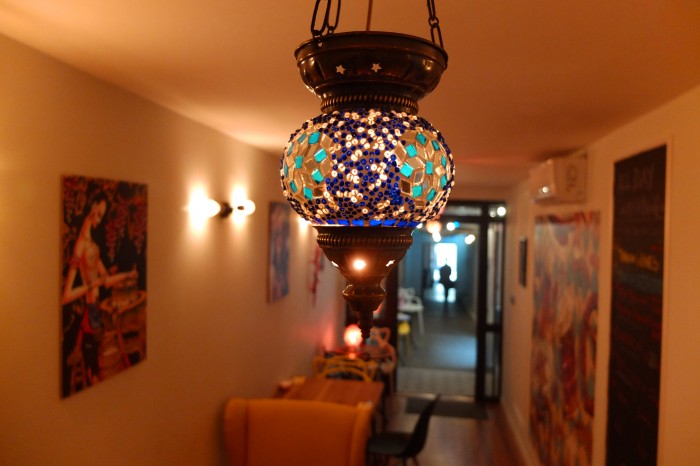 We were so, so impressed with the quality, the freshness and the flavours so perfectly balanced that they emanate a pure and luxurious energy which continues to inspire you throughout the day. Choose from different breakfast sets to suit either the number of people, your mood or your lifestyle preferences (vegetarians won't be dissapointed). They all come with unlimited bread and Turkish tea.
As a family run restaurant you will feel this place awash with real Turkish atmosphere: the laughter of children and the melodic hum of chatter and joy from nearby tables, intricate ancient oriental decor mixed with modern pop art. There are plenty of secluded nooks and giant man-eating chairs to disappear into as you close your eyes and let the traditional Turkish music relax your soul. It's impossible to be in a bad mood here in this metaphysically spiced experience which transcends time & space.
Wislna 5/3 // 662 186 814 // Facebook
Breakfast is served 10 am to 10 pm Mon - Fri. Weekends from 9:30 am.
Vegetarian, Vegan Options Available
---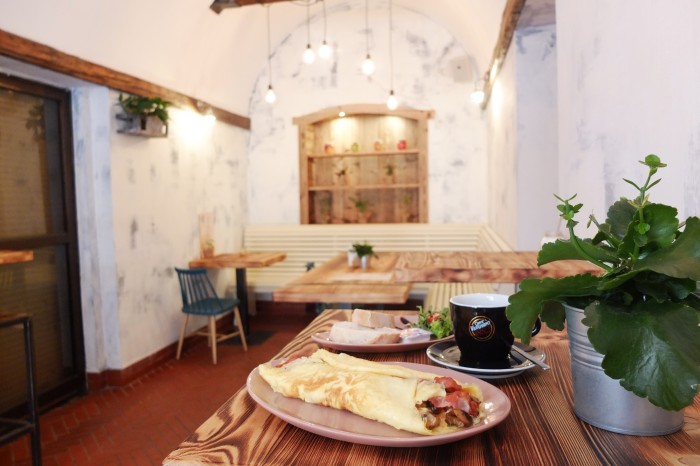 Gossip Cafe
As one of the most popular breakfast cafes in Krakow, Gossip is so busy that it's booked out regularly. Owner Sylwia, wanting to ensure that there would be a place at their tables for anyone at any time, made the exciting decision to open a second location on ul. Jana, one of the quieter yet equally stunning streets of the city centre. Now there's room for everyone.
Why is Gossip so frequented by happy customers? Well, we think it might have something to do with the charming owner Sylwia. Bright and bubbly - she's got a lot of love to give and you better believe she's pouring it into her staff, her guests, every cup of coffee and every meal. After 6 yrs working in a coffee shop, she fell in love with the experience. She genuinely adores to see people smiling and with heart at the heart of the business, no wonder it's pumping.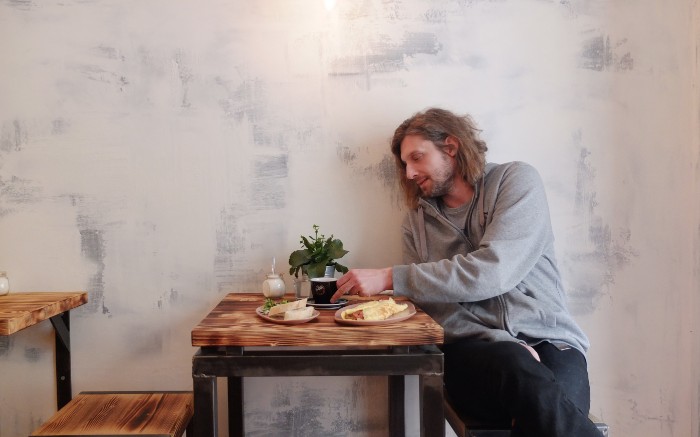 Gossip is also famous for it's solid, dependable brekkies. When you know what you want and it's a straight up, juicy and thick, belly-warming omelette or a 'Full English Breakfast' done right - this is the place for you. The menu consists of the most generous selection of omelettes (10-20zl) in town and boy are these voluptuous pillows stuffed to the brim with tasty ingredients such as goats cheese, bacon and mushrooms. In the savoury realm, you can also chow down on your choice of panini or traditional homemade pierogi. Sweet breakfasts include gluten-free, regular, oat or jagłana granola, served with honey, yoghurt etc. or slurp down a tasty array of fruit smoothies, creamy lux milkshakes and green juices for the health conscious. Italian Vergniano 80%, Arabica, 20% robusta coffee is brewed perfectly in all the usual ways, we were delighted to see the espresso served w/ a glass of water: ala Italiano.
As for the interior, it's as bright and friendly as Sylwia herself. This beautifully renovated historical space makes use of many of the original elements of the building, which have been maintained or repurposed in delightful fashion. Glossy wooden beams and tables, rustic white-washed walls, a zigzagging red brick floor, cheerful hanging lamps and happy green plants. It's a safe bet for a good start.
ul. Zwierzyniecka 4 // sw. Jana 30 // 794 048 973 // Facebook
Breakfast Is Served from 7:30 am to 5 pm every day (later in summer)
Vegan, Vegetarian, Gluten-Free Options Available
---

Chałka
Chałka, Challah, "How-Ka". So moist and fluffy, so satisfyingly chewy, so charmingly niche that we feel inspired. Although chałka is a much-loved bread, normally you can only find it sold only in Krakow's most old-school traditional bakeries. What a fantastic idea: to make a cafe based entirely on this very specific, grandma-approved, increasingly rare variety of Polish-Jewish bread!
Unsurprisingly, pretty much everything served here is made from or comes with chalka. From Chalka bread pudding with apple and raisins to egg-soaked chałka french toast w/ bacon & maple syrup, the chef has created an unprecedented menu - broadening our minds to the infinite possibilities of chałka life.
Order your freshly-baked chałka (lots of different kinds to choose from) with their speciality house-crafted: jams, egg paste, hummus + vegetable spreads. Plus new surprises on the daily and chałkaless foods like homemade granola, traditional zurek soup, juicy pączki (Polish doughnuts), quiches and big ol' hearty sandwiches with all kinds of fabulous ingredients.
We especially recommend the french toast as chałka is such a soft and spongy bread, rather like a croissant, that it is just the perfect consistency to soak up all that lovely egg in order to make the most succulent eggy bread in the world. We love it so much we even started cooking it at home. As for the all-important best friend of breakfast - coffee - well, since their beans are from local roasters Kelleran, you'll be happy to know that Chałka also made it into our article on the ten best coffee spots in KRK! Double whammy.
Phone Meiselsa 8 // 537 488 532 // Facebook
Breakfast is served from 8 am to 4 pm every day
Vegan and Vegetarian Options Available
---

Zaczyn
Wandering around the down-to-earth Debniki area on one of these gorgeous spring mornings, you will certainly find yourself drawn to the unassuming exterior of our favourite Krakow bakery by the hypnotic scent of their freshly baked artisanal sourdough loaves as it wafts through their large bay windows. Much like the beginning of every hero's journey in the most magical of storybooks, only a small sign by the door betrays the existence of anything inside the inconspicuous cafe. The effervescent village energy which seems to flow through Debniki like a dream will wash away all your worries as your inner child follows their nose to the zen of a Zaczyn breakfast.
Does the bread here really have the power to grant wishes? We're going to say yes. Yes, it does. If you were going to make yourself some mystical bread, you'd definitely be doing the same thing as Zaczyn. Quality over quantity, Zaczyn supports small independent grain growers by sourcing from small and beautiful farms who tend to their plants with ecologically sound methods of love and care. Not a chemical in sight.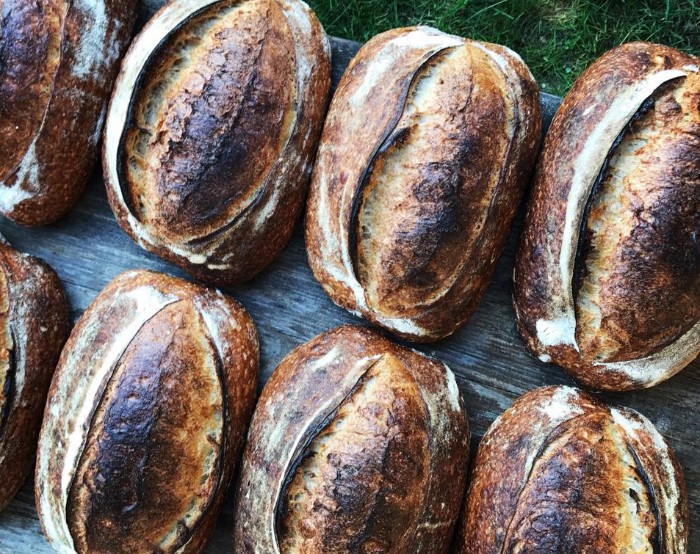 Because of this, they collect lots of different kinds of grain from whoever has just harvested a special crop. If you use a little bit of imagination, I'm sure you can see how that affects the bread they bake with it. A full spectrum adventure through flavours, consistencies, sensations... because they aren't scared to discover and thrive. Zaczyn mill the flour themselves, in-house, & experiment with the variety it brings. Wheat, rye, spelt porridge, polenta, rosemary, pumpkin seeds, roasted almonds, ground coffee, olives, lemon zest, walnuts, herbs. If you have amazing energy and amazing ingredients, you can only make amazing bread.
Okay, let's get specific (or maybe less specific?) about your breakfast. You might have guessed that they bake amazing loaves of sourdough bread. This bread is so delicious that you have to get in early to enjoy it as they only make a limited amount and it sells out fast as people come in to taste "whatever is new". Every morning they offer a couple of different kinds of breakfast. Only one or two and it changes regularly depending on the inspiration from the grain, the seasonal fruit and veg produce and the staffs own seemingly infinite creativity. Expect something like vegan 'Bahn Mi' with handmade nut spread and sriracha, fresh herbs and marinated tofu on succulent ciabatta; lemon, cashew and ricotta toast with warm blueberries; a salad of roasted almonds & cinnamon, maple syrup, blood oranges, w/ parsley & pumpkin seed pesto toast. The tea and coffee are as carefully selected for their high vibrations. OK. Now my mouth is watering. I need to visit again.
Barska 4 // 537 488 532 // Facebook // Website
Breakfast is Served 7:30 am to 3 pm, Fri to Sun
Vegan, Vegetarian, Gluten Free, Lactose-Free Options Available
---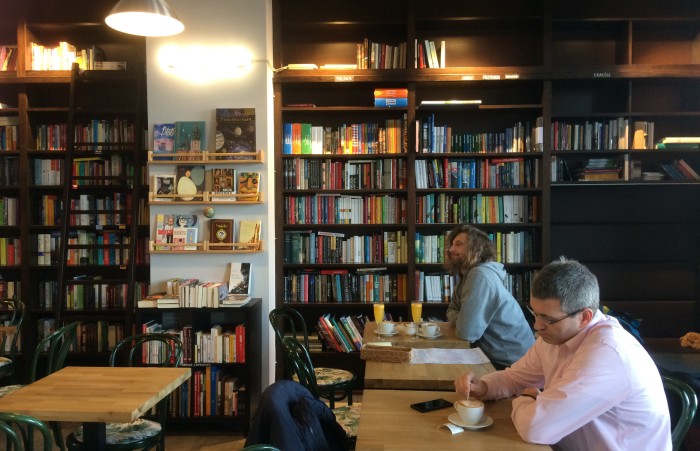 Swoją Drogą
This lovely riverside bookshop/cafe is totally dedicated to two of our favourite things: books and brunch. With such an abundance of literary influence, it's no surprise that they were inspired to send their dishes on an adventure. The breakfast menu at Swoją Drogą (literally "by the way" or "anyway") travels right around the world, making flavoursome stops in delicious destinations countries such as Spain, China, Turkey & Scandinavia.
Comfy couches, an ambient world music playlist, wifi and a perfect people watching bar at the window make it a great place to settle in with your laptop to get some work done, or to find out what happens next in that novel you're reading. It's very relaxing to browse the fantastic diversity of books (in particular the unique selection of Polish volumes) which line the wall-wide shelves, as your breakfast is prepared by Swoją's talented chefs.
There's a fascinatingly specific vibe to the food and interior here, which seems to be a popular modern design trend amongst the urban professional gang. Super-Poland-focused vintage 70's posters and postcards of Polish towns and forests (the more obscure the better); pared back, neutral colours, neat and minimalistic, witch touches of the exotic new world. This quirky style doesn't yet have a name but is fast taking over homes, shops and restaurants alike, so, let's coin it right now as "Polish minimalist vintage revivalism".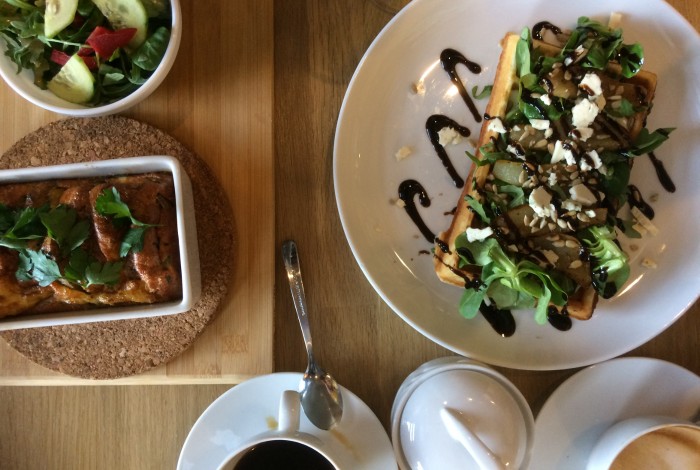 Some other things we appreciate about Swoją Drogą are the house-baked sourdough bread, cakes and even doggy biscuits (great place to drop in while enjoying a walk by the water with your furry friends), the special cheese from Kozna Łaka and their chicken friendly use of free range eggs. We also love their unique take on waffles, serving up some rare savoury versions of this typically sweet treat such as blue cheese, pear & balsamic or bacon, egg & maple syrup. Delicious.
Their 'Breakfast Around The World' sets are served with bread + tea or coffee and are priced between 16zl - 28zl. You can also order a range of sandwiches and salads or eggs pretty much any way you please. If you want to start off your day on a high note, we recommend a cheeky breakfast drink such as Prosecco w/ OJ, Maracuja Mousse, Espresso Tonic for only 15zl. Nicely capping off the travel theme is 'Coffee Around the World' featuring a collection of national brewing techniques and beans from Vietnam, Mexico, Portugal, Cyprus, Turkey & Iceland. Happy travels!
Nadwiślańska 5/1 // 535 198 889 // Facebook // Website
Breakfast is served from 8 am - 9 pm every day
Vegan, Vegetarian, Gluten Free, Lactose-Free Options Available
---
---
Hungry for more? Check out another delicious article...
- The 6 Best Coffee Spots in Krakow
- The 5 Best Indian Restaurants in Krakow
- Krakow's Freshest New Cafes, Bars & Restaurants
Did we miss something tasty? Let us know in the comments below!
---
---
Comments