Getting around Budapest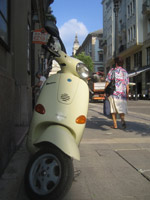 Above: Scoot around town Centre: Festival-goers await the HEV Below: These SUVs really clog up the road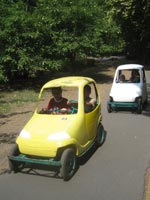 By public transport
Budapest has a remarkably efficient public transport system, which makes navigating the city cheap and easy even for the most inexperienced of tourists. The yellow (M1), red (M2) and blue (M3) lines of the metro fork out from the Danube to cover the key points of Pest, whilst you can follow the red M2 metro line under the river and emerge amongst the green hills of Buda. At the moment the HEV suburban railway joins up the gaps the metro leaves behind, although a new line (M4) is currently under construction which will link Kelvin Ter station in the south, the main train terminal and outlying surburbs, expected to be operational in 2010.
If you prefer getting around by bus, then 153 routes should get you wherever you want to go, whilst no city can truly call itself European without a few tram lines lieing about. Whichever method of public transport you are travelling by you can purchase tickets at kiosks, a single for 300 or a one day travel card for 1,550 forints. You can also buy a 3 day pass for 3,850 forints, a 7 day pass for 4,600 or a book of 10 single tickets, valid on the bus, tram and metro, for 2,700 forints. For more info on Budapest public transport check out www.bkv.hu.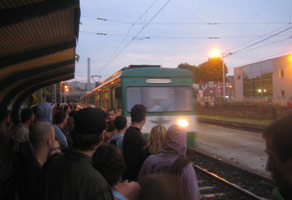 By taxi

Taxi drivers in Budapest are notorious for ripping off tourists, and although recent years have seen an increase in scruples and professional practices it's worth getting a rough price fix before you step in the cab - and it's worth counting your change too. Calling a cab can be up to 15 percent cheaper than hailing one on the street, although you may need your Hungarian friend to help you. City Taxi have English speaking operators and enjoy the best reputation amongst taxi firms in Budapest.

By car
Well the advantage of getting around Budapest by car, as any Fleetwood Mac fan will tell you, is that you can 'Go Your Own Way'. The disadvantages are the near-death experiences you will encounter en route, thanks to Grand Theft Auto style manoeuvres of your fellow motorists. Still, if you're prepared to drive defensively a car could prove invaluable for getting out to the likes of Eger and Lake Balaton, although within town itself it's cheaper and easier to use public transport or taxis.
Comments
We were fined by Metro staff just for not knowing the fact you should clip your ticket first, 8000 HUF, what a rip off and con to the unexpecting visitor :( sad that this has put me off ever wanting to come back here......................... Ps no prior warning when buying tickets or around the station and the staff tageted tourists!!!!!! not a nice feeling..............im out.
Reply
Ripped off by a taxi for a 2 km ride. The meter said 7000 forint (30 EUROS). The tariff should have been around 10 euros. We called the police to the hotel and they were nice but said they could do nothing.
Reply
AVOID USING THE PUBLIC TRANSPORT in spite of having a valid ticket, you are an easy target of the ticet inspector that are violent and abusive, forcing you to pay the fine on top of a racial harassment. DO NOT USE PUBLIC TRANPORT in budapest
Reply