Sziget Festival
Sinking beers until you dehydrate, running around a vast island trying to catch all your favourite bands, desperately searching for a bog with toilet paper, losing your mates for the umpteenth time in a single day, thanking God that you packed your bright pink 'fashion wellies' as the floods descend, getting caked with mud all the same, queuing for the (cold) showers, collapsing in the ambient arena, waking up in a complete stranger's tent, promising to never drink again, running up a phone bill the size of Obudai Island, challenging the Frenchies to ping pong, the Germans to Foosball and the Hungarians to drinking Hungarian wine - and losing all three, getting your hair dreadlocked, your arms tattooed and legs massaged, discovering new bands at the Wan2 arena, losing your wallet, buying a t-shirt, getting to the front of the main stage for Chemical Brothers only to realise you're desperate for a piss, making your way home only to stumble across the afterparty, drinking dancing and partying until you physically can't take any more... and then doing it some more: it can only be the Sziget Festival!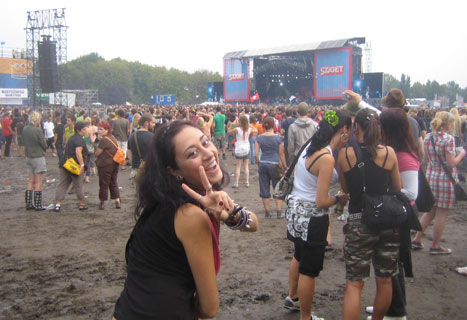 Founded all the way back in 1993, the Sziget Festival was originally the venture of a few passionate musicians who lamented the lack of music camps after the fall of Communism. Growing quickly in scope and size by 1996 the festival was attracting over 200,000 visitors to see huge international acts such as The Prodigy, the Levellers and Sonic Youth. Today Obudai Island, where the festival is held (Sziget Festival simply means 'Island Festival' in Hungarian), hosts nearly 400,000 guests every year for a week in August as over a thousand artists perform at over thirty different stages, tents and arenas. Headliners in the past have included world superstars such as Basement Jaxx, Radiohead, Muse, Chemical Brothers, Faithless, The Cure, NIN, Massive Attack and David Bowie, whilst the support acts are often internationally renowned pioneers of their field.
It's not just about music at Sziget either. Theatre, cinema, console games, tennis, table tennis, foosball, swimming, archery, bungee jumping, zip-lining, wet t-shirt competitions, foam parties, henna and ink tattoos, thai massages, shisha smoking and loads of other cultural, sporty, sexy and hippy stuff is on offer. Much of it is even included in the ticket price!
Whether you intend to take in the whole festival, or just day trip to the island, Sziget is an experience you won't forget and well worth adding to your Budapest itinerary. If you're wondering where everybody is during August then they're probably hustling for position at the main stage, or propping up one of the many festival bars!
Advice For Visitors to the Sziget Festival
The experienced festival-goer knows that a little bit of preparation can serve in transforming a miserable festival experience into a brilliant one that the weather can't spoil, and it's certainly worth bearing a few things in mind if you're keen to come to Sziget this year.
First, decide if you're camping or staying outside the island. There are pros and cons to both, with camping being arguably more fun and definitely cheaper as you can save on accommodation and travel costs. You're also in the heart of the action and more likely to make friends. On the downside you're going to be staying in a hot sweaty tent with no creature comforts for seven or eight days, queuing for washing facilities, and possibly getting very wet (whilst Sziget is no rival to Glastonbury, rain is a reasonably common occurrence). If you do decide to camp the key is to get to the festival as early as possible (check out the official website for when the island opens) and find a good place to pitch your tent. Those that pitch too near the dance/heavy metal tent or toilets are in for a rocky ride. If you decide to stay in a hostel or apartment the key is to find somewhere close to the festival to minimise your journey time - you'll be making the journey twice a day so you want to keep it down as much as possible. The entrance is on the Buda side and most people arrive by the HEV train. Check out our hotels and hostels page for some ideas.
Other essential advice would be to pack wisely. Sleeping mats/lilos, earplugs, wellies and waterproofs are all invaluable purchases. It is acceptable to bring food onto the festival grounds but no drinks, including water, so bear this in mind too. Otherwise play safely and you're bound to have a fantastic time!
Preview of next Sziget Festival
No news yet on the line-up for Sziget, but we promise as soon as we know something we'll post the exact dates and the biggest bands. The official website will also keep you up to date!
Comments