Getting around Wroclaw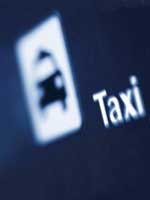 Above: They even go south of the river in Wroclaw! Below: Take care! These are considered optional by many Polish drivers...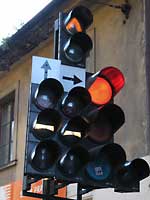 By taxi
Fancy an adventure in Polish culture? Do you like rally racing? Well, then travelling by taxi is your best bet! Polish cabbies are known for their aggressive - but effective - driving as well as their eagerness to share opinions on just about anything. How's the government doing? What's the weather going to be like in a year? Should you invest in bonds? The taxi driver will have all the answers to these important questions. Moreover, he'll probably share them with you whether or not you ask... Remember to call for a cab instead of snagging one from the ranks. The call is usually free and you'll save anywhere from 5-30% on your fare.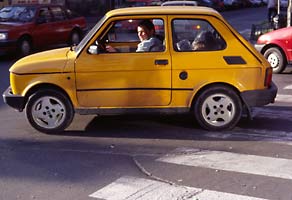 By car
Once again, this is an option for the adventurous... Polish roads are decent at best and Polish drivers in general share some of the aforementioned cabbie characteristics. Add to that some unusually complicated road signs and strict limitations on traffic within Old Town areas, and you've got yourself a potential headache. All in all, it's probably better to take advantage of the surprisingly good public transport. If you do decide to take your own wheels, however, remember that most parking spots in and around the centre are not free. Get a parking pass from a kiosk or from the automated machines which dot the street.

By public transport
Every major city in Poland has a quite good public transportation system. In Wroclaw, you'll have no problem getting to your destination on a train, tram or bus. Tickets will cost you anywhere from 1.25-3PLN, depending on whether you're travelling during the day or night, taking an express or buying a discounted ticket (students, seniors, etc.). Anticipating a slightly longer stay? Take advantage of the 1, 5, 10, 30, 60 or 90-day passes available. Buy your tickets at one of the many kiosks around town or at one of the handy automated ticket machines.
Comments
Jan neale from United Kingdom Reply Oct 9th, 2016
The ticket vending machines are appalling......I fully agree with Basil from the united states!!! I've not found one that worked properly!!!!!
Sonia from Poland Reply Jan 19th, 2013
Www.jakdojade.pl - this website finds best ways how to get to your destination. Works for all the cities of Poland. It finds bus/tram/etc connections, also tells you how to walk somewhere - gives you all important informations.
Basil from United States Reply Sep 25th, 2012
The system itself is fine, but the ticket vending machines, far from being handy, are non-functional monuments to incompetence. The touch screens barely work, the coin slots eat your coins and don't register them, the bill slots spit the bills back at you like they were designed to do that instead of accept them, and the card reader kind of works, sometimes, for some cards. Whoever designed the machines should be ashamed and fired.
Helen from United Kingdom Reply Jan 30th, 2012
How can i get from Wroclaw to a ski area by public transport?
Dana from Czech Republic Reply Sep 29th, 2011
Hi, How can i get to airport Wroclaw (WRO) from train station WROCLAW GLÓWNY? thx for help
Kuba from Poland Reply Jan 26th, 2011
There you go Jan: http://www.wroclaw.pl/schematy_komunikacji_zbiorowej,1.dhtml
Jan Nosek from Czech Republic Reply Jan 25th, 2011
Hello, does any map of public transportation in Wroclaw exist? How can I find bus stop near place I stay and place I want to go?
MArek from Poland Reply Oct 25th, 2010
Here you can download the PDF timetable. Buses from the main station in Wroclaw - in the first column you will find the destination - just simply scroll down to find Nysa: http://www.wroclaw.pl/komunikacja_autobusowa.dhtml
Sven from Norway Reply Oct 22nd, 2010
I want to go to Nysa to explore the town and the surroundings there for 1 day. Where do I find busroutes on the net. I would prefer to rent a car and a driver in Nysa. Is there any chanse of doing so ? Thanks !
Mike from United States Reply Apr 13th, 2010
Check the tourist info on the market - you can rent a bike from them
roger from United Kingdom Reply Jan 14th, 2009
do they have a bicycle hire facility in the city centre, where I could hire a bike for 3 or 4 days, just to get around?
David Turner from United Kingdom Reply Feb 6th, 2008
It would be nice to have some indication of how much the travel passes cost.
Tymot 2V from Poland Reply May 29th, 2007
Yes, about the drivers it's fact indeed. I'm a Wroclaw driver and if I woud like to talk about way habbits, i would tell about the driver change a track without indicator, thats more awful. There should be sam informationboard about it, before you arrive here.
Keith Evans from Poland Reply Dec 18th, 2006
I think your comments about Polish drivers are a bit out of date - for sure the standard of driving is not as good as it should be but in the 5 years I have been living here it has DRAMATICALLY IMPROVED - as a pedestrian I now often see cars stopping for me as I get ready to walk on a pedestrian crossing - now you wouldn't have seen that a few years back, believe me!