Nowa Huta
If you want to get away from the ice-cream-and-carriages jollity of the Old Town, then Nowa Huta may well do the trick. It is certainly one of the most fascinating places in the region, and a must for those interested in the legacy of Uncle Joe.
Nowa Huta, which means 'New Steelworks', was an 'ideal city'. It took up the age-old quest to build the perfect urban environment, a dream project since the Renaissance, although one that was rarely realised as few could fit the bills of those excitable architects. Nowa Huta, however, seemed like a shrewd investment to its benefactor, the goodly Comrade Stalin - the city was to be a gift to Russia's new Socialist brothers - a model for his brave new world.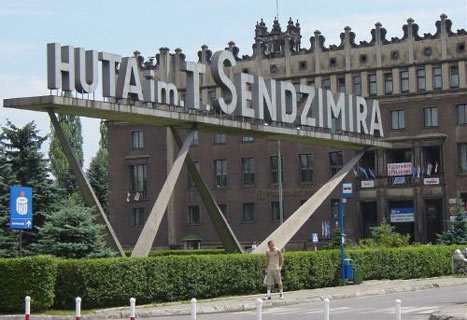 Interestingly, Nowa Huta echoed the Renaissance model on many levels. Its rigid geometry and the careful manner in which each element was located, be it a school, a town hall or a park, would certainly have pleased Leonardo- it even borrowed classical idioms in some of its ornamentation. Moreover, the very plan itself, a sunburst pattern where streets radiated from a central square, was a direct echo of a Renaissance model. However, there are other elements that set it a world apart from the visions of da Vinci and friends. For the builders of Nowa Huta aimed to sweep away the class inequalities so loyally adhered to during the Renaissance. No churches were planned at Nowa Huta, and aristocratic palaces are not in abundance, (although as it turned out, several down-at-heel grandees ended up living there after being deprived of their properties in the Old Town).
Nowa Huta is indeed so loaded with mind-boggling contradictions that it might well have been the product of a novelist's imagination. The town's focus was to be a huge steelworks, yet bizarrely there was no iron ore or coal for hundreds of miles. Not only was it built on the richest farmland in the region, the bricks were laid over a neolithic settlement whose value can only be imagined. And of course all this land had been taken from the Church. The Church had farmed this rich land for centuries, indeed, it had owned almost half of the property in Cracow before the war, an almost medieval proportion and, to cap it all, the archbishop was both a Prince and a hero of the resistance.
The idea of Nowa Huta was largely to break the back of conservative, bourgeois Cracow, by creating a vigorous working-class suburb. Yet once again, things did not turn out as expected. The toxic rain from the factory caused priceless damage to the old city's monuments, but the town itself was not as loyal to the New Order as had been hoped. Indeed, it became something of a bastion of the Solidarity movement and the site of momentous demonstrations. Nowa Huta's long, and ultimately successful, battle for a church has since passed into legend.
It would be too easy to paint a solely black portrait of the city, but reality is of course never that simple. Like most ideal cities Nowa Huta was never completed. And the second wave of building, which began some decades later, did not echo the ideals of the founders. These additions epitomised Western notions of the grim Soviet Bloc. Despite the terrible mess of history, it should not be overlooked that spirits were high in the early days. Families recall an atmosphere where people genuinely looked out for each other - a far cry from the Stalinist culture of informing that is so often talked about in relation to East Germany and other parts of the Soviet Bloc. Not only was the quality of living accommodation good at Nowa Huta, the 'garden city' concept also made for a pleasant aspect in peoples' day-to-day lives.
Ultimately of course such niceties did little to alleviate the poor health of the factory workers: cancer was commonplace, and the project soon turned sour. Nevertheless, you can still find kindly gentlemen who speak wistfully of those pioneering early days and recall the great mission of building the new Poland.
Comments
I stayed overnight in Nowa Huta last December ,staying at the Hotel Felix. I was able to visit two of the local museums and even got an inside glimpse of the People's Theatre. I saw a Russian built Polish Army tank outside the nearby military museum. I saw inside the Ark church. On Plac Centralny , I eat a meal of pierogi at the Milk Bar cafe and also had a more substantial meal at the Stylowa Restaurant which had a small statue of Lenin placed on a table.
Reply
Our personal guide brought us here and she explained the place. We stood beside the metal sign, through which we saw an amazing sunset. I didn't know much about the place, but I could feel the weight of the imposing buildings around me. Sure felt Russian, that's for sure. Nice to visit, but afterwards was so pleased to be heading back to Krakow.
Reply
La visita realmente no vale la pena. Te dan el coñazo durante una hora enseñándote una película de propaganda cuando lo que realmente interesaría es ver el barrio. Además te dejan delante de la fábrica y ni te la enseñan. Vaya, un desastre!
Reply
It takes hours just to see some of Nowa Huta. But this is indeed the real deal, and far away from the circus in Cracow city center. I went there with Sebastian Simankowics who was born in Nowa Huta and still lives there. Get the perspective of a Steel City homie and you come to understand this place and it´s many facets. flickr.com/photos/pawdamsgaard/sets/72157622994789584/
Reply
Many of the flat owners earned their accommodation by helping to build the flats without pay. It was the Communist government's way of paying the workers.
Reply
My family lives there in both Old Nowa Huta and the newer Nova Huta. I like the fact that all the flats look out onto green space and (now) lovely tall trees. It is also very convenient to live there with an excellent public transport system. The flats however are very small and many are still in their original condition. Tenants get to keep their flats for life and can leave the flat to their children only but (of course) owners can do what they want with the property.
Reply
dude! book the crazyguides commie tour of Nowa Huta with the old apt - it's so awesome we all loved it, crazyMike is hot shit and he's a great guide!
Reply