The Sukiennice (Cloth Hall)
The Sukiennice is one of Cracow's most distinctive buildings. It is best approached from Florianska street - down the Royal Way. On arriving at the square the Cloth Hall appears to ripple away before you. It is like some great sleigh that has come to a triumphant halt in the middle of the Rynek. And if the roads were to part wide enough, one can imagine the entire thing gliding off gracefully into the unknown.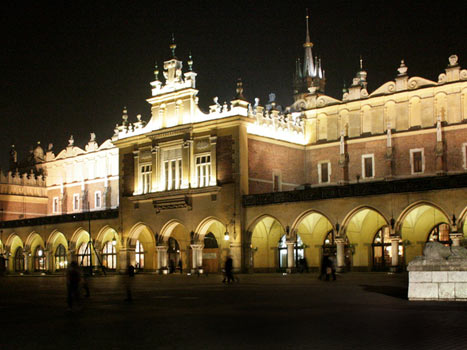 The Cloth Hall, as its name suggests, was once a main focus of Cracow's trade. Merchants would meet here and discuss the state of business, whilst inside a lively bartering went on. During its heyday, some five hundred years ago, a rich traffic came in from the East - spices, silk, leather, wax - and Cracow itself exported textiles, lead and of course salt from the mines at Wieliczka. Cracow, then a Royal Capital, was amongst the most magnificent cities in Europe. But this was not to last. The passing of the golden age was hastened by wars and political ineptitude. And by the time that restoration was touted for the Cloth Hall in 1870, much of the Old Town was decrepit. Yet a change in political fortunes for the Galicians ushered in a kind of renaissance - the renovation of the Cloth Hall was one of the master-strokes of this era.
The Cloth Hall has played host to many distinguished guests over the centuries and it is still used to entertain monarchs and dignitaries to this day. Both Prince Charles and Emperor Hirohito of Japan were welcomed here in 2002. In times gone by balls were held there, most famously after Prince Jozef Poniatowski liberated the city from the Austrians in 1809. And the mercantile traditions of the hall also live on. Today it may be slippers and one or two more tourist-oriented items that are on sale, but its wooden stalls maintain the hum of business as it was in earlier times.
Comments
terry MCCUNE from United Kingdom Reply Nov 23rd, 2016
just back from here loved every minute of it amazing place will be back soon cant wait
Jane Jazz from United Kingdom Reply Mar 7th, 2014
Wonderful prose to describe this wonderful place. I loved the imagery of the sleigh 'gliding off gracefully into the unknown'. It brought back memories of visiting Kracow Cloth Hall years ago and buying a long string of amber beads. Now I'm tempted to return!
Nic Ornaf from United States Reply Feb 13th, 2012
The Cloth hall is free to enter,it's a market of sorts.
Joel Clarke-Morgan from United Kingdom Reply Jun 13th, 2011
Just come back from Krakow, 1.6.11, the place was amazing, loved everyminute, the Sukiennice, was a real gem , architecturally amazing and the stalls weren't bad either, it's got a cocktail bar on the top!
alessandra from Malta Reply Feb 17th, 2011
How much would it cost to enter the Krakow Cloth Hall please?
James from United States Reply Jan 4th, 2011
The Cloth hall is truly a sight to see, day or night, it really seems like a step back in time, if your ever in or near Poland, go to Krakow and see the many sight this city has to offer.
Alan from United Kingdom Reply Nov 20th, 2010
This is an amazing sight particularly at night with the floodlights and the new fountains.. I was there at the end of October for a few days...beautiful city!
Mark B from United Kingdom Reply Sep 24th, 2010
The Cloth Hall looks stunning now, after its complete restoration. If anything, they've slightly overdone it IMHO. But it is a relief to have all that wretched scaffolding now away from the Market Square.
Dessislava from United States Reply Apr 13th, 2008
I would appreciate if somebody could give me address annd telefone of fashion boutique Yosho or Yoshi in Krakow.
Didi from Poland Reply Mar 17th, 2008
Amber rings cost from 5£ to 30£
charmaine spillane from United Kingdom Reply Feb 7th, 2008
i would like to buy an amber ring in krakow poland but would like to know the prices converted into the english pound roughly?
gail sealy from United States Reply Oct 6th, 2007
good site but I am trying to buy amber to replace a ring I boughg about 9 years ago. It was froma mechant in one of the open stalls in the merchnts hall. They had ulra modern designs...is there a site to see the designs? thanks