Study in Wroclaw
Wroclaw is one of the leading academic centres of Poland with over 120,000 students enrolled in the city's thirteen major schools, the biggest being the three hundred year old University of University with around 42,000 students and the Wroclaw University of Technology with 33,000 students. Other famous institutions include the Academy of Agriculture, Medical Academy, Fine Arts Academy, Academy of Music and the Academy of Economics, all of which enjoy an enviable reputation in Poland and abroad.
Apart from the excellent standards of education on offer (not to mention the low cost of tuition fees), students continue to flock to Wroclaw for the quality of life this little city offers. With its picturesque canals and parks, spectacular Market Square and towering Gothic churches the scene is very much set for refining the mind, and with an annual events calendar packed full of festivals and a nightlife scene that packs a solid punch, life outside of classes is stimulating to say the least.
Further reasons for signing up to one of Wroclaw's Universities are the increasingly large number of international companies setting up shop here and recruiting directly from the academies. High-tech firms such as Siemens, Hewlett-Packard, LG Philips and Google all have operations here, whilst Allied Irish Bank PLC, Crdit Agricole and Citibank are amongst thirty major banks in the region. With Euro 2012 in the bag the city's stature is set to grow and grow. Those graduates who decide to stay on in Wroclaw after their studies certainly have plenty of opportunities ahead of them.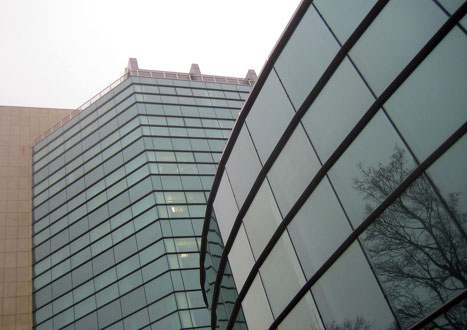 Wroclaw Universities & Academies
The oldest and the biggest in town, the University of Wroclaw has a splendid main building, complete with historic halls such as the Oratorium Marianum and Aula Leopoldina, right in the heart of the Old Town. Romance aside, the University boasts ten nobel prize winners, F. Haber (chemistry), F. Bergius (chemistry), M. Born (physics), R. Selten (economics), P. Ehrlich (medicine), O. Stern (physics), G. Hauptmann (literature), T. Mommsen (literature), P. Lenard (physics), and E. Buchner (chemistry).
Pl. Universytecki
www.uni.wroc.pl
Wroclaw University of Technology
Ranking as the best technical university in Poland in both 2006 and 2007, the Wroclaw University of Technology (PWR) offers the very highest standards in education as well as research opportunities at its twelve faculties. Situated in a large campus just the other side of the river to the Old Town, undergraduates can enjoy a vibrant student life in relative isolation to the rest of Wroclaw, without being too far away to explore the city centre.
Wyb. Wyspianskiego 27
www.pwr.wroc.pl
Wroclaw University of Economics
ul. Komandorska 118/120
www.ae.wroc.pl
Wroclaw Medical University
Pasteura 1
www.am.wroc.pl
Wroclaw Academy of Music
pl. Jana Pawła II 2
www.amuz.wroc.pl
Wroclaw Academy of Fine Arts
ul. Plac Polski 3/4
www.asp.wroc.pl
University School of Physical Education
al. I.J. Paderewskiego 35
www.awf.wroc.pl
Wroclaw University of Environmental and Life Sciences (formerly Agricultural University of Wroclaw)
Norwida 25
www.ar.wroc.pl
Wroclaw Institute of Mathematics
Pl. Grunwaldzki 2/4
www.math.uni.wroc.pl

Student Bars, Clubs and Hangouts
If you're a typical bright young Erasmus student arriving in Wroclaw to fine-tune your mind, chances are you're about as penniless as a Wroclaw Life editor, which is why some top tips on where to eat and drink on the cheap are sure to come in handy. Well there's no such thing as a free lunch, but amble down Kuznicza street and you'll find a few places offering something close. A handful of zloty will get you a hearty supper in any number of milk bars (bar mleczny) and canteens such as Mis, Szybko Tanio Pysznie (Quick Cheap Tasty) and Bazylia. The latter has a second branch in the University of Technology. On the same street you'll also find some favourite student hangouts, such as Kalumbur and La Havana, whilst next street down find Chocoffee and Pracoffnia.
Apart from a few high end bars and clubs aimed at Wroclaw's business people and new middle class, most of the town's drinking venues are academics friendly with many throwing student parties during the week with drinks promotions, whilst out in student town itself (on Plac Grunwaldzki) are Fuga Mundi, Tawerna, Grawitacja and Alibi, all within crawling distance of the student dormitories.
Comments