Warsaw Autumn 2007!
The Warsaw Autumn Festival of International Contemporary Music is happening for the 50th time from the 21st through 29th of September 2007. But what's all the fuss about? Scroll down to find out!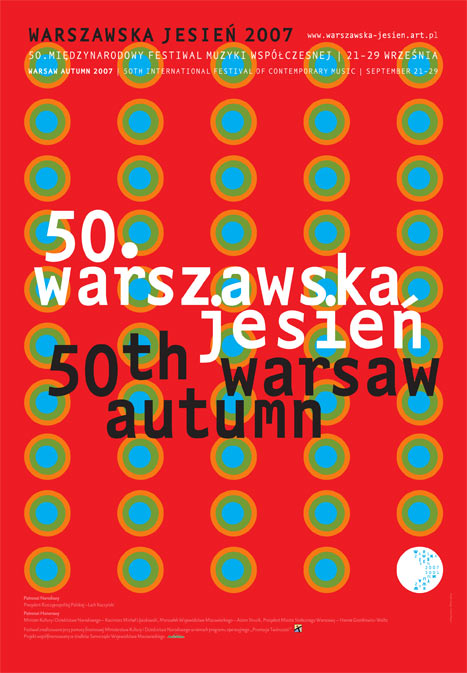 What's Going on Here?
The Warsaw Autumn Festival brings top musicians from all over the world together for one week, presenting all types of performances, from chamber concerts to theatrical presentations tied in with music, and even electronic media merging the modern with the traditional. The festival has been occurring for half a century now, and this 50th anniversary promises to be bigger than ever, with special works commissioned just for the anniversary from composers such as Roman Berger, Marek Choloniewski, James Dillon, and many others. A DVD celebrating 50 years of Warsaw Autumn will be filmed and made available during the festival. The concerts will also be broadcast on Polish Television and Polish Radio.
Events!
Five symphony concerts, six chamber orchestra performances, one chamber opera show, nine smaller performances (violin quartet, piano duets, electroacoustic show, etc.), nearly twenty events tied in to the festival (concerts, conferences, lectures, exhibitions, presentations). And finally, there will be twenty two new works presented!

Where?
The festival will take place in many venues all over Warsaw, including the National Philharmonic, Music Academy, Polish Radio, Centre for Contemporary Art, Musicology Institute, Warsaw University Library, and several other institutes and churches.
Who?
The Warsaw Autumn Festival presents musical groups at the highest levels in the world, such as: Israel Contemporary Players, Klangforum Wien, Elision Ensemble (Australia), Megaron Orchestra from Athens, Ensemble Orchestral Contemporain from Lyon (partnered with the Polish Orchestra of New Music), Ensemble Mosaic from Berlin and many others.

More information and a schedule can be found on the festival's official site.
Comments