6 Reasons to Hit the Right Bank
While there's no denying that the vast majority of standard tourist attractions are on the Rive Gauche of the Vistula, those looking to delve deeper into the real Warszawa should certainly consider crossing the river to Warsaw's multi-faceted right bank.

Guidebooks and locals generally refer to the urban area as Praga, an all-encompassing term that is home to several distinct districts many of which are very much worth investigating by the intrepid traveller looking to experience something off the beaten track. The cheap rent in North Praga in particular has been a huge incentive for the many artists and young people who have invaded the area, and it can now boast an active art scene and an array of buzzing bars and hip clubs.

A few words of advice before you make the trip. North Praga in particular is one of the poorest areas in Warsaw, and it has also gained a reputation for being a little rough - but we just recommend using common sense. Stick to well-lit, popular hangouts and simply take a taxi home at the end of the night. As for daytime travel, look up the ferries which connect the two banks run by the Warsaw public transport ZTM in the summer months.

Here are just a few reasons why we think you should make the trip to Praga, and in particular North Praga, Saska Kepa, and South Praga.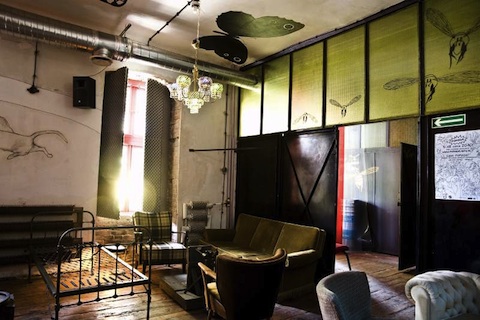 Parks

Despite much of it filled with communist-era apartment blocks, Praga is not short of greenery. One of Poland's most beautiful parks is located on the right bank - Park Skaryszewski (Rondo Waszyngotna), and unlike many other parks in the city (the royal Lazienki park for example) - you can fully enjoy yourself. That means walking on the grass is OK and you there are plenty of paths for runners and cyclists.

Alternative Nightlife

M25 - This post-industrial complex hosts big names in techno and electro music, and is reminiscent of the warehouse techno clubs of Berlin. Take a cab though - it's fairly difficult to find by foot.

11 Listopada no. 22 - This address is home to several bars tucked into a small courtyard. Compared to clubs in the centre of Warsaw, these retro places are much cheaper and charge little or no fee for entry, so understandably their biggest clients are students. Located here are Hydrozagadka, Saturator, Zwiazmnie, and Sklad Butelek.

Sen Pszczoly - ul. Inzynierska 3 (second courtyard) - The "Bee's Dream" is a quirky two-floor club, bar, and beer garden where the toilets are in elevators and a bathtub sits lonely amongst the picnic tables outside. Summertime is best for a visit to Sen - the beer garden will be in full swing, the outdoor cinema will likely be screening a bizarre foreign film, and the staff will be grilling up sausages and veggies. You can soak up all the vodka for under the equivalent of 3 euro.

Zoo - ul. Ratuszowa 1/3
Warsaw's zoo is not anything special compared to many other zoos in the world, but we have a feeling that this fact is not one of your kids' chief concerns. There are animals, and there are plenty of them (over 4000 species!). There are some interesting stories for the grown-ups here too - during the war the zoo director Jan Zabinski and his family hid over 200 Jews from the Nazis.

National Stadium - Rondo Waszyngtona
A new stadium is now being built on the location of the old 10th Anniversary Stadium, which until recently home to the biggest open market in Europe. The modern basket-shaped stadium under construction is to be named the National Stadium, and is expected to open in 2011 in time for the 2012 Euro football championship set to take place in part in Warsaw.

Beach
The Vistula is nowhere near safe enough for swimming, but there are a few river-side getaways, particularly on the wilder, undeveloped right bank, that can successfully trick us into thinking we're on a sparkling beach - and the view onto downtown Warsaw can't be beat. Try the sandy patches off of the Wal Miedzeszyński or head to the fantastic La Playa bar (Wybrzeze Helskie 1/5) for beer, barbecue, volleyball, and dance music on weekends.

Transformed Factories
Several of Praga's historic warehouse and factory spaces have been transformed into cultural hotspots, clubs, and gallery spaces. Make sure to check out: Fabryka Trzciny art centre (home to a club, restaurant, and several rooms for exhibitions and live music) and the Koneser distillery (ul. Zabkowska 27/31) which is now the permanent home of several galleries and often hosts concerts and festivals.
Comments