The Market Square
In many ways, Warsaw's Old Town Square is the very embodiment of this city's spirit. Like most of the city, it was utterly leveled during the second World War. Thanks to the efforts of all Poles, local and country-wide, the entire Old Town was rebuilt, brick by brick. Today it stands as a proud testament to the city's historical heritage as well as its resilient spirit.
Despite the subtle replica feel which, unfortunately, creeps into one's consciousness, the Old Town Square is an enchanting place to visit. Here you'll rub elbows with visitors from all over the globe. And during the summer, when all the patios and garden cafes are running full swing, it's nothing short of perfect.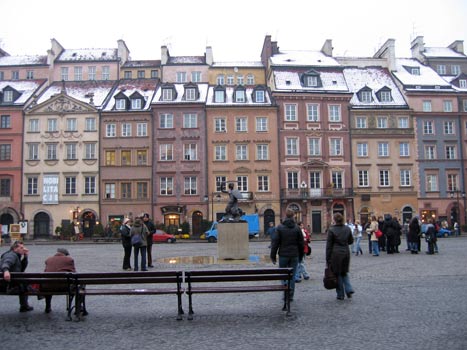 The epicenter of Square is marked by the Mermaid Statue (Syrena Staromiejska). As you may have heard, the Mermaid is the legendary protectress of this great city and has been for many centuries. Not surprisingly, you'll find her likeness all over town.
Certainly worth a visit is the Historic Museum of the Capital City of Warsaw, found on the northern end of the Square. Here you'll enjoy a presentation of Warsaw as it appeared centuries ago along with the city's highlights throughout history. One cannot visit without watching the shocking film depicting Warsaw's devastation and resurrection. Watching this film will certainly increase one's appreciation and respect for the many nooks, crannies and cobbled streets which so gracefully adorn this part of town.
Comments
Must go. I was born there and visited for the first time in 2005. People are great, food is yummy, and the prices low.
Reply
I'm leaving for Warsawa in 22 days!!! I hope spend a wonderfull time there!!
Reply
I spent 4 days here last year and it was so lovely i am going again this year.If i had no ties in the UK i would like to live here
Reply