Presidential Palace
One of Warsaw's most grandiose residences, the palace did not become the official Presidential pad until 1994. It started life in 1643 as the home of the Koniecpolski family and was extensively remodelled in the eighteenth century while under the ownership of the aristocratic Radziwills.
Over the years the palace has witnessed some of Poland's most historical moments. The first written national Constitution in Europe (and the world's second after the US) Poland's 3rd May Constitution was signed here in 1791. Under Russian rule the building became the seat of the governors, and became popularly known as Namiestnikowski Palace (literally Tsar's Viceroy's Palace). It was rebuilt in 1818 and given the faade that we see today.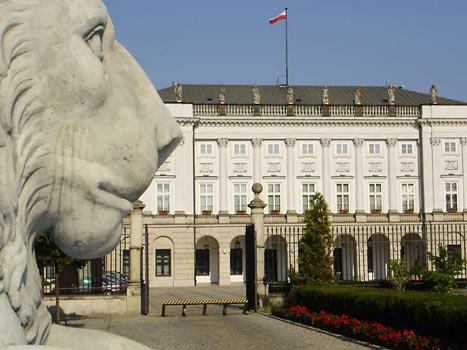 On regaining independence in 1918 the palace became the Council of Ministers, only to be taken over by the Germans in 1939, renovated in a German-style and renamed Deutsches Haus. This was partly its saving grace, however, as the building made it through the war undamaged, and is thus today the only completely authentic palace in Warsaw.
After the war it was returned to its Polish architectural origins and once again made the Council of Ministers. The imposing equestrian statue of Jozef Poniatowski that you see in the courtyard was installed in 1965. The palace was the scene of various important Cold War treaties, most notoriously the signing of the Warsaw Pact in opposition to NATO on 14 May 1955. In 1989 the critical "Round Table" talks between Solidarity and the Communist regime took place here.
Comments