The Jewish Cemetery
Elsewhere in Poland, Jewish cemeteries were usually destroyed by the Nazis and the stones used for road-building material. Warsaw's cemetery was fortunate to avoid such wholesale destruction, possibly because Warsaw already had well-paved thoroughfares. Nonetheless, what the Nazis left has suffered from half a century of neglect. What remains is in need of extensive repair and restoration, but is still a fascinating and poignant place, and well worth a visit.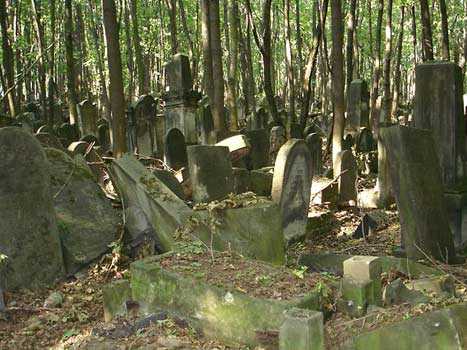 Established in 1806 and occupying some 33 hectares, the cemetery contains anything between 100,000 to 250,000 graves and tombs. It is one of the largest Jewish cemeteries in Europe and one of the few to be still in use today. Although the Nazis allowed the cemetery to survive, they did destroy all documentary records of Warsaw's Jews. As a result, the cemetery is considered to be the last remaining archive. Since 1996 the Friends of the Jewish cemetery in Warsaw have been working to raise money towards to cemetery's upkeep and create an index of all those buried there.
To visit the cemetery, men must cover their heads. The entrance is through a small gateway on Okopowa Street, opposite the end of Anielewicza Street.
Editors note: After receiving several requests from readers looking for family members, friends etc. whom they believe to be buried in this cemetery, we wanted to help. So, we did a little research and found a website on which you can search by surname for specific people who were buried in this and other Jewish cemeteries across Poland.
Click here to search the database of names: http://cemetery.jewish.org.pl/search/
Comments