Internet Cafes
Internet cafes? Naturally, like most cities in Poland, Warsaw has a terrific selection of places to choose from, so when you're in the city, you'll easily be able to keep in touch through the web. Prices are very reasonable - expect to pay around 3 zloty per hour (that's about 50 pence or 80 US cents) and there are rock-bottom price deals for the night owls who want to work through during the dead hours. Again, you'd probably pay around 10 zloty (less than 2 pounds between 10 pm and 6 am) though it varies from internet cafe to internet cafe. A relatively small percentage of Poles have internet connections at home, and most of those are courtesy of the sluggish (and expensive) state-run telecommunications company, so the upshot has been an explosion of public internet cafes with high-speed connections offering a good range of internet-related services at a reasonable price. They're popular and their numbers are growing rapidly. From the vast halls of virtual vivacity to your more intimate mom-and-pop cafes, you'll find it all on Warsaw's streets. Pretty soon you'll find yourself at home amongst email-obsessors and cyber-geeks galore.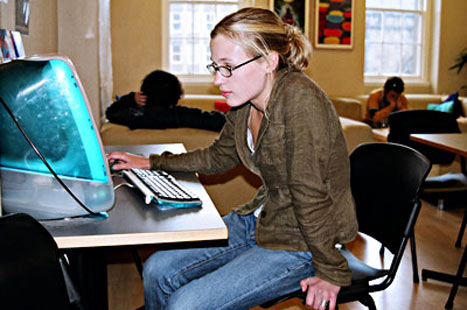 Warsaw Internet Cafes
Simple Internetcafe
ul. Marszalkowska 99/110
Truly king of the domain when it comes to internet cafes - this one is the largest in all of Poland with 150 stations at your disposal and located at the centre of this bustling capital city. Each computer is decked out with the latest in technology guaranteeing you excellent equipment and superior surfing. Low prices, friendly service, and 24 hour accessibility are the icing on the cake! And staying true to the original definition of a caf, you've got hot and cold beverages for sale, as well as, the option to order a pizza to be delivered on site for only half the price. Life is truly beautiful when you know about places like this!
tel: (022) 628 3190
Verso
ul. Freta 17
This cozy internet caf is situated near the New Town Square, right off a quaint courtyard. They house a few computers - perfect for a quick visit and email check while you are touring the Old Town area. In addition to internet access, you will find an entire 'office centre' catering to a variety ofbusiness needs: fax, laser copies & colour printing, scanners, business card printing and much, much more! AIESEC members shouldn't think of going anywhere else - here you receive great discounts when presenting your card.
tel: (022) 635 9174
Intertop
ul. Nowy Swiat 18/20
Great location! Right on The Royal Way and near a ton of popular cafes, restaurants and bars look for it across from the Empik megastore. They provide only the best, with 2Mbit internet (yes, we're talking amazing connections!), online gaming, quality printing and scanning, and a professional, courteous staff ready to assist. Reach out to your loved ones with the help of webcams and microphones. A small-sized joint packed with top-notch equipment. Stop in and see for yourself!
tel: (022) 826 6062
Cafe Casablanca
ul. Krakowskie Przedmiescie 4/6
A hit among university students and expats, this cafe can properly claim it's located in the city's busy centre - on a main thoroughfare and immediately adjacent to the University of Warsaw. Come one, come all because not only do they have the usual refreshments (coffee, beer, cocktails) but you can enjoy your beverage while surfing the net. They've got PCs set up for your disposal, or bring your own laptop and log on to the wireless service. Occasional impromptu chess tournaments and poetry readings give this place added character; stop by Friday night for live music!
tel: (022) 828 1447
Serko
ul. Podwale 19
Right off the Rynek! Stop into this internet point for access to great computers and super service. Located a step away from the Old Town Square, it's easy to get to if you're travelling through - or, stop by after enjoying a nice cold brewsky in one of the restaurant gardens. In addition to providing an ample amount of machines at your disposal, various additional options are available, such as: stamp and business card production upon request, binding, and laminating of materials. A great one-stop shop for various business and/or school supplies as well. Check it out!
Pub Internetowy 'Piekna'
ul. Piekna 68a
Open from 9am to midnight. This is a real pub (not just some place with computers) 7 years of operation and counting; CD burning, scanning...
tel: (022) 622 3377
Cyberland
ul. Walbrzyska 11
32 Computers, 7 days a week, 10 AM to midnight. Only 5 zl/h. Nice connection - 2 MB/s. Booyah!
e-xtreme
al. Niepodleglosci 177
In the same building as the Green Goose Pub (Zielona Ges). 10 ports, 17-inch monitors, the works. Concerned you might have to wait? Call ahead and reserve a spot!
tel: (022) 825 4937
Comments