Coaches and Buses from Warsaw
If you are in Warsaw it makes sense to make the most of your location and take a look at what else Eastern Europe and Poland's neighbours have to offer. One option is to take a flight from Warsaw's airport, but the range of flights is somewhat limited and sometimes flights can be expensive. Using the train is another option, but one of the best and most economic ways to travel is by bus or coach, especially if you want to visit a few cities over seberal days.
The days of old buses with no leg room and a lack of air conditioning are over if you choose one of the new breed of coach service. Our two favourites www.luxexpress.eu and www.polskibus.com have fleets of new buses that all have air conitioning, lots of leg room, a toilet and in some cases even wi-fi and power socketts so you can keep your mobile or laptop charged up. Their websites are in English and it's possible to pick up real bargains when you book online in advance which requires you to print your own ticket.
LuxExpress specialise in the Baltic States, with scheduled services taking in Warsaw, Vilnius, Riga, Tallinn, Kaliningrad and St Petersburg. Once in Tallin it is also very easy to take a 90 minute fast ferry to Helsinki. At Warsaw Life we checked out Lux Expresses service all the way to Tallinn via Riga and Vilnius, and sometimes paid just 3 Euros for a ticket. In fact the whole trip with stop offs in each of the cities above and then a return to Warsaw came out at less than 50 euros in all. And we can confirm the coaches they use are modern and comfortable.
If you are more interested in travel across Poland then Polskibus.com is probably the best place to start. They are a new company with a new fleet of coaches and they operate through all of Polands major cities and beyond. We have checked out ticket prices and it is not unusual to find a ticket to somewhere like Krakow for just 25 zl (6 euro). They also are a good choice for getting to Berlin, Prague, Vienna and Bratislava. We will be giving them a go in the not too distant future and will let you know what they are like.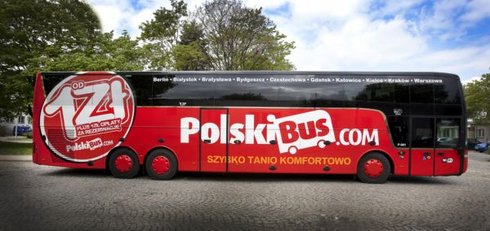 There are some other operators who have even more destinations on offer, so as an alternative to LuxExpress and PolskiBus, Eurolines offer connections to Scandinavia, The Baltic States and much of Western Europe.You will find them at eurolines.pl.
Ecolines.net offer services that cover all over Europe and its possible to get a coach to Russia, Belorus, Ukraine and South Eastern Europe too, all the way to Athens, Sofia and Budapest. Once again, they also offer lots of services that go West to London and other destinations in Germany, France and other destinations.
As we mentioned at the start of the article, Warsaw's Airport does not always offer the best destinations at the best prices. We have found AirBaltic whose hub is in Riga that seem to offer a wide range of destinations at good prices. So we suggest checking them out for flights across Eastern Europe if you don't fancy the coach trips listed above.
Comments
PolskiBus looks good only on the surface. They are notoriously unreliable and they exploit every possible mistake by the customer. Once you pay them you don't see your money again. They send out misleading emails. They change the bus stops every month. They never reimburse you for unused ticket. It is a clever scam operation predicated on customer mistakes.
Reply
neobus (www.neobus.pl) is a good option. Much better departure schedule than polskibus (which only seems to run overnight). Good buses, nice drivers and efficient routes. Much better than the train!!!
Reply