Warsaw Christmas Market
Christmas markets are a big draw for visitors to Central and Eastern Europe during the winter months, their heads probably filled with images of horse-drawn sleighs and steaming mugs of spicy mulled wine. And while the wares on sale are rather tourist-centric (and there is a distinct lack of horse-drawn sleighs, sorry!), even locals must admit that there is something magical in the air in December, and Christmas Markets are the focus points of that nostalgic energy.
Warsaw's own Christmas Market takes place throughout December (and sometimes starts earlier in November or extends later into January) on the Market Square ("Rynek") of the Old Town. While it is much smaller than the perhaps more famous Krakow Christmas Market, Warsaw's market still has plenty to offer in terms of food, drink, shopping, and entertainment and shouldn't be missed.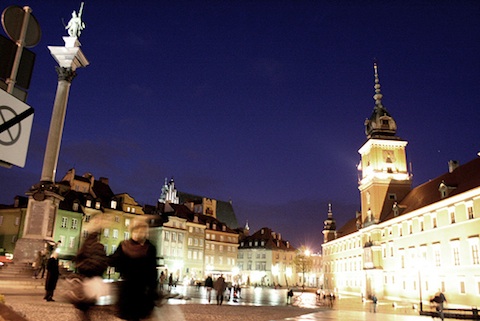 Every year, wooden stalls are filled with regional products peddling a incredibly wide variety of wares including festive cloths, hand painted glass Christmas tree ornaments, ceramics, jewellery, candles, amber, books, slippers, dolls, and carved wood decorations. Food is also a large part of the market, and you can either stop by for a quick fill-up at one of the wooden picnic tables or ask to have your food packed up to enjoy at your leisure in your hotel room or apartment. Some of the food available every year includes: deli meats, regional cheese, unpasteurized beer, hot chocolate, grilled sausages, rustic bread, sweets, and of course the aforementioned hot mulled wine which is served from huge wooden kegs.
The Old Town Market Square is not the only place to feel the romantic holiday energy in Warsaw. The huge, artificial tree that is colourfully lit up on Plac Zamkowy (Castle Square) at the entrance to the Old Town is a must-see, as well as the entire Royal Route from the Castle Square, along Krakowskie Przedmiescie street and down to Nowy Swiat street. Every year this path is beautifully lit up with sparkling white lights. It probably uses up enough energy to power a small village, but for a few weeks a year, we can't pry ourselves away.
Finish the night off with a performance at the National Philharmonic or head to the Grand Theatre for an opera or better yet - a performance of the classic Christmas ballet the Nutcracker. You can also go ice skating outside of the Zlote Tarasy shopping centre.
Check out the Christmas Market's official website here.
Comments