Vienna Austria At Your Fingertips
Received wisdom says that Vienna is all about surly grandmas sipping coffee in stately old cafes. Or chaps in Mozart kits trying to charm tourists into attending classical concerts. Everyone in the city is dressed like a jolly fellow from The Sound of Music, and the only thing you'll find on the menu - besides cakes - is the Wiener Schnitzel.
Well it's all true, so you'd better get used to it.
OK, we're pulling your leg there. But quite a few of those stereotypes were once spot on. The sixties weren't at all groovy, and in fact, seasoned observers didn't detect a decidedly new spring in the Viennese step until the 1990s, shortly after Austria joined the EU.
Fast forward to 2008 and you'll find that Vienna is a city in flux. Of course, the old Habsburg capital will always have it's nostalgia appeal - the grand boulevards, the cobbled corners, the panoply of great composers - but there's much, much more besides.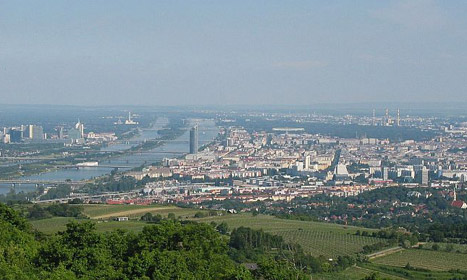 Above: A panorama of Vienna Austria, with the (occasionally) Blue Danube
If you're curious about uncovering Vienna in all its vivid variety, then we hope you'll find our site a handy starting point. Internauts who want to stay abreast of what's hot and what's not can zip straight into our news section, which is full of weird and wonderful stories from Vienna and Austria. Travellers will also find scores of top tips on all the best shops, bars, restaurants, hotels and hostels in the city. Don't agree with our description of a place? Then why not have a bash at writing your own review.
On the arty side of things, Vienna Life has plenty of pages on the capital's museums, as well as monthly tips on events highlights. On a more purely visual level, have a gander at our gallery. We welcome photographs from all Vienna fans out there, so feel free to send us some snaps.
Vienna Life also brings you a general page of travel tips, and some hints on money matters. And yes, believe it or not, we've even got our own weatherman who's studying the skies for you. He lives in an undisclosed turret somewhere in the Innere Stadt - a big round of applause for Fritz von Fritzenkopf. Keep up the good work.
Intrigued travellers and committed austrophiles can dig deeper with some of our themed features on various aspects of life in the capital. Want to find out more about the man with the mutton chop whiskers? Keen to whet your appetite with some amazing movies about Vienna. Or maybe you just want to find out why the Viennese banned Father Christmas, or get the lowdown on eighties aces Ultravox or Opus.
Last but not least, don't forget to download your free PDF, which is packed with priceless info about life in Vienna. Above all, we welcome feedback on anything related to Vienna Austria. So don't hesitate to get in touch if you want to have a rant about the former Habsburg capital. Vienna is changing daily and we value your thoughts on what makes the city the curious confection that it is.
Comments
vienna is the city one day l most come to. l am proud to say my great grand mother herta blazer-schiele is from vienna. l am also related to egon schiele the austrian painter.l am proud of my austrian roots
Reply