Magnum Opus or One-Hit-Wonderbus?
Austria... The country that gave us Mozart. The country that gave us Strauss. The country that gave us.... Opus? Yes, guilty as charged. Austria may have nurtured more musical talent than most countries can ever dream of, but not all of their stars were touched by the hand of the Almighty. And leading the charge for the affront on good taste is none other than Opus, creators of one of the biggest selling singles of all time - "Live is Life."
'Labadab dab dab Life! Na naaah, naaah na na.' Yes, it's painful to hear that one again. To lasso it back from its 80's exile. But don't worry, we've got the video as well which is bound to make you feel much much better.
But first, what's all the fuss about anyway? What if you missed the glory that was Opus first time round? Well, in the era of the power ballad and the fluorescent sweat band, Austria was lagging way behind when it came to providing the world with first class cheesemeisters. Until, that is, Herwig, Ewald, Kurt and Gunter stepped onto the stage.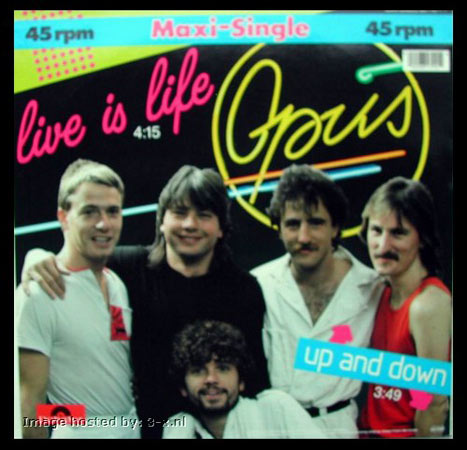 On top of the world in '85. The Opus lads and 'Live is Life'. And yes, they really don't make' em like that any more...
The big smash may have only come in '85, but Opus had been plugging away for a fair few years before that. An outfit since 1973, their break came in 1978 when they won a Styrian battle of the bands contest. The early Opus sound wandered into a more classical orbit, but after first album Daydreams bombed they ditched the airy fairy vibe. Nevertheless, with new bassist Niki Gruber on board Opus were on course for the Austrian charts, with a growing fanbase in tow. It was only a matter of time now before the world would be punished with "Live is Life"....
By the time that 1984 came round, lead singer Herwig Rudisser had all the pre-requisites of an 80's bogeyman - the moustache, the matching white shirt and trousers and the porn star hairy chest. "Live is Life", often misconstrued as "Life is Life", was dedicated to the loyal Austrian fanbase at Opus's 11th anniversary gig at Oberwart Stadium. The live version of the tune immediately whizzed to No.1 in the Austrian charts, and as 1985 dawned the hit went global. Opus embarked on a whirlwind world tour, and thanks to the wonders of modern technology you can savour their live performance right here - enjoy!
Now, nostalgia websites brutally categorise Opus as a one-hit-wonder, which begs the inevitable question, where are they now? Well actually, Opus never quite went away. Herwig still has his 'tache, and the lads continue to play gigs in Austria and abroad. The band has supported some noble causes over the years, donating royalties to Greenpeace. And as it goes, Opus had several more hits in their native Austria, including (cover your ears) a tribute to the Viennese waltz called 'A Night in Vienna'. The Opus boys also knocked off a tune for the Austrian football team for the World Cup in 1998. "Viva Austria" sold thirty thousand copies, although sadly, the Austrian team didn't fare quite so well.
Meanwhile, the legacy of "Live is Life" endures. New Hampshire University's ice-hockey team The Wildcats always open their matches by blasting out the Opus classic. It's a shrewd tactic, as the opposition are probably so traumatised by the experience that they no longer have the strength to play. Similarly, Finnish ice hockey team Tappara taunt their enemies by playing the tune every time they score a goal. A cruel tactic indeed. Last but not least there have been some mischievous cover versions, including one by Slovenian metal band Laibach.
Comments
i love your country , music , opus
Reply
Linda letra e maravilhosa música. Parabéns
Reply
Hi from Tehran/Iran walking on air.... fliying high...whiteland....and.... are excellent songs.. i love them. thanks so much..
Reply
Opus - the best band ever... In august I'm gonna travel to Graz from sweden just to see them live once again... I love them.
Reply