Vienna on the Silver Screen
Schlamperai.... It's a nice-sounding word - there's a very indulgent ring to it. And this is the word that the Viennese use to describe their most famed vice - laziness. Travellers have spotted this trait since time immemorial, and the locals are the first to own up. So ingrained is this easygoing laziness that historians have even described the Habsburg Empire as 'absolutism modified by Schlamperai.'
With this in mind, and as keen schlampers ourselves, it seems only fitting to reveal that travellers can become overnight Vienna buffs in the most magnificently lazy fashion. You don't even have to pick up a book. On the contrary, just sit back on the sofa, stein of beer in your hand, dog on your lap, cat on your shoulder, and gently press that play button on the remote control.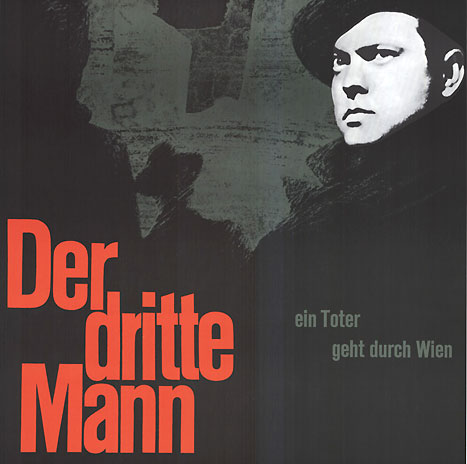 Above: Orson Welles in pensive mood in the 1949 classic 'The Third Man'. The movie was voted best British film of all time by the BFI.
Where were we? Ah yes, laziness. And pressing the play button. Well, the truth is that Vienna has inspired some wondrous works of cinema, and quite frankly it would be a crime not to have a look. So without further ado, let's take a leisurely stroll through Vienna's cinematic past.....
FILMS ABOUT VIENNA
Letter From An Unknown Woman (1948)
Max Ophuls
A tale of romantic delusion from one of the great masters of the cinema, Max Ophuls. Set in the 'golden age of security' before the First World War, Letter From an Unknown takes its cue from Stefan Zweig's novella of the same name. Ophuls pairs Joan Fontaine with the inimitable Louis Jourdan (later Kamal Khan in Octopussy ) in a wistful waltz though Old Vienna. The music can be overly intrusive and the delusions of Fontaine's character painful to watch, but this is a film of many charms. It's all in the detail with Ophuls, and few pictures evoke as much of the flavour of Old Vienna as this.
The Third Man (1949)
Carol Reed
American pulp fiction writer Holly Martins goes in search of his old buddy Harry Lime in the bombed out metropolis of post-war Vienna. Nothing is quite as it seems as Martins tries to piece together his pal's demise. Did Harry really kick the bucket? Can we trust the sinister Baron Kurtz and his lovely little lapdog....? With a star turn from Orson Welles, a wry script from Grahame Greene and zither music of a higher order, this is one to savour. A classic.
Bad Timing (1980)
Nicholas Roeg
Art Garfunkel jacks in the guitar to take the lead in Roeg's twisted romance. Roeg was incredibly fastidiuous about the locations he chose for his films, and he'd previously unveiled Venice to terrifying effect in cult horror Don't Look Now. Here Vienna provides the backdrop as Harvey Keitel's detective tries to unravel the mystery of a beautiful girl's fall from grace.
Amadeus (1984)
Milos Foreman
"I was much smarter than that!" Such was the Dalai Lama's take on his onscreen persona in Hollywood's recent Tibetan adventures. And you can't help wondering what Herr Mozart would have made of his incarnation in Foreman's movie. Indeed, there's enough here to make a historian jump up and down like a raging Rumpelstiltskin. A laugh like a drunken hyena, an Emperor who speaks in a fruity American accent, an entire catalogue of outrageous historical liberties with the truth - they're all there. But all can be forgiven when you have entertainment of this gusto. F. Murray Abraham turns in a masterful performance as the sly Salieri, and the music's not that bad either - some Wolfgang bloke apparently.
Before Sunrise (1995)
Robert Linklater
Let's face it, most 'serious' directors would shrink from trying their hand at romantic comedy. Before Sunrise boasts no fancy camera work, no raunchy scenes and very little in the way of drama. In spite of these potential pitfalls, Linklater has created one of the best-loved films of recent years. A chance encounter provides the premise here. Ethan Hawke sports a dodgy goatee and some quirky one-liners as he tries to woo the willowy Julie Delpy....
The Illusionist (2006)
Neil Burger
Neil Burger's film never rises to the level of masterpiece, but there are enough fine ingredients here to make for a tasty confection. The twilight of Habsburg rule is beautifully captured in this tale of intrigue at the imperial court. Rufus Sewell is entertaining as the dastardly Crown Prince Leopold, and cinematographer Dick Pope does a wondrous job at conjuring the flavour of fin-de-siecle Vienna. That said, there are a fair few cliches to swallow, and the illusionist himself seems a tad too gentle to mesmerise his audience.
And the Prize Turkey....
After all those goodies you might be wondering whether there were one or two that didn't quite hit the bullseye - the ones that were kicked out of the fancy film festivals. Well, for some truly unbearable cheese, Sissy must surely win first prize. Click here for the true King (or rather Empress) of kitsch. Glorious!
Comments