Prague by Night!
Prague's nightlife is as varied as the people who visit and inhabit the city, which means that chances are, with a little bit of luck and searching, you'll find the perfect venue for your nights out in the city. Prague's cafes, pubs, and bars range from enormous live music venues where local and international bands perform all days of the week, to bouncing electro clubs, to more laid-back bars and cafes where you can sink into a sofa and drink a few pints of Czech pilsner, as well as a great selection of gay clubs and bars. Below, we've given our personal favourites, plus a few key places that are not to be missed (useful information, for example, if you are planning a stag do) on any night tour of Prague!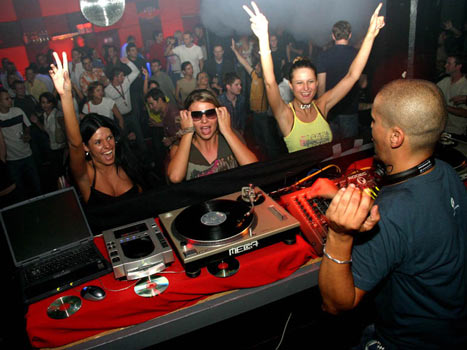 Most of the popular Prague nightclubs are located right in the centre of the Old Town, providing easy access to tourists staying in the area as well as locals on a night out. One spot not to be missed is Karlovy Lazne, the largest club in Central Europe, with five dance floors on four levels and a magnificent view of the Vltava River and Charles Bridge. Other popular clubs where you can get your groove on include Vertigo, Roxy (which hosts free live music acts on Mondays), N11, known for its hip-hop nights, Dublex, and the multi-purpose Lavka, all located within the Old and New Towns. Some more upscale venues, where a cocktail could set you back the price of a hostel bed, include Bugsy's and Tretter's.
But don't think Prague is all about techno clubs and dancing in skimpy outfits (not that there's anything wrong with that). If your attire is more Converse than Armani, you'll be pleased to find that Prague has a great alternative scene, both for catching live music and for relaxing to a good soundtrack and pleasant company. First, check out Alternatiff, located in the same courtyard as a great record store and tattoo parlour. Bordo and Club Nebe are both great places to just have a couple beers and meet people, or sometimes to catch a concert. For concerts by both local and international underground acts, the best places are Rock Cafe, Lucerna Music Bar, Abaton, and Palace Akropolis, where some stars of the European and American indie scene have graced the stage. And if you're really feeling adventurous, Cross Club is worth the trek (or metro ride) out to Holesovice, as you're unlikely to discover anything like it anywhere else in Europe!

If loud music and dancing just isn't your thing, many locals know the best places to go to just lounge about with a beer. Our personal favourites include the not-so-secret M1 Secret Lounge, Think Pink, U Sudu, Atmosphere, and the mind-bending Solid Uncertainty. And if you're more into smoking than drinking, more laid-back bars like these are more likely to allow that sort of thing (as well as knowing where to get some).
If you're feeling more Irish than Czech, check out Caffrey's Irish Bar right on the square, or Rocky O'Reilly's, the largest Irish bar in the city, or the more hidden and laid-back Merlin or J.J. Murphy's Irish Pub. Then there's the Cuban-Irish abnormality that's one of a kind, O'Che's.

So now that you know a little about Prague's nightlife, don't you think it's time you checked it out for yourself? There are hundreds of places besides those mentioned here to try out and we suggest you use our pub and cafe directory to get a fuller flavour of what's for you. We are just the few and? you are the many, so don't let your opinions of a venue you have visited go to waste. Keep us and our users informed by posting a review and help us make Prague Life the most up-to-date and accurate guide to the city's hotspots!
Comments